Embalm Skincare: Spring Clean Your Skin Care Routine
While we strive to lead a healthy lifestyle by exercising and watching what we eat, busy life can sometimes derail best laid plans and often our skin care routine is the first thing to be neglected in the day to day. As we spring into the warmer months and emerge from hibernation, be sure to shake off the winter blues and put your best face forward.

The following tips from Mel Driver, founder of natural beauty line Embalm Skincare, will help you overhaul your approach to looking after your skin and achieve a healthy, glowing complexion.

Review: I LOVE the Embalm Skincare Hydrating Hand & Body Wash - it smells INCREDIBLE and leaves the body feeling so silky soft. I use the body wash in the shower, especially in the morning, as the smell incourages my uplifting attitude!
- Brooke Hunter

Routine
Don't skimp on the most basic skincare maintenance of cleansing, toning and moisturising. Stick with a regular routine and your skin will reap the rewards.
Embalm Skincare's -Absolute Essentials Beauty Pack' is key to getting you out of a skincare rut and back on track as the uplifting scents revitalise and do their magic.

Cleanse twice daily to remove oil, dirt, and makeup from your skin. The gentle Uplifting Cleanser purges impurities and gently exfoliates as it cleans.

Tone to tighten, prepare the skin for the absorption of serums and creams, reduce inflammation, refine pores, and to help regulate oil production and secretion. The Calming Toner promotes a clear complexion without drying the skin.

Moisturise in the morning to help preserve your skin's moisture and at night to rejuvenate. Just be aware, now that it's spring, it's time to ditch the rich creams for lighter formulas. The best-selling Luxurious Face Cream contains antioxidant-rich ingredients that lock in moisture and restore elasticity.

Exfoliate
Old skin cells can build up on the surface and contribute to a flat, dull appearance, blemishes, and scaling. Gentle exfoliation two to three times a week will help get rid of dry winter skin and reveal fresh new layers. Regular exfoliation will also keep your skin staying hydrated for longer as it allows moisturiser to better penetrate and do its thing.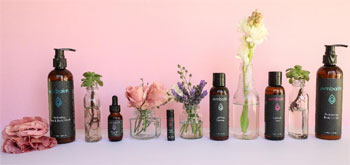 Protect
As the weather warms and the temperature rises, you will find yourself outdoors for longer periods of time. The seasonal change means the UV index is also rising so be sure to wear SPF every day. Incidental exposure to UVA and UVB rays can cause premature ageing and even skin cancer. Many mainstream sunscreens use chemical absorbers to help shield the skin which can actually promote ageing of the skin so be sure to do your research. Look for sunscreens made with non-nano zinc oxide for broad spectrum UVA/UVB protection and stay well away from homemade or DIY recipes for sunscreen, no matter how good they sound.
Exercise
Notice a glow on your face after working out? Aerobic exercise gets the blood circulating around your body, delivering oxygen and nutrients to your cells, removing waste, and cleansing your entire body. Aim for at least 30 minutes of exercise five days a week. Feeling time poor? Try to squeeze in a brisk walk around the block and your skin will reap the rewards.
Chill Out
When we are stressed out it shows on our face. Stress throws your hormones out of whack and increases cortisol levels. This imbalance can cause acne and breakouts by increasing oil production and interfering with your body's ability to regulate and reduce inflammation.

Switch off your phone and take time out for relaxation and the things that matter most to you. Meditate, have a bath, read a book, or catch up with a friend. Be sure to make self-care a priority and your skin (and sanity) will thank you!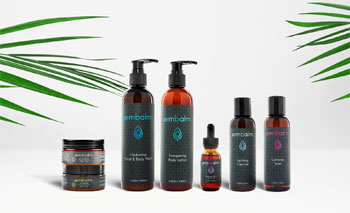 Embalm Skincare is an Australian natural skincare company, based in Tasmania, with a nourishing and elegant product range. 100% natural and with no hidden nasties or fillers, each product has been carefully crafted to infuse skin with the power and benefits of Mother Nature's most wonderful ingredients.


Interview with Mel Driver, Founder of Embalm Skincare
Embalm Skincare was born from Mel Driver's whole-hearted belief in the power of nature and driven by her desire and passion to create a naturally gentle, hand-crafted alternative to mainstream products.

Mel is passionate about empowering women to make conscious choices when it comes to looking after their skin, so they can avoid being exposed to health risks associated with many leading cosmetic brands. Her purpose is to raise awareness about toxins in beauty products so every Australian woman is aware of hidden nasties in skincare and cosmetic products and can make an educated decision regarding personal care purchases.

Question: What inspired you to create Embalm Skincare?

Mel Driver: A severe allergic reaction to mass market hand sanitiser saw my face swell up to an unrecognisable state. It led me to question ingredients in cosmetic products. After some initial research into commonly used ingredients in synthetic skincare and personal care products, I knew instantly I wanted to launch my own 100% natural skincare range to provide women with a product range they can trust.

Embalm Skincare was born from my whole-hearted belief in the power of nature and driven by my desire and passion to create a naturally gentle, hand-crafted alternative to mainstream products.


Question: Can you tell us about the ingredients used across Embalm Skincare?

Mel Driver: I adopt a simple philosophy of less is more… You just need simple, quality products to let your own healthy skin shine through.

I use the highest quality natural ingredients to bring you luxurious and affordable skincare. I never compromise on quality and each product has been specially developed for the gentle treatment and nourishment of all skin types, including sensitive skin.

Each product in the Embalm Skincare range uses a high concentration of active botanicals and natural essential oils with skin nourishing and healing properties. It's food for the skin.


Question: How important is it to not neglect our skin?

Mel Driver: You can't change the skin you're in and it will be with you for as long as you live so treat it gently and well. Our skin is also the first line of defence, a protective barrier between our insides and the rest of the world - i.e. environment, pollution, sun.

Poor skincare habits can lead to acne, wrinkles, rashes and sores but also permanent damage like sun damage. Unhealthy skin is more susceptible to disease and infection and is more likely to scar after an injury.

Skincare products themselves only play a secondary part. They can only amplify the effects of good diet and healthy lifestyle choices. But with that in mind, it obviously makes sense to ensure that the skincare products that are being used are the very best and healthiest available.


Question: What skincare products do we need to use, daily?

Mel Driver: An absolute essential skincare routine consists of cleansing, toning and moisturising twice daily - in the morning and at night.

Cleansing removes oil, dirt, and makeup from our skin. Toners tightens and prepares the skin for the absorption of serums and creams, reduces inflammation, refines pores, and helps to regulate oil production and secretion. Moisturising helps to preserve our skin's moisture and helps to rejuvenate the skin.


Question: Why is it so important to exfoliate our face?

Mel Driver: Exfoliating sloughs off dead skin cell which helps to expose new and radiant skin underneath the surface. It's an excellent way to prepare your skin for any creams, serums or treatments you put on.


Question: How often should we exfoliate?

Mel Driver: Some say daily, some say weekly but I recommend every second or third day. It's important to only exfoliate gently to avoid damage to the outer layer of the skin. The frequency also depends on your skin. If you suffer from hormonal breakouts, in particular on the forehead or chin, regular exfoliation will help to keep this under control. I exfoliate every second day.


Question: Which of the products in the Embalm Skincare range is your favourite?

Mel Driver: This is such a tough question as I love and use them all. But if I had to pick just one I would say the Invigorating Body Scrub, it leaves your skin feeling super soft and the scent it absolutely divine. It lifts your spirits and puts you in a good mood. Try it for yourself!


Question: Do you have a morning routine? Can you share your daily non-negotiables with us?

Mel Driver: I start my day with a big glass of water, then I turn on my Himalayan salt lamp and do a 10-minute stretching routine which is followed by a cup of coffee and snuggle time with my two dogs before I get ready to do some work.


www.embalmskincare.com.au

Interview by Brooke Hunter