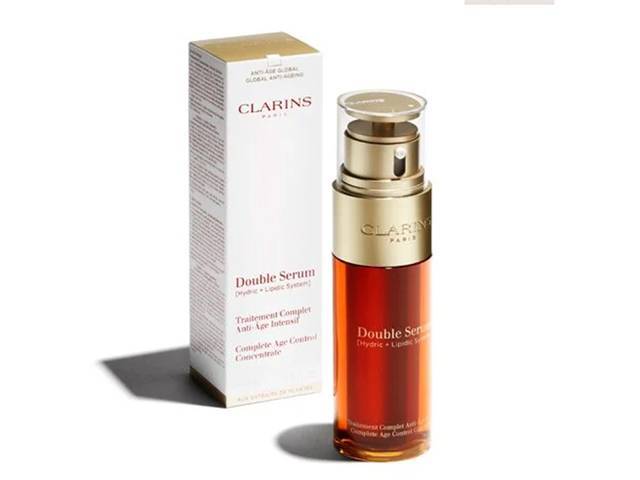 Clarins Double Serum is a Complete Age Control Concentrate formulated to help work on the 5 vital functions of the skin for a more youthful and radiant complexion. Now containing 21 active plant extracts including new star ingredient turmeric, distinguished for its exceptional anti-aging properties. New Double Serum acts on the appearance of major signs of skin-aging, skin is more radiant, firmer and fine lines are smoothed. The new innovative bottle delivers a made-to-measure dosage of the serum, thanks to its rotating push button.
Skin Type
: All Skin Types
Texture: Fluid
Use
: Morning and/or evening before your usual cream
How to?

Benefits
: The skin is firmed Wrinkles are visibly smoothed Radiance and evenness are restored to the complexion Pores are diminished
Clarins Plus
Our most powerful Complete Age Control Concentrate, Double Serum combines 2 serums in 1 andfeatures 20+1 active plant extracts to act on the appearance of all signs of skin-aging.
Clarins Double Serum
RRP: $170.00

Review: I've been using this serum on my neck, morning & night for 3 weeks now, and I can honestly notice a visable difference with the texture and smoothness of my neck, fabulous! A light oil serum that sinks deep into the skins pores to restore skin's look and feel, essential for cooler months that dry you out with harsh elements.