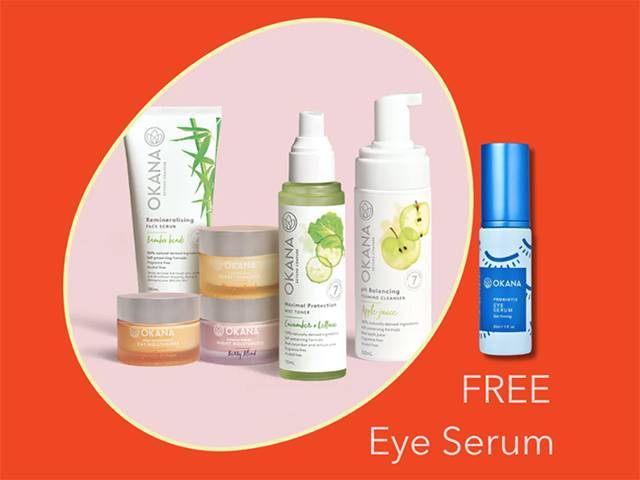 You might have heard of Okana before – they're a humble NZ brand who have just launched in Australia with Heartbreak High's Ayesha Madon as their ambassador.
Okana is made only from the good stuff – a portion of their products are so natural you could literally eat them.
Nasties? NUP.
Packed full of only the good stuff that your skin actually needs, there's no fragrances, alcohol and our special formula is self-preserving (no icky chemicals!).
Yummy Naturals Box

RRP:

$129.95
Good enough to eat (quite literally) and comes with all you need for a happy + healthy skin routine. This week Snag a FREE Eye Serum with our Yummy Naturals
What's included:
Apple juice foaming cleanser, 150ml - Give your skin a big ol' juicy bite of apples! These FOAMY. APPLES. will leave skin feeling so soft and conditioned, you might start attracting worms!
Mango + apricot sorbet cleanser, 50ml - The WASHY. MANGOES dissolves makeup, blackheads and unclogs pesky pores. Poof! Your skin is now softer than a marshmallow in a hot tub
Cucumber + lettuce juice toner, 125ml - It's not your average drink, it's a refreshingly-quenchy MISTY. LETTUCE. that'll level up your skin's pH and hydrate you to the moon and back.
Bamboo beads face scrub, 100ml - The BEADY BOO's not only get rid of all the gunk and dirt clogging your pores, but it also gives your skin cells a pep talk to make brand new ones. Glow, baby, glow!
Vegetable garden day moisturiser, 50ml - No couch potato carrots allowed here. Just ACTIVE. CARROT to quench your skin thirst and power it up! Whipped up with apricots, slick olive oil, and the juicy veggies
Berry mix night moisturiser, 50ml - Nourishing BEDTIME. STRAWBS. join forces with hydrating macadamia and apricot oils to give your skin a big drink overnight.
Probiotic Eye Serum, 30ml
Glowy Skin
RRP: $195.96
Use regularly for a smoother, clearer and glowier complexion in just 4 weeks! EASY. PLEASY.
What's included:
Glass Skin AHA/BHA liquid Exfoliator, 30ml - A total overachiever that balances, conditions, and clears skin of any blemishes. No skin irritation or redness. Just glowing, smooth skin.
Probiotic Eye Serum, 30ml - Get your wink on with probiotics! Strengthens whole eye contour area covering dark circles, eyebags, wrinkles and also provides a lifting effect of the eyelids.
Age-defying Vitamin A & C Serum, 30ml - Smooshing their brightening, firming and smoothing powers of Retinol and Vitamin C to give you the clearest and most delicious skin going round.
Skin Reset Vitamin B Serum, 30ml - A dreamboat for hydration. Combined with Bakuchiol, it helps to reduce pores, blackheads, redness and strengthen skin barrier.
Available rom okana.com.au