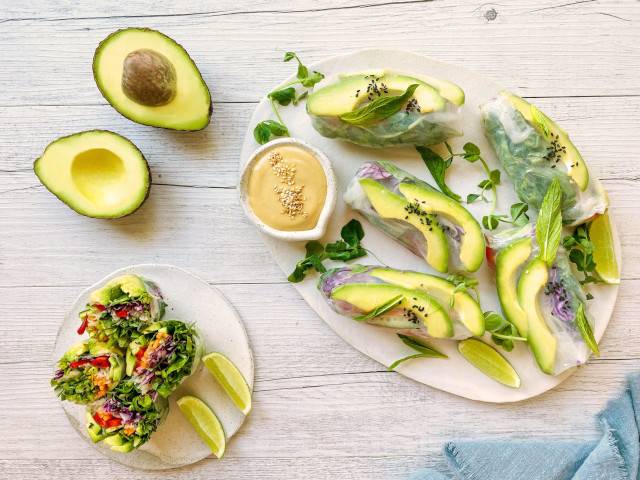 Fresh Delcado Rice Paper Rolls
"Veg heavy rice paper rolls are a family favourite in the warmer months. Vegan rice paper rolls can often lack in flavour and texture but not here. I've used Delcado avocados to make these rice paper rolls so good to eat on every level. The creamy Delcado flesh pairs perfectly with the crispy, fresh veggies and herbs adding richness, as well as loads of flavour," chef Tom Walton.

Prep/cook time: 30 minutes
Makes 8 rice paper rolls

Ingredients
100g rice vermicelli noodles, soaked in boiling water 10 minutes
1 tsp soy sauce
1 tsp sesame oil
8 large round rice paper sheets
1 baby gem lettuce, finely sliced
1 large carrot, finely sliced into matchsticks
2 Lebanese cucumbers, seeds removed, finely sliced
¼ small red cabbage, finely sliced
100g pea tendrils
Handful each coriander and mint leaves
2 shallots, finely sliced at an angle
2 Delcado avocados, sliced into thin wedges

Miso tahini dipping sauce:
1/3 cup tahini
2 tbs white miso
2 tbsp maple syrup
3 tbsp rice vinegar
2 tbsp soy sauce
2 limes to serve
2 tsp each toasted black and white sesame seeds

Method
1. Soak the vermicelli noodles for 10 minutes and then drain well and toss in the soy sauce and sesame oil. Set aside in a bowl.
2. Place all the prepared rice paper roll filling ingredients onto plates or bowls.
3. Fill a shallow bowl or pan with cold water.
4. Now to get rolling! Working one at a time, dip the rice paper sheet into the water for approximately 10 – 15 seconds. You want the sheet pliable, but not floppy as it continues to soften.
5. Carefully lay the rice paper sheet flat on a clean, dry tea towel on the bench.
6. Begin topping the sheet with the lettuce, some cucumber, carrot, capsicum, a small handful noodles, cabbage, pea tendrils, herbs and shallots. Place the fillings in the middle, leaving approximately 3cm on each side.
7. Place 2 slices of Delcado avocado next to the pile of ingredients, towards the bottom.
8. Fold up the upper edge and cover the filling, but not the Delcado. Then fold in the sides, like a burrito. Roll up the bottom edge, over the Delcado and the filling, so that the Delcado can be seen on the outside – check out the how-to video.
9. Repeat with the remaining ingredients. Place the rolls onto a platter or tray as you go, but don't let them touch as they will stick while they sit.
10. For the miso tahini sauce, whisk all the ingredients together with ¼ cup water to make a thick, smooth sauce. You may need to add more water as you do.
11. Serve the rice paper rolls topped with a sprinkle of sesame seeds.

Tip: Choose Delcado avocados for perfect slices every time. X-ray-like technology is used to check the inside of each Delcado before it leaves the packing shed. This ensures no bruises, blemishes or damage beneath the skin.

Recipe created by Tom Walton for Delcado Avocados.