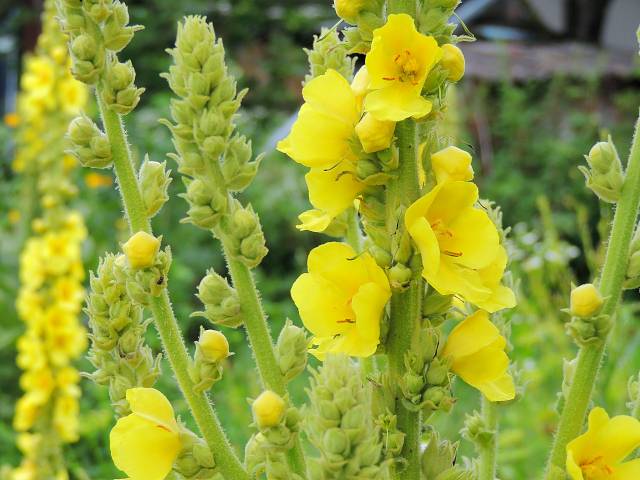 Keep an eye out for mullein when you forage! Mullein grows wild in many places and usually is seen as a weed.

If you wish to grow mullein, the seeds are best harvested from the spire bloom in autumn and spread from your palm where you want it to grow. Often the seed will sit dormant through the cold months and sprout in the early part of spring to start the two-year journey.

Mullein can be harvested at every stage of her two-year plan; here are a few ideas to help you along.

The first leaves of mullein are traditionally gathered as a remedy for lung health so perhaps hang some leaves to dry and try them in a brew. If you're conspiring with mullein and have a common two-year plan, why not harvest a leaf and hang it in a space you spend time in? Plant allies hanging to dry behind your bedhead, or even from a kitchen window sash, are a great way to share space.

In the second year, mullein's flowers are ripe for the picking. Remember that when a plant is flowering it's almost ready to seed and is at its most powerful and protective.

How you can use the plant:

GARLIC AND MULLEIN OIL (EARACHE RELIEF)

You'll need
± 1 clove garlic
± A large, airtight jar (for the infusion process)
± 2 heaped tablespoons dried mullein blooms
± 400 ml oil (organic olive oil is best)
± Cheesecloth, for straining
± Airtight, sterilised jars (to store)

How to
Finely grate your garlic clove into the jar; the finer the better.
Add the mullein blooms and fill with organic oil to the top of the jar, making sure that the plant material is completely submerged.
Seal and store on a sunny windowsill for 4 weeks, agitating daily and lifting the lid to allow air to escape.
When the infusion process is done, strain the oil through cheesecloth, making sure that all plant material is removed. Decant into jars and store in the fridge. To use the oil, it's important to make sure that you have no eardrum damage; the oil is to be used only for aches and discomfort.
To use, heat the oil to body temperature, lie flat with the sore ear facing up and insert two drops directly into the ear. Garlic's antibiotic gifts with mullein's soothing and anti-inflammatory talents make for the perfect blend.

Recipe from Plants of Power
New 'Plants of Power' book explores 66 foundational plants you can grow in any size garden; includes recipes, history, magic & medicinal benefits
Rockpool Publishing
ISBN: 9781925924350
RRP: $39.99

About the authors
Stacey Demarco is a bestselling author who specialises in pagan, nature and mythos-based subjects. She is internationally respected, with works translated into many different languages. She is the author of the popular annual Lunar and Seasonal Diary for both the Northern and Southern hemispheres and is known widely as 'the Modern Witch'. Stacey has an eclectic collection of plant friends and seed saves and lives in Sydney's Northern Beaches in a small house with a big garden with her husband, animal companions and about 10,000 bees. Her favourite plant is chickweed because, being clumsy, she often finds an anti-inflammatory very handy.

Miranda Mueller is a permaculturalist who lives with her husband and two children, chickens and other animals in the Dandenong Ranges. She runs a successful herb and vegetable seedling nursery encompassing a gardening business and teaches permaculture from the home farm. Miranda regularly opens the farm gates to encourage others to reconnect with the art of growing food, for people's health as well as for the earth's wellbeing. Her favourite plant is the dandelion, a plant that has been labelled a weed, yet delivers so much wisdom and nutrition whilst growing in the cracks of concrete!