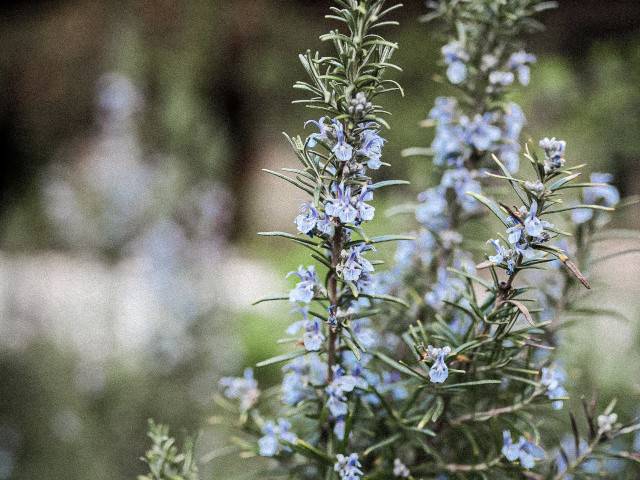 Rosemary is an evergreen shrub that prefers a warm place in the garden, likes well-drained sandy soil and will not tolerate excessive water.

In a cool region, try planting your rosemary next to a wall or a rock bed, as the thermal mass may aid its growth.

Rosemary is most easily grown from cutting in spring, though seeds are also viable.

Simply cut a sprig of new, flexible wood at least 10 cm long, pop it in a small glass bottle of water and keep it on a sunny windowsill, topping up the water every few days. In a couple of weeks you'll see fine roots growing out the bottom of the sprig. Then plant in a pot.

How you can use the plant:

ROSEMARY AND CALENDULA SHORTBREAD

You'll need
± 1 cup butter
± ½ cup sugar
± ½ cup honey
± ¼ cup fresh calendula petals, finely chopped
± 2 tablespoons fresh rosemary, finely chopped
± 2 cups white rice flour
± ¼ cup Swiss cheese, finely grated (or parmesan, if you like your cheese strong)

How to
In a large mixing bowl, combine the butter, sugar and honey and beat until you have a light fluffy consistency.
Stir in the finely chopped calendula petals and the finely diced rosemary, mixing well.
Add half the rice flour to the mix with the grated cheese and combine well.
Add the rest of the flour and knead until you have firm cookie dough.
Refrigerate for two hours before rolling the dough flat and using a cookie cutter to shape your shortbread.
Bake in a preheated oven at 160°C for 20 minutes or until just golden. Allow to cool before removing from the tray.

Recipe from Plants of Power
New 'Plants of Power' book explores 66 foundational plants you can grow in any size garden; includes recipes, history, magic & medicinal benefits
Rockpool Publishing
ISBN: 9781925924350
RRP: $39.99

About the authors
Stacey Demarco is a bestselling author who specialises in pagan, nature and mythos-based subjects. She is internationally respected, with works translated into many different languages. She is the author of the popular annual Lunar and Seasonal Diary for both the Northern and Southern hemispheres and is known widely as 'the Modern Witch'. Stacey has an eclectic collection of plant friends and seed saves and lives in Sydney's Northern Beaches in a small house with a big garden with her husband, animal companions and about 10,000 bees. Her favourite plant is chickweed because, being clumsy, she often finds an anti-inflammatory very handy.

Miranda Mueller is a permaculturalist who lives with her husband and two children, chickens and other animals in the Dandenong Ranges. She runs a successful herb and vegetable seedling nursery encompassing a gardening business and teaches permaculture from the home farm. Miranda regularly opens the farm gates to encourage others to reconnect with the art of growing food, for people's health as well as for the earth's wellbeing. Her favourite plant is the dandelion, a plant that has been labelled a weed, yet delivers so much wisdom and nutrition whilst growing in the cracks of concrete!