Cairns songstress GEORGIAXBYRNE welcomes her forthcoming release "Bluff". The poignant track shines a vulnerable light on the 20-year-old's artistry and introduces a new alternative pop angle to Georgia's sound. Full of memorable hooks and cutting-edge production, "Bluff" highlights a new depth to Georgia's lyrics and her story-telling abilities. An honest and true-to-heart single, "Bluff" is Georgia's fourth release, following the success of her previous track "Better Man", clocking up over 20,000 Spotify streams.

GEORGIAXBYRNE recalls her songwriting process, "I was fresh out of a relationship and I distinctively remember thinking "I'll be fine, I can move on from this really quickly..." I definitely called my own bluff in that situation..."

"I remember I wrote the first line of the first verse and the rest just kinda flowed."

Written in October 2020, "Bluff" was recorded and co-produced by Brisbane-based GIVEN. The pair worked on "Bluff" in GIVEN's home studio enhancing its beauty with stand-out production techniques, with its sound set to create a lasting impression on anyone that listens.


Interview with GEORGIAXBYRNE
Question: How would you describe your music?

Georgia: A mix between Taylor swift, Julia Michaels and Fletcher.


Question: Can you tell us about Bluff?

Georgia: I wrote bluff way back in 2020 after a relationship I was in ended really suddenly. I remember thinking that I'd be fine and that I'd be able to move on easily and not think about all the little things that made me smile or moments that I despised. I definitely called my own 'bluff' with this one.


Question: Is there a particular message you hope listeners take from your music?

Georgia: That it is okay to be stuck on someone. It's okay to reminisce on the good and bad times.


Question: Do you prefer performing live or recording?

Georgia: Good question! I think both have their pros! I love performing and being on stage with my own music but I absolutely love the recording studio and the whole process. Each time is totally different from the last.


Question: Which is your favourite song to perform live and why?

Georgia: I think a crowd fave is "Blank Spaces" purely because it was my first single but I think "Better Man" is such a fun one to jump around to!


Question: What motivates you most when writing music?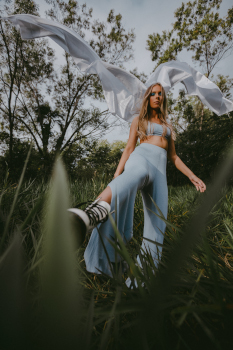 Georgia: Definitely personal experiences! If there's nothing that I'm trying to overcome in my own life, I usually can pinpoint something a friend is going through and use that as inspiration.


Question: Which music/artists are you currently listening to?

Georgia: I'm obsessed with Frank Ocean at the moment! I always have Vera Blue on my playlist as well as Benee and the queen, Taylor Swift.


Question: What or who was your inspiration to go into the music industry?

Georgia: My first CD was Taylor Swift's Fearless which eventually got scratched - worst day of my life! So I would have to thank Miss Swift for this one! I wanted to play guitar and piano since I was little.


Question: If you could collaborate with another artist, who would it be?

Georgia: Either Julia Michaels, Missy Higgins or Vera Blue. I think they would all be incredible people to work with!


Question: What has been your favourite part of becoming a music artist?

Georgia: Being able to write and express myself in such an open way. I love every part of being a creative and to be totally honest, I will always be involved in this industry.


Question: What's a typical day like?

Georgia: Okay so typically I wake up between 8 or 9am, classic avo and eggs on toast, get ready for the day, I'm currently completing my Bachelor in Music Performance so I'd either complete a lecture or do some study till around midday. Midday I hit the gym (exercising is one of my other favourite things to do!) and follow this with some content work for my Instagram. Throughout the day depending on how much uni work I have, I filter in some songwriting time, practice and see what I'm vibing with my music right now. By the end of the day I'm knackered and I have dinner, watch a movie and head to bed!


Question: What advice do you have for aspiring artists?

Georgia: Gig, gig, gig! I started gigging and performing from a young age and I cannot recommend it enough. By the time you're in your 20's the fear of getting up in front of an audience isn't there anymore (sure you get some butterflies every once in a while), but you feel a lot more confident.


Question: What's next, for you?

Georgia: Well, my 4th single 'Bluff' was just released on the 23rd of July and I've got some exciting news! I'm currently working on my debut EP for the end of the year!


Question: Can you share your socials? (links please)

Georgia: Instagram
Facebook
Spotify


Interview by Gwen van Montfort