False London have announced the release of their debut single "Flames" from their upcoming EP, a haunting love letter to how our environment and the people in it shape us, produced by Fletcher Matthews (CLEWS, Dear Seattle, RAAVE TAPES, The Buoys).

"I wrote Flames coming out of a situationship where it always felt the other person had one foot in and one foot out at all time," says lead vocalist Brent Martin of False London. "We were caught in this dance where neither one of us wanted to be the one who cared the most and by the end of it we were both just exhausted. So the track is kind of the last stand, so to speak. It's putting all the cards on the table, for better or worse, and saying "Let's cut the bullshit. If we're going down, let's go down hard."

"I wrote the original demo in one sitting, just strumming on my guitar and the words came together organically - which isn't always that easy," says vocalist Brent Martin. "When we got to the studio we polished it up a bit but it's largely the same song as the demo, which I think means I got it right the first time right?"

A display of blazing fire inspired colours, the accompanying video for "Flames" features the band performing the song with warm-toned background and lighting. Igniting into darker colours with strobe effects as the track progresses into its most energetic, impassioned sections, the video is a true showpiece.

"Our concept for the music video for Flames came about quite organically. We wanted to try and not over think the concept and keep the process fluid to avoid labouring on it and keep the look and feel dynamic but simple," said False London. "This allowed us to focus on the grander ideal of making sure our brand and look was paramount, after all for our debut music video we wanted to make sure that viewers got a slice of what False London is like live. By choosing to do a live band style clip we were able to introduce False London and it's members and showcase the energy we bring to every live show in a colourful environment."

False London is a band born out of necessity. An unmistakable drive to create, not because of the false promises inherently made in its pursuit but the liberating therapy it guides and guarantees, nothing more, nothing less.

Established as a four-piece from all corners of Greater Sydney in the midst of a pandemic, False London became much more than just a reason to survive but the reason to pursue something meaningful. The outfit advanced to be a silver lining, providing the landscape to discover the bands sound and a style that is true and loved from the inside first. A gritty mix of witty hook-fuelled lyricism by Brent is laid bare on top of a primal yet refined mix of guitars, bass and drums. After all, to get on the stage again and make poetry that you know sinks into the hearts and souls of people who are unable to express it is humbling.

The group are set to release their upcoming EP later in 2021, a declaration of their devotion to sound and style development that tells the world exactly who False London are.


Interview with False London
Question: How would you describe your music?

False London: Our music is gritty and raw with a pop flair for vocals, bringing together an indie rock sensibility with a more polished and refined pop sound woven throughout. We're not going to claim to rewrite the book on any such genre, but we feel what we've got going on is something other people are going to vibe with too.


Question: Can you tell us about Flames?

False London: Flames is essentially about ending a relationship, where the other person always has one foot in and one foot out. It's exhausting to be in that sort of scenario, where you're constantly analysing everything to make sure that you're always the person who cares less - to have the power. Flames is calling their bluff and putting all your cards on the table, for better or worse.


Question: What inspired the music video?

False London: After throwing ideas around of what the video could include we decided to stick to a clip that is just no nonsense and highlights the us, the band members, as this is our introduction to the big bad world and we wanted everyone to see who the band is and what our live shows are all about, filled with an infectious energy.


Question: Is there a particular message you hope listeners take from your music?

False London: Our music is fundamentally hopeful. I hope listeners see that, no matter how bad things might seem, there's always a silver lining.


Question: Can we expect any upcoming shows?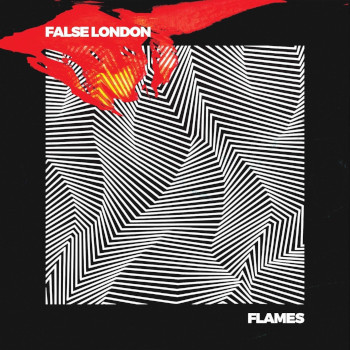 False London: Ask Scotty from Marketing. But keep your eyes peeled on our socials. We have some cool things planned coming soon.


Question: What is the story behind the band name?

False London: To us choosing a band name is one of the most difficult parts of starting a band. There's the cliches of always trying to find something that has longevity and summarises our sound but really the name ideally means nothing but at the same time multiple things. That is in the sense we define the meaning and what it represents, it's about having a name that sticks long after the song or gig is over. After throwing out endless amounts of names and word combos, Dan came across a little known novelty fact about old London Town and how what we know today is the current London city is actual not the original, so in a way the current place is like a false london. We sat on it and bounced it around some of our friends and this one just seemed to stick and have a ring to it that lasted longer than the rest we were messing around with.


Question: How did the band come together?

False London: Nathan and Jared were in a couple of bands years back in the heavier alternative music scene, and after not doing any music for a few years we kept talking of wanting to do something again in a different genre, start fresh and just make music that excites us and reminiscent of stuff we grew up loving. We posted on music pages online looking for guitarists and singers, Dan and Brent were two of our first responders and kept delivering quality audition takes with everything we asked to demonstrate like what they could bring sound wise to the band. It was definitely two of the easiest decisions we've made so far bringing them on board.


Question: What motivates you most when writing music?

False London: It's important for our writing to be honest, first and foremost. Even if that means axing a great lyric or spending days on finding the right word. Songs can't lie.


Question: Which music/artists are you currently listening to?

False London: Writing these songs we were doing a lot of deep diving and listening to a lot of Jungle Giants, Arctic Monkeys, Polish Club and Inhaler, just a bunch of really eclectic sounds we wanted to draw on. The later two in particular are both releasing amazing new music right now. The band came together for mutual love of Two Door Cinema Club, the Wombats and the like, which are always in our regular rotation. I mean you can never get sick of spinning them late into the night.


Question: What or who was your inspiration to go into the music industry?

False London: Oh geez, this one will take me back, music generally was always around for me, but I really only started paying attention properly around the Christmas of 2003. V music would play highlights from the previous Big Day Out festival on Christmas Day all day along with music videos. I specifically remember this band called Foo Fighter playing a song called Everlong, from the moment of the first chorus and watching the crowd reaction to this music I immediately knew I wanted to play live music in a band - Nathan


Question: If you could collaborate with another artist, who would it be?

False London: I have an infinite love for Dermot Kennedy, he is such a great lyricist and puts so much emotion into his stuff, he has a different angle to his sound than us but would love to see what he could input into a song of ours and to hear him in a slightly different sound. Could be something very cool! - Jared


Question: What has been your favourite part of becoming a music artist?

False London: Just seeing and hearing so many different ideas growing into something much bigger than any of us could just do alone. Multiple people becoming one across a meshing of ideas, it's just electric and there's no better feeling like it. Even though sometimes we have no idea on the outset how any of the songs might turnout, the thrill of the journey to find them and then resolve them into songs other people will resonate with is the best part about being musicians.


Question: What's a typical day like?

False London: Right now we're in lockdown, so our days are pretty slow. Most are spent with us going stir crazy and trying to think what more we can do in regards to content and future plans, but there is a big limit to what we can plan, I'd say our days are full of anxious energy right now! We're just so excited to get out there and play shows and meet new people honestly, it's such a huge and enjoyable part about being in a band.


Question: What's next, for you?

False London: We have a few songs in the bank that we will be releasing soon! Keep a lookout on our socials. Plenty more in store as we work our way towards releasing our debut EP.


Question: Can you share your socials? (links please)

False London: Facebook
Instagram


Interview by Gwen van Montfort