Go Girl Go For IT Aims To Close The IT Gender Gap
In one of the largest free Australian events of its kind, 2,000 girls from 73 Victorian schools will attend Go Girl, Go For IT - a biennial event which aims to inspire female students to consider a career in IT.

Studies show that only 3% of school girls are considering an IT career and only one in four Australian IT graduates are female. And despite a 70% growth of ICT jobs since 1996, women account for only 16% of ICT roles in Australia. With the demand for digital skills on the rise, it's more important than ever to encourage more females into STEM careers. The Go Girls Go For IT event aims to close the gender gap by fostering an interest in tech at an early age.

Fi Slaven, Program Director, Go Girl, Go For IT, believes that through early exposure, more girls will be open to considering a career in IT.

"There's a growing body of evidence that shows early exposure to technology can help increase a child's interest and confidence in STEM subjects. It's one of the reasons we've opened up the event to primary school girls this year – we want to plant the seed of possibility at an early age and show them all the amazing possibilities a career tech can open up for them.

"This idea that 'tech is for boys' is quite ingrained, and that happens at an early age – in order for us to really start closing the gender gap in IT we need to address this mindset at the primary school level.

Ms Slaven said the response to this year's event was unprecedented.

"We've had an overwhelming response to this year's event, particularly from the younger year levels - we could have easily filled the event with primary school girls alone."

Regional Victorian schools will be well represented with 22 of the 73 schools coming from regional areas. Demonstrating their dedication and enthusiasm, girls from some regional schools are making considerable efforts to attend; Mt Beauty Secondary is making a day of it and arriving the night before.

Ms Slaven said, "Some of the regional schools are going to extraordinary lengths to attend Go Girl. Getting hands-on with cutting edge technology and meeting inspiring female leaders isn't something they have the opportunity to do very often. They're making a huge effort to come along, which is incredibly humbling."

Students attending Go Girl, Go For IT will participate in workshops, get their hands on the coolest gadgets, be exposed to possible careers in tech, and hear from inspiring speakers. Amongst the many speakers, this year,students will hear from Go Girl, Go For IT ambassador, Ally Watson, a developer, computer science graduate and co-founder of Melbourne's highly acclaimed Code Like a Girl.

Ally Watson, founder of Code Like A Girl said, "I'm really looking forward to speaking at the event – it's always such a pleasure to meet young girls interested in tech and hear about their hopes for the future. I kind of fell into computer science and really did feel quite alone in a sea of men for a while there. So it's exciting that these kind of events exist now, where we can show young girls that yes, they can have a cool career in IT and there are so many versions of what that might look like. It's a really special thing to be a part of."

Go Girl, Go For IT is for girls in years 5-12 from regional and metropolitan schools around Victoria. It will be held on 16 August 2018 from 9am to 3pm at The Burwood campus of Deakin University. The event is now fully booked and registrations are closed, however limited sponsorship opportunities are still available.



Interview with Ally Watson, founder of Code Like A Girl
Ally Watson, 29, was named one of Australia's nine most influential female entrepreneurs of 2017. She's a developer, computer science graduate and co-founder of Melbourne's highly acclaimed Code Like a Girl. @codelikeagirlau is an Australian organisation set out to spark change in the tech community; inspiring new generations of girls to acquire coding as a skill through their workshops and events.


Question: What inspired the creation of Go Girl, Go For IT events?

Ally Watson: Go Girl Go for IT is one of the programmes supported by Vic ICT for Women (VicICT4W). VicICT4W is about recruitment, retention and progression of women in technology and Go Girl is just one of the programmes that supports this strategy. Others include Go Grad, Go Grow and Go Lead. The Go Girl team saw a need to inspire more girls to embark on an IT journey at younger age and show them what's possible and all the avenues a journey in IT would bring. You can see more programmes from VIC ICT for Women here http://www.vicictforwomen.com.au/programmes/.


Question: Why is it important to motivate female students towards a career in IT?

Ally Watson: There are so many reasons why it's vital and beneficial to have women in tech, from future proofing the workforce and tackling unemployment, to addressing sexism within the sector, providing role models for girls and young women to look up to, and securing long-term profitability for businesses and organisations.

Arguably one of the most important reasons is that the systems we build both inform, and are informed by, our lives. We know that technology is a big part of building the world of the future. So, we ask: if that world is being built under the leadership of a single gender, or by one type of person - one perspective, one experience - what does that mean for the world being built? What is missing from that world and what are the consequences?


Question: Why are many females deterred from a career in IT?

Ally Watson: I think there are inherent inequalities in our society, as well as gender-biased societal norms which have discouraged women from pursuing IT. A quick look down a toy aisle, magazine aisle and even certain advertising and mainstream media will show we're not setting the bar very high for girls to pursue intellectual areas. We encourage girls more so than boys with dolls to care for, barbies, kitchens to play in, we teach teenage girls to be more concerned about which swimsuit suits their body type instead of stimulating them in STEM areas, and when we reach adulthood we frequently have the media reinforcing traditional gender roles - women at home, and men as breadwinners.


Question: What can the 2,000 girls attending Go Girl, Go For IT expect from the event?

Ally Watson: A great day of presentations by key speakers in the industry, a full day of workshops and as much inspiration to take up IT as we can fit into a day. We want them to walk away with an understanding on all the options currently available; the possibilities are endless and we want them excited about being a part of this.


Question: Can you tell us about the role you play at the Go Girl, Go For IT event?

Ally Watson: I often say 'you can't be what you can't see', so my role at the event is to be visible to the girls attending; to share my story and insights into my career and study in computer science. I remember how it first felt learning to code. How empowering it was to build anything that came to mind with technology. It's a skill that's not only been a tool in my career as a web developer but it's been a satisfying pastime and outlet for my creativity. My role is to share this discovery with the girls and give them a peek into the industry and the limitless possibilities of what you can create with technology.


Question: Will there be more Go Girl, Go For IT events scheduled for the future?

Ally Watson: Yes! Go Girl Go for IT happens every two years – the next event will be in 2020 and the team have already started collating what they'll do differently for that event. The need for women in technology is only increasing and so this event is an excellent way to inspire girls who are interested in being a part of that future.


Question: What's a typical day like, for you as a developer?

Ally Watson: I'm a CEO now, which has been a very natural transition from my past life as a developer. Steve Jobs once said that everyone should learn to code as it teaches you to think - I couldn't agree more. The number of successful CEO's with engineering backgrounds actually outnumber CEO's with MBA backgrounds, three to one. This transferable skill-set of problem-solving, mitigating and debugging errors has given me a fantastic foundation to run a business. I switch hats often between CEO and CTO to work on our website and email campaigns. Being a small educational startup we don't have a huge team so it's really given us an edge having that skillset on our team.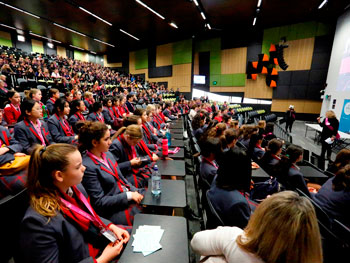 uestion: How did it feel to be named one of Australia's nine most influential female entrepreneurs?

Ally Watson: It's very surreal and I often get imposter syndrome thinking about the accolades I've received since starting Code Like a Girl. It's hard to take credit for anything when beside you is a team of passionate, incredible people supporting you every minute of the journey.

Lyrics I live by are from a Scottish band Frightened Rabbit, "Whilst I'm alive, I'll make tiny changes to earth". Often we feel powerless in this very large planet but we all have the power to make small changes in our own communities and lives.


Question: What's next for Code Like a Girl?

Ally Watson: Our next big project kicks off this October where we're taking Code Like a Girl on the road with our pop-up coding classroom. We'll be popping up in disadvantaged areas across West Melbourne to teach low-cost coding workshops to girls aged 6 and upwards. At the heart of Code Like a Girl is an agenda to give our girls an edge by providing access to education to girls of all backgrounds we hope to close the gap on social and financial disadvantage that girls and women in Australia face today and in the future.


Interview by Brooke Hunter