BlockPlay have launched their digital record label with integrated music NFT studio and distribution capabilities, and announced their first official signing H3RIZON, the uber-talented Aussie girl group taking over the TikTok pop scene. Released today, their impressive new single Serious is a total bop, accompanied by a vibrant, 2000s-inspired music video directed by Rowena Rasmussen of JTown Creative (Katy Perry, Taylor Swift, Jessica Mauboy).

Pop superstars H3RIZON, consists of Bernadette Marquez (Bernie), Taylah Albert (Taya) and Gabrielle Montalbo (Gabby). With 1.7 million followers on TikTok, fans are eagerly anticipating the BlockPlay-backed EP and associated music NFT collection. Serious is a cheeky little pop explosion – bouncing synths and irresistible vocal hooks abound, inviting the listener to press play again and again. In the colourful, joyous and playful video for the track, the H3RIZON girls are television stars – Gabby is a weatherwoman, Bernie is a workout instructor and Taya is a chef – amongst a vivid set of neon colours and flashing lights. It's a slick production, sweet and the perfect introduction to H3RIZON on the precipice of their pop music world domination, as the girls explain why H3RIZON just works so well, "With Tay's RnB background, Gabby's classical music influences and Bernie's production skills, we found ourselves ultimately drawn to each other to form a 'new' girl group that follows in the footsteps of Destiny's Child, TLC, Chloe x Halle, and Little Mix." The upcoming H3RIZON NFT collection will consist of a set of crypto-fashion digital collectibles laced with the pop songs lifted from the EP.

BlockPlay is transforming how independent artists connect directly with their fans thru NFTs, as the digital label's founder, Wilson Olegasegarem (artist name Wilsonn) outlines, "After the success of my own music NFT, we received an enormous amount of outreach from the music industry to do the same. We now have the capital to back up to twenty-five or so independent artists to produce and release exciting new independent music and innovative NFT collections." Olegasegarem's vision for the next evolution of the direct-to-fan music industry is for artists to retain control of their own masters and for the digital label to provide the capital and cutting-edge technology to help support their career paths.

Offering further insight on why artists will be interested to jump in on BlockPlay, H3RIZON's managers Phil Anquetil and Kelvon Avon comment, "H3RIZON will be one of the first-ever artists completely powered by the blockchain… We're no longer relying on the major labels to take a risk on our amazing artists - we're allowing savvy fans and followers the opportunity to invest in digital collectibles …the merging of music, tech, NFT/Crypto can be the new model for artists success, and H3RIZON are set to pioneer it!"

BlockPlay is powered by the NFT marketplace technology software provider, Monegraph, the inventors of NFTs and providers of the industry's most powerful enterprise platform for minting, auctioning and marketing digital collectibles. Olegasegarem stressed, "Our partnership with Monegraph is fundamental. It is the only NFT platform in the world that offers the digital media rights contract baked directly in the blockchain protecting both the NFT buyer and the artist/label. It enables the artist to issue NFTs while explicitly protecting their copyright and associated commercial rights to their music." He further explains, "Once your NFT has been auctioned, you can be paid instantaneously into your crypto wallet which sure beats having to wait a long time to collect your royalty payments."

BlockPlay is architecting a label-musician relationship that is aligned with artist's financial interests and maximises their creative potential. Describing BlockPlay's mission, Olegasegarem says, "BlockPlay is flipping the traditional record contract as you know it on its head! The new frontier of what a label looks like is here, and the model looks very different and promising for the future generation of talent to make an income straight away from digital collectibles! We are a group of artists and innovators in the tech realm and we are looking for innovators alike. We are calling out for artists, creatives, labels, fashion houses, designers, execs... you name it. The possibilities are endless with BlockPlay."


Interview with H3RIZON
Question: How would you describe your music?

H3RIZON: A lot of the music we're creating is part of the Pop/R&B genre. Being a three-piece girl group means we're bound to draw inspiration from a lot of different places, and we're always keen to fuse elements from other different genres we each love, particularly from Gabby's classical music upbringing. We love combining that with Tay's R&B background and Bernie's skills in music production to be as versatile as possible with our music. It can be uplifting, to bold, to vulnerable, then to straight up bop!


Question: Can you tell us about Serious?

H3RIZON: This is the second song we've ever written together! This happened around 3 years ago when we were just starting out as H3rizon. It's been so long since we wrote this song in Bernie's cozy bedroom with a supply of endless snacks. And now we're channelling our inner Spice Girls, getting glammed up, wearing bougee outfits for our music video!

We always want to be involved in the production of our songs. For the production of SERIOUS, we added a personal touch to it using Gabby's voice memo of a composition for her school assignment. Our producer processed and manipulated it, and turned it into this vibrant, Y2k-esque beat. During the writing process, we wanted to create a cheeky, fun take on relationships from the POV of someone who doesn't want to be held down. That chorus is a result of us hyping each other up, screaming, laughing and bouncing off each other's ideas. And we had our own verses to write which ended up being the parts we sang solo, so each verse is unique to us! With this music video, the message we want people to take away is to not allow any negativity to weigh you down, to just let loose and have fun in this life, because people can get way too serious at times, and we hope this becomes their reminder!


Question: Is there a particular message you hope listeners take from your music?

H3RIZON: We hope our listeners take whatever the music is trying to express. We want them to feel a connection with our music and with each other, and realise that they're a community of people going through the same emotions, recalling their own experiences listening to our songs.


Question: How has BlockPlay influenced your music?

H3RIZON: We've no shame in saying that we're still learning about blockchain, NFT's, and Crypto because it's such a new concept to us. But we can definitely say that BlockPlay is changing the game for independent artists and the way we can connect with our fans. We're able to retain the control of the rights to our music and make an income from the NFT marketplace by selling digital collectibles. Our H3rizon NFT collection will include a set of crypto-fashion digital collectibles and any upcoming releases! We're glad that we've joined a group of innovators to help us take a step into the future and make use of this technology. We hope that we're among the first of many to be part of this digital label!


Question: Do you prefer performing live or recording?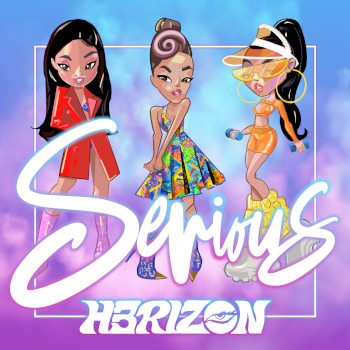 H3RIZON: Bernie: I love performing live, but recording and being in the studio is what I prefer. I'm in love with the whole vibe of starting something from scratch, bouncing off each other's ideas, and hyping someone up when they come up with something amazing. And to top it all off: the Uber Eats lunch breaks!

Tay: I love performing live. It gives me the chance to express myself and I'm in my element.

Gabby: Am I allowed to say both…? I love performing especially with the girls, because we're always vibing together and there's never a dull moment! And I love recording because the moment I'm in the booth, I'm closing my eyes and I'm completely in my zone because no one else is around me.


Question: What is the story behind the band name?

H3RIZON: H3rizon sums up a saying that we believe in: "She's got her hands on the wheel, and her eyes on the horizon." To us, this means to never lose sight of who we are but also what we want to become. On our journey, we'll always encourage and support each other, especially as women. We want to be in the moment, work hard, and push through whatever comes our way.


Question: How did the band come together?

H3RIZON: We've always known of each other through mutual gigs because we each performed a lot as soloists during our teen years. We finally came together for this "Dreamgirls" themed concert, and from then on, we kept singing as a trio for a bunch of different gigs. It came to a point where it just clicked. As we got to know each other, we discovered we all share a passion for songwriting, and we wanted to become something more. We knew that we could do amazing things as a girl group, so here we are!

We also think we were drawn to each other because of how our families and culture instilled music into our lives from childhood. Filipinos and Mauritians love entertainment. So we're definitely perfect for each other!


Question: What motivates you most when writing music?

H3RIZON: What motivates us is the need to share our story, and the chance to encapsulate our emotions, and experiences in music form.


Question: Which music/artists are you currently listening to?

H3RIZON: Bernie: My playlist includes a lot of alternative R&B, Neo Soul, Indie Pop, and some 70s hits here and there.

Tay: Current artists I listen to are Doja Cat, Justin Bieber and Lil Nas X.

Gabby: I'm listening to my throwback playlist at the moment which I NEVER get tired of. Mariah Carey, Brian McKnight, Usher, Tamia, TLC, SWV - just a couple of names I find myself replaying too often.


Question: What or who was your inspiration to go into the music industry?

H3RIZON: Bernie: I've always had a passion for songwriting and producing before I even considered going into the industry. This is because I never really saw myself as a solo artist and always knew I thrived working alongside other people, considering my history of being in a lot of choirs, and vocal ensembles. I got the best of both worlds now, being able to cultivate my craft and work with two other amazing artists. I guess you could say it's the two other girls who inspired me to go into the music industry!

Tay: Growing up, I watched a lot of kids tv shows and spent lots of time on Nickelodeon. I watched Ariana Grande play several characters in a few different shows and watching her use her voice inspired me to use mine. Her vocal abilities made me wish I could do the same so I started working on my vocals and took professional singing lessons… here I am today performing with two incredible female artists!

Gabby: I was always a shy and quiet kid, but the moment my parents enrolled me in music lessons I became less of that in the best way possible. I found a passion that gave me a voice (quite literally) and constantly took me out of my comfort zone. In all honesty, my parents are my biggest inspirations because thanks to their massive push of support and continuous faith in me, I haven't stopped doing music and I definitely don't regret it at all.


Question: If you could collaborate with another artist, who would it be?

H3RIZON: I think we all agree that we'd collaborate with Chloe x Halle. They're a huge inspiration to us. Their quality of sound, and level of musicianship is something we always strive for in our own craft. We're proud to say that they shared our cover of their song "Forgive Me" on their Instagram and we FREAKED OUT! So we're actually one step closer to collaborating with them (lol).


Question: What has been your favourite part of becoming a music artist?

H3RIZON: Bernie: collaborating and writing with other creatives, seeing your vision come to life

Tay: The joy and being able to put smiles on people's faces whenever I'm performing makes me the happiest.

Gabby: Being confident in my own skin and not being afraid to embrace that!


Question: What's a typical day like?

H3RIZON: Bernie: Surprisingly, I've been super busy during this lockdown. As soon as I wake up, I fulfil a bunch of different tasks like mixing our song covers, working on my craft, creating content, and engaging on social media. We're all working hard to get our music out there! But somehow I do find the time to rewatch the Twilight series, the Harry Potter series, and the whole MCU franchise.

Tay: There's no same two days when being an artist! You're either in the studio, working on your aura or creating content for social media platforms. There's lots to do in a day but these tasks are the main projects for the day.

Gabby: Waking up at 9am (if I have the urge to lol), going outside onto my deck and embracing the sun if it's great weather, filming content that needs to be done for the day, editing videos to post on our socials, and taking some time off by either watching a movie with my family or making late-night dessert to treat myself ;)


Question: What's next, for you?

H3RIZON: We've managed to keep busy with content and music creation despite this lockdown! People can always find us active on TikTok and Instagram. We're so keen for our fans to get to know us better, so we've also been doing plenty of interviews and Q&A's. The release of SERIOUS has been such a fun and exciting experience, and we're so grateful to see the overwhelming support of our fans, family and friends. And we hope that they love our next release just as much as this one ;)


Question: Can you share your socials? (links please)

H3RIZON: Instagram
TikTok
Facebook
Twitter


Interview by Gwen van Montfort