Jess Holland Interview
With reviews like 'a voice that could peel the pain off walls' [Mike McClellan] it's evident that country starlet Jess Holland is one of those musicians to watch out for. Stepping out of the shadows of her band to record her debut solo release, this 2011 Voice of Urban Country winner at the Urban Country Music Festival and Top 20 finalist in the 2011 Toyota Star Maker Competition has already been making waves on the country scene. The first single My Kinda Town from her release Introducing Jess Holland will show another side of this 2011 CMAA Country Music College graduate, and no doubt earn her fans far and wide.
Jess isn't a new face on the music scene, she's been honing her skills for years, and comes from music royalty. Her grandfather was a founding member of well-known bush band The Stringybark Band, so it's no surprise that Jess felt a resonance with country music. As a three-year-old, Jess taught herself to play the piano, and by the age of nine she was performing in musical groups in her home town of Mudgee. In high school she formed her own rock band McGee, which saw this powerhouse vocalist showcasing her talents, while also playing mandolin, keyboard or acoustic guitar.
McGee had incredible local success for a fledgling band. They released their debut self-title EP in 2008, and secured performance spots on the likes of the 2008 A Day on the Green. Stepping out on her own was a brave step, but a natural progression for Jess. "The decision to go solo with this album was certainly a big step for me," she explains. "But I am more comfortable with myself as a person and a musician, and I think that the end result proves this. I think this album was the right move for me, as I was able to branch into the genre I love, and write the songs I wanted to write. I could also experiment and introduce different instruments that I wouldn't have before, such as the harmonica and the mandolin and use my versatility on each track."
Jess kicked off 2011 with a great start to her solo career, being chosen in the Top 20 finalists for the Toyota Star Maker. She has also toured through central, western and northern New South Wales in support of the likes of Luke Dickens, Uncle Bobs Jug Band and Adam Kilpatrick. She also performed at the wedding for Scott Warby from the Channel 9 show Farmer Wants a Wife. Earning the title of 2011 Voice of Urban Country was a great stepping stone forward.
"2011 was such a great year for me as an artist," Jess says. "It was definitely a step in the right direction and I achieved a great deal in that time. These accolades have allowed me to record my debut album. They have exposed me to all aspects of the country music industry, and greater knowledge of what I need to achieve to be a successful musician."
If her success so far is anything to go by, 2012 is going to be a massive year for Jess. "It will see the release of more tracks off my debut album," she says. "I will also be gigging all over Australia. I also have several festivals that I will be playing at, including Gulgong Folk Festival, Can Assist With Music 2012, and Urban Country Festival." Jess and her band the Silver Spurs are also planning an Australian tour Mudgee to Melbourne (M2M).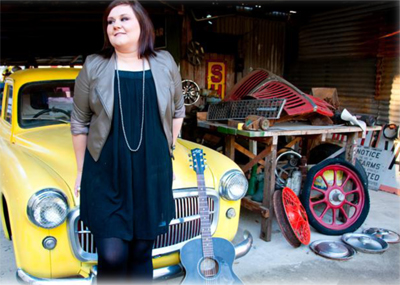 Interview with Jess Holland
Question:
How would you describe your CD?
Jess Holland
: Everything that has ever influenced me including musicians, music and songs. Every song is a part of me, it is a very strong style of music and I consider myself a very strong person. The album is Country/Rock.
Question:
How does it feel to hear your song played from your CD?
Jess Holland
: It is exciting and weird to hear yourself back at the same time. It is great to hear that people who have heard the CD are enjoying it as well, that is my main aim.
Question:
Do you write your own songs? What's your inspiration?
Jess Holland
: Anything is an influence for me personally. My personal and work life influence my writing as well as things that I have seen happen with other people and those in relationships. Anything that has affected me generally is an influence because you can only write from the heart and with what you believe.
Question:
What music/artists do you listen to when you are not playing your own?
Jess Holland
: I have a very wide variety of music that I listen to; I love anything from Janis Joplin who is a very big influence on me and I love old country music; I grew up with Slim Dusty, Johnny Cash and those musicians. I love rock and roll; I am a huge Beatles and Rolling Stones fan. I have a very large variety of music on my playlist.
Question:
Do you prefer performing live or recording?
Jess Holland
: I love live performances because that is what I started with, that is where I have the most experience. There is nothing like getting on stage and performing to people who are enjoying your music, that is the biggest buzz for me.
Question:
What/who was your inspiration to go into the music industry?
Jess Holland
: I have always played music, from a very young age; my first instrument was the piano; music is in my blood, I come from a musical family and it is quite natural for me. My Grandfather was in a Blue Grass band called The Stringybark Band; I grew up with music around me, all the time as all my family play instruments. I have always loved playing music, singing and playing instruments, it was a natural progression.
Question:
What is the biggest challenge you have faced along the way to your musical success?
Jess Holland
: I have had this album, in the running, for about twelve months and I have been writing like crazy. In May 2011, I was very lucky to have won The Voice of Urban Country and that allowed me to overcome one challenge of being able to record as one of the prizes.
I have quite a large input from my band and we all work quite well together but we all have a different style we want to bring to the music and that is quite a challenge.
Getting yourself out there and having people get to know you is quite hard; having your music played on air and on radio is always a challege.
Question:
What's a typical day like, for you?
Jess Holland
: I still work; I am an agronomist and I am very hectic because I am always throwing around ideas for writing. Not only am I working full time, I am a full time musician where I gig every weekend and practice every day; I work 15 hour days to balance my work and my music. The hard work is beginning to pay off, I love it, what more could I want?
Question:
What has been your favourite part of becoming a music artist?
Jess Holland
: I really enjoyed recording and writing my new album, it is so exciting that finally I get to show everyone in the industry who Jess Holland is. I have been in a band who has performed at Day On The Green but being a solo artist has been my favourite part, finally I get to show everyone who the real me is.
Question:
If you could collaborate with another artist, who would it be?
Jess Holland
: Australian artist would have to be Catherine Britt, I am a really big fan of Catherine Britt because she is a strong lady and I love her music, it is down to earth country and that is what I love.
An American artist I'd like to collaborate with is Zac Brown Band because Zac Brown adds a whole different flavour to the country music industry.
Question:
Do you have a website fans can visit?
Jess Holland
: Sure do, it's
www.wix.com/jessicaholland/jessicaholland
.