In the age of Coronavirus "100 Days Of Solitude" is nothing less than the collective human experience, though Jordan Laser makes it sound 100% sweeter in her latest single release. No stranger to moody, alternative pop, the Sydney-based singer-songwriter and producer continues to build a hypnotising, cinematic presence with the smoky sonics and melodies she delights us with.

In an obvious tilt towards Gabriel Garcia Marquez' famous novel (100 Years of Solitude), "100 Days of Solitude" was written during the malaise and contemplation of lockdown last year.

On the track, Jordan said, "I was drinking too much, living on my own and in love with a man who'd just disappeared on me. I had this creeping realisation that he wasn't who he said he was, which proved to be true. So this song is about trying to find hope in a hopeless situation, and coming out with a little more stamina on the other side."

The song's accompanying video, directed and shot by Rhys Day and Tyson Perkins, sits well within the world created in other visual pieces from Jordan's earlier offerings - at once vintage and cinematic, as well as emotive and raw, much like Jordan's sound and character.

With it's lush guitar-driven landscape and tender vocal delivery, "100 Days of Solitude" is a self-reflective ballad that plunges the low points of a love unreturned during isolation. 'Even when you keep me lonely, I know how to be my only' she sings, with a bruising sensitivity that carries us through her song like a quiet stream.

Produced alongside Jack Moffitt (ex The Preatures) and mixed by Dann Hume (Amy Shark, Matt Corby, Sticky Fingers), this latest offering is a testament to Jordan's growing depth and maturity as an artist. The result is both sparse and expansive, with Moffitt's rich landscape of guitar tones and textures combined with Jordan's confessional songwriting and delightful melody making.

"All the pain and uncertainty of 2020 resulted in this return to writing at the piano instead of the computer, and to my love of ballads," she says. "The ballad form just seemed to soothe the soul in ways that other music didn't at that time."

"100 Days Of Solitude" follows Jordan's two recent releases "Slow Motion" and "Battleship," both of which cemented her signature sound within the world of indie-pop and received praise from Women In Pop, Pilerats, Music Feeds, Milky, Happy Mag, PINNK Magazine and more.


Interview with Jordan Laser
Question: How would you describe your music?

Jordan Laser: Deep delicate pop.


Question: What inspired 100 Days Of Solitude?

Jordan Laser: Being disappeared on by someone I loved, lots of nights spent alone during lockdown last year, mixed in with too much whiskey.


Question: Can you tell us about the music video?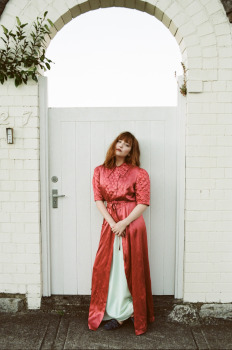 Jordan Laser: I was really inspired by Gregory Crewdson photographs which often paint these eerie scenes of lonesome figures in domestic settings. They're simple yet cinematic and there are hints of narrative that leave a lot up to the imagination, which I love. And then with Rhys Day's wonderful direction & Tyson Perkins' beautiful cinematography, the three of us worked together on bringing those themes to life.


Question: Is there a particular message you hope listeners take from your music?

Jordan Laser: Not so much a message, but more a feeling of comfort or a moment of solace.


Question: Do you prefer performing live or recording?

Jordan Laser: As an anxious person who overthinks and worries about everything, I prefer the cocoon-like aspect of recording…it's safe and warm and dark, and I can control the lighting.


Question: What motivates you most when writing music?

Jordan Laser: It changes, I think there's a lot of swinging between pure and impure motivations. Like sometimes it's been about wanting to get back at someone, saying something in song that you didn't get a chance to say in person, it's revenge-y and scorned. Other times it's just a pure love for melody, putting on a song that moves you and then immediately wanting to go to the piano and have a tinker.


Question: Which music/artists are you currently listening to?

Jordan Laser: The songs sound tracking my lockdown right now are:
Sufjan Stevens- lamentations
Liam Gallagher- one of us
F-POS- millionz
Taylor Swift- cardigan


Question: What or who was your inspiration to go into the music industry?

Jordan Laser: Pursuing music has always allowed me to combine all the things I'm interested in…melody, words, sound production, visual art and therapy, ha. This way they get to all live under the same roof.


Question: If you could collaborate with another artist, who would it be?

Jordan Laser: I would love to produce a song with Jack Antenoff or Mark Ronson.


Question: What's a typical day like?

Jordan Laser: Somewhere between waiting for Godot and the Titanic


Question: What's next, for you?

Jordan Laser: Learning how to stay afloat better.


Question: Can you share your socials? (links please)

Jordan Laser: Facebook
Instagram
YouTube
Spotify


Interview by Gwen van Montfort