Brisbane pop songstress K Mak imaginatively combines strings, electronic beats and operatic vocals, to create otherworldly yet accessible electro-pop tunes. This year has seen her grace the world with singles "Be My Lady" and "It's You" in the lead-up to her debut self-titled album.

This unique and gorgeous musical intersection of K Mak means there is truly something for everyone on the record. With sounds drawing from the likes of Radiohead, Bjork, Tori Amos, FKA Twigs, Banoffee, Cocteau Twins and inexplicably some M83. Topped with her sense of humour and multi-instrumental ability, it's one of the most impressive releases of the year.

The recording of the songs was spread across Alchemix Studios in Brisbane, a local Church, and a friend's bedroom in Melbourne. The tunes were recorded and mixed by Marly Luske with co-production by Stephen Carmichael, then mastered in New York by Matthew Agoglia. K Mak performs cello, piano, synths, programming and vocals on her album.

She explains that the songs give a broad perspective on her life,"The album is an expression of love that I had nowhere else to put, following the love of my life going MIA. It felt like having a baby but out of the wrong hole. A couple of the songs involve my family. One involves an insurance company… the usual triggers!"

As a cellist with the Queensland Youth Symphony, Queensland Theatre and Opera Queensland, Kathryn McKee – the force behind K Mak – has toured Australia, Europe and Asia, and played onstage with Kanye West, Eminem, Archie Roach and Vera Blue. She's plumbed the depths of her career to package A-grade musical elements into ballads and bops that delve into matters of the heart with a tongue-in-cheek twist.

As K Mak, she's been nominated for a Q Song Award, the International Songwriting Competition and an Independent Music Award, and has played Brisbane, Sydney, Melbourne, the Woodford Folk Festival and at a Tedx Youth Forum. Be sure to pay attention for the enigmatic forthcoming debut album!


Interview with K Mak
Question: How would you describe your music?

K Mak: A distillation of classical, alternative and electro-pop music. Artpop?


Question: Can you tell us about your upcoming album?

K Mak: Yes! It's a collection of tunes mainly written in response to the love of my life going missing in action. Strings recorded in a local church, beats and synths in a Melbourne bedroom, drums and vocals in the studio… To me it's a high colour expression of love that couldn't land with the person it was meant for.


Question: Is there a particular message you hope listeners take from your music?

K Mak: Not a message as such, but I hope it gives people courage to connect with their feelings.


Question: What motivates you most when writing music?

K Mak: Feelings that I don't know where else to put - sometimes about my family, once about my frustration with an insurance company. Mostly about that lover…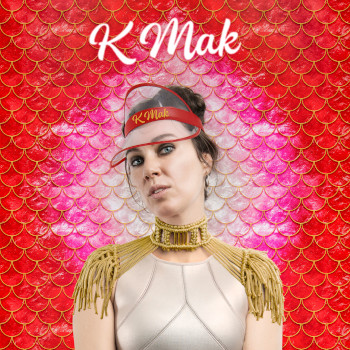 Question: Which music/artists are you currently listening to?

K Mak: Soley, Nils Frahm, FKA Twigs, and a little bit of hip hop due to the company I'm currently keeping. (Don't tell him.)


Question: What or who was your inspiration to go into the music industry?

K Mak: My first cello teacher. Also just music itself – who can get enough of the stuff?


Question: If you could collaborate with another artist, who would it be?

K Mak: Dirty Versachi! A Melbourne artist who actually co-produced a lot of my tracks. So I'm already living that dream.


Question: What moment in your career stands out the most?

K Mak: I'm probably meant to say playing cello live with Eminem or Kanye West but it's actually a string quartet gig last year when a lady just out of Melbourne's first big lockdown came to us in tears over how much she'd missed live music.


Question: Did you have any pre-conceived ideas about the music industry?

K Mak: Not that I'm aware of. I feel lucky to have entered it sort of from the side. As a cello player for other acts I've managed to score some insight before becoming an artist myself. Handy!


Question: What's a typical day like?

K Mak: Eeeeemails, sorting music and players for my quartet Angel Strings, teaching the cello, a gig or a show depending on the day, plus some practise and lots of snacks.


Question: What has been your favourite part of becoming a music artist?

K Mak: Just, playing music. I absolutely love it. I also like that each day is different, and involves different locations and different people. I also feel proud to be self-made as such as there's so much pressure from society not to take that risk.


Question: What advice do you have for aspiring artists?

K Mak: "Be yourself – everybody else is taken." And don't take much, if anything, personally.


Question: What's next, for you?

K Mak: I'm playing cello in Charlie and the Chocolate Factory the musical at the moment, with a K Mak show at the Brisbane Powerhouse on September 24 and one at the Gold Coast's Home of the Arts on November 5. Plus lots of string quartet gigs in between, including one on Hayman Island aaah.


Question: Can you share your socials? (links please)

K Mak: Website
Facebook
Instagram


Interview by Gwen van Montfort