Kat Jade The Voice on Tour Interview
The Voice has tonight revealed the Top 8 finalists who will now prepare to head out on their first ever national tour following the season finale for The Voice on Tour. Performing in arenas in July in all major cities, the finalists will be performing a mixture of group songs, duets and solo performances. Tickets are on sale now through ticketek.com.au.

Kicking off on Sunday July 27 in Perth and hitting Adelaide, Melbourne, Sydney and Brisbane, the Top 8 finalists confirmed on the tour are, theatre performer Sabrina Batshon, classically trained performer Jackson Thomas, wildcard performer Kat Jade, accomplished percussionist and R -n' B performer Johnny Rollins, country girl Holly Tapp, Rock God Frank Lakoudis, R -n' B soul team ZK and 18 year-old school graduate Anja Nissen.

Managing Director, Nine Events, Geoff Jones said: The Voice on Tour brings the best singers of the latest Voice season to a city near you giving fans the unique opportunity to catch the newly crowned winner and remaining seven finalists performing a spectacular live show in a nationwide concert tour together."

The Voice On Tour will bring some of the impressive production elements from the TV show on tour including a signature red coaches chair where fans can take pictures and sit in the seat that made the show famous as well as featuring the stunning futuristic LED stage and spectacle of lighting displays.

The Voice On Tour

Sunday, July 27th: Perth – Perth Arena
Wednesday, July 30th: Adelaide – Adelaide Entertainment Centre
Friday, 1st August: Melbourne – Hisense Arena
Saturday, 2nd August: Sydney – Qantas Credit Union Arena
Sunday, 3rd August: Brisbane – Brisbane Entertainment Centre



Interview with Kat Jade
Question: What are you enjoy most about your time on The Voice?

Kat Jade: Everything (laughs). The experience has been crazy especially heading to London to meet Katy Perry! It has all been pretty nuts (laughs).


Question: What did you learn from meeting with Katy Perry?

Kat Jade: Katy Perry and I talked about the meaning of Roar – she explained it was about overcoming rejection because she's had a lot of set-backs in her career and she has had to work very hard to get to where she is, today. I can relate to her experience as I've had opportunities in the past to get somewhere and it's never amounted to anything. We also spoke about the empowerment of believing in yourself; it was great to have a chat with her.


Question: What have you learnt most from working with Kylie?

Kat Jade: Kylie is a beautiful person, she is so excepting of people as they are. Kylie has taught me a lot about feeling a song when performing and that it's okay to adapt a stage persona especially that it is okay to be different on stage to how you are, off stage. Everyone in the competition is so nice yet when they sing a song that they need to be fierce for they can bring a little bit of anger to the performance. I'm not normally an angry person but Kylie taught me to bring some fierceness to my performance of Dark Horse. I tend to think a lot and Kylie has mentored me to not overthink everything. Singing is about feeling the song rather than thinking about it which ensures it can shine through in your performance.


Question: Your -Minogue Makeover' has been discussed a lot, how did you feel with the new look?

Kat Jade: It's a bit different to what I normally do (laughs) but it was nice to try something different and I am embracing the brunette now. I have changed my hair colour in the past, many times and I've worn contacts on stage, for theatre so it isn't that big of a deal. I am getting used to wearing contacts, all the time.


Question: What are you looking forward to most about The Voice On Tour?

Kat Jade: I am looking forward to singing back home in Adelaide as everyone back at home as been very supportive and it'll be a nice way to give something back to them and sing to a home crowd.


Question: What music/artists do you listen to when you are not playing your own?

Kat Jade: I listen to Regina Spektor and Sigur Ros; they're my chill music. Sigur Ros is a fantastic band whilst Regina Spektor is an amazing artist.


Question: What/who was your inspiration to go into the music industry?

Kat Jade: I've been singing since I was really little, I started singing at church and school in choirs and bands. I studied music at Uni and went into teaching; music has always been something I've worked with and always wanted to do. I can't think of a time where I wanted to do anything different and The Voice seemed like the right thing to do to take my music further.


Question: What's a typical day like whilst being on The Voice?

Kat Jade: Leading up to shows we have many rehearsals and mentor sessions. During the live shows we have been recording the tracks for iTunes – the week is pretty hectic but it's worth it. I enjoy hanging out with the other artists and we've become really good friends which is nice. It's hectic.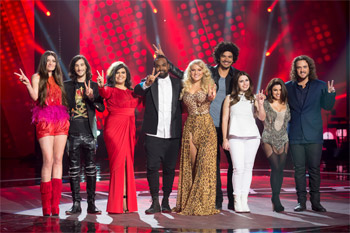 Question: What has been your favourite part of The Voice journey?

Kat Jade: I loved going to London, it was really special as I have always wanted to travel there and never been able to. I enjoyed hanging out with Kylie and I travelled there with Robbie, John and Johnny which made us form a closer friendship. It was a big surprise to go to London as we had no idea we were going there.


Question: If you could collaborate with another artist, who would it be?

Kat Jade: It would be amazing to work with Kylie as I've always looked up to her and I know I'm sticking to The Voice family but working with Kylie or Will.I.Am would be cool. Will.I.Am is like Harry Potter, the way he writes his music is like a wizard, and his mind is always switched on in a crazy but cool way.


Question: Can you tell us something that no one else knows about you?

Kat Jade: I'm a vegetarian; I don't think that's interesting (laughs). I love animals but I'm not the type of vegetarian who push it in everyone's face, like religion if you have a belief you don't need to shove it in everyone's face or parade it around. I don't judge others for eating meat this is my choice because I love animals, alot.


Interview by Brooke Hunter