London-based singer-songwriter, Kitty Montague has produced a perfect piece of pop with her upcoming release 'Kiss Chase'.

The fun, flirtatious pop track 'Kiss Chase', see's Kitty Montague challenge the societal shame around women and their sexuality. Disregarding the modest expectations of a woman, Kitty owns exactly what she wants: your kiss! Blending punchy piano with a frisky click track and unforgettable chorus, the single is shimmering with catchy hooks and Kitty's magnetic vocals. Boasting a similar sound to Dua Lipa and Charli XCX, Kitty oozes cool, with her lyrics both cheeky and seductive as they bounce along to the energetic flow. Kitty fuses empowering sensibilities with a youthful exuberance that makes her entirely captivating as an artist.

Talking about the track Kitty said, "Growing up I found it hard to navigate the double standards and judgement that women face around sex and what we do, or don't do, with our bodies. This is the liberating, self-assured song I could have done with then, and still need reminding of now!"

Drawing from her own experiences and empathy towards others, her meticulous understanding of the human condition allows her songs to have a beautifully poetic depth to them, which resonates universally with her listeners. Her abundance of talent has seen her play at Banquet Records, longside the likes of Gabrielle Aplin, as well as tastemaker support from BBC Music Introducing, Notion, FMS Magazine and Music Crown. 'Always On My Mind', her latest release, has surpassed 22,000 streams on Spotify alone, receiving significant buzz from She Makes Music and NOW Music.

Soulful and provocative, Kitty Montague isn't afraid to tell it how it is, and with more releases planned for later this year, she is one to keep an eye on.


Interview with Kitty Montague
Question: How would you describe your music?

Kitty Montague: I would say that I write in pop and sing in soul. Generally, with an underlying theme of feminism!


Question: Can you tell us about Kiss Chase?

Kitty Montague: Growing up I found it hard to navigate the double standards and judgment that women face around sex and what we do, or don't do, with our bodies. There are so many outside influences that try to control how women behave and what it means to "act like a lady". Kiss Chase is a fun, flirtatious, song that disregards those modest expectations. As a woman I think it's so important to be able to distinguish and assert what it is you actually want. That's what Kiss Chase is about; owning what you want and refusing to be influenced by anyone else.


Question: Is there a particular message you hope listeners take from your music?

Kitty Montague: I would love people to be reminded of their worth and take away a feeling of empowerment, and confidence! Music can help people articulate their own emotions and to me there is nothing better than listening to a song that reaffirms your bad b*tch energy, or makes you feel like you can handle anything. Mainly, I hope my songs are a comfort to anyone who has ever felt the same.


Question: Do you prefer performing live or recording?

Kitty Montague: I love performing live! I am definitely a bit of an over analyser and recording sometimes brings out the extreme perfectionist in me, but when I'm performing live I feel a lot more "free" - I find it much easier to really enjoy the moment and atmosphere of a gig, I love having that back and forth with an audience!


Question: Which is your favourite song to perform live and why?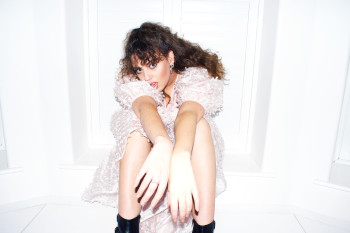 Kitty Montague: I have a song called Bad Boy, which I describe as a 'middle finger' to the bad ex-boyfriend that keeps trying to crawl back. It's always a very satisfying sing-a-long!


Question: If you could have anyone, in the world, attend a show, who would it be?

Kitty Montague: I'm never really been a big fan girl to anyone, but I do have one exception which is Anne-Marie. I remember first hearing her song 'Gentleman' on SBTV; I watched it at least ten times while utterly falling in love with her voice. If I found out that Anne Marie had bought a ticket to one of my shows – I would be pretty ecstatic!


Question: What motivates you most when writing music?

Kitty Montague: I'm most motivated when there is something I feel like I want to speak up about; situations that rile me up, or anything that sparks an emotion in me.


Question: Which music/artists are you currently listening to?

Kitty Montague: Today I've been listening to Arlo Parks' new album which I'm loving, especially as the sun comes out! Also at the top of my most played are: Jessie Reyez, Caitlyn Scarlett, and Easy Life.


Question: What or who was your inspiration to go into the music industry?

Kitty Montague: My cousin was also a singer and songwriter, and I think he was one of my earliest inspirations. Through him I discovered that perusing music was even an option, and I definitely aspired to follow in his footsteps.


Question: What is the biggest challenge you have faced along the way to your musical success?

Kitty Montague: There is no room for being shy or overly modest in the music industry, "if you don't ask you don't get" which can be very difficult. You have to have a lot of self-assurance and be willing to constantly put yourself out there, even when it means facing the rejection and criticism that success comes with. That is a consistent challenge for me!


Question: What has been your favourite part of becoming a music artist?

Kitty Montague: No day is the same and from each experience, or opportunity, a new door opens - which is really exciting! I love that I'm constantly meeting incredible artists and musicians, some of whom I am lucky enough to work with.


Question: What's a typical day like?

Kitty Montague: I don't know if I had less of a routine before lockdown or during it. I definitely don't have typical day at the moment. The one thing I try and keep consistent is a bit of exercise to shake off any lockdown anxiety, which is usually a run with my dog. If I'm lucky I'll have some recording work, otherwise I'll be writing, working on a new song or trying to figure out Tik Tok. Oh and ADMIN! I swear 90% of being a musician is admin. Very glamourous.


Question: How would you describe your personal style?

Kitty Montague: I'm inspired by anything that I can find in my (younger and much cooler) sister's wardrobe.


Question: What's next, for you?

Kitty Montague: I have more music coming very soon and, fingers crossed, some real-life gigs!


Question: Can you share your socials? (links please)

Kitty Montague: Instagram
Facebook
Twitter
Website


Interview by Gwen van Montfort