Quirky, weird and undeniably talented, rapper St.Bedlam releases an unapologetic and empowering new single 'Wazowksi,' an anti-conformist anthem for the outcasts.

The term 'Wazowski' comes from Mike Wazowski from Monsters Inc. St.Bedlam continues to define her sound and continue her journey of self-discovery with 'Wazowski'. The single is about having a strong sense that people are watching and judging your every move, and doing whatever you want regardless.

Created as a form of release, St.Bedlam describes how the hip hop scene in Australia can sometimes feel isolated for a queer woman.

"Being a queer woman in the Aussie hip hop scene, can sometimes feel like theres a mad target on your head, and as a result, insecurities start creeping up and you start doubting yourself. So the songs about being unashamedly yourself; authentic, bold, with all the weirdness and flaws included and absolutely rocking it with total confidence,"

"It's a big double-middle-fingers-up to anyone judging and hating like "yeh mate, I'm going to be me and do what I love in spite of you. Keep hating. I'm going to keep doing me." In that way, this song feels a lot like pure freedom,"

St.Bedlam has a refreshing interpretation of music laden with sauce-packed presence. Lyrical, emotive and oozing with quirkiness, the Sydney emcee is rapidly becoming recognised as one of the most unique artists Australia has to offer. Pairing insane lyrical ability with a devil-may-care demeanour, St.Bedlam takes listeners on a mind melding, mischievous journey of angst and imagination with every release. A natural performer, St.Bedlam is known to spit sparks with her electric performances, turning even the most sluggish crowd to a chanting, fist pumping, "living for the moment" machine.

St.Bedlam is working closely with South West Sydney producer HappyCamper, ensuring every future drop is laden with a raw and refined "signature sound". 'Wazowski will see this pocket rocket make her mark as one of the most talented and creative to ever touch mic in Australia.


Interview with St. Bedlam
Question: How would you describe your music?

St.Bedlam: My music's pretty eclectic. Yes it's hip hop, but I draw from a lot of different influences and inspiration which have shaped my lyrics and my musical choices. It's energetic and intellectual with a lot of angst. I won't box myself into that though. I'm excited to watch my music keep evolving.


Question: Which is your favourite song to perform live and why?

St.Bedlam: Oyster always goes off !


Question: If you could have anyone, in the world, attend a show, who would it be?

St.Bedlam: It would be mad to have all my nephews and nieces come watch me do my thing.


Question: Do you prefer performing live or recording?

St.Bedlam: I love them both for different reasons. Recording is fun for me cause my inner perfectionist is in a space where she can run crazy in a positive and productive manner, just being so focussed and in love with what I'm doing. Plus there's the chance to get creative as new ideas pop up during a session.

Live performance is amazing because you have no choice but to let go - whatever happens in that moment happens and there's something so special about those fleeting moments. You share them with the audience and that's a super personal, connected experience.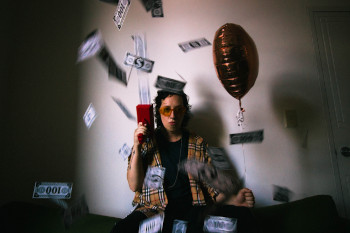 Question: What motivates you most when writing music?

St.Bedlam: I'm always trying to beat my personal best. Whether it's working on tighter punchlines, a different flow, tapping into more emotion or thinking of new creative ways to elevate my sound. Basically, whatever I felt I lacked in my last drop, I'll try to boost up in the next one. Always focused on improvement.


Question: Which music/artists are you currently listening to?

St.Bedlam: JK-47, Erykah Badu, Duckwrth, Tracy Chapman and Nelson Dialect are my big 5 on repeat at the moment. Oh, and the Hadestown musical, check it out !


Question: What or who was your inspiration to go into the music industry?

St.Bedlam: No one really inspired me towards it. There's no musicians in my family. I think as a kid I just gravitated to the performing arts and as the years went on I realised how intense my passion (and talent) was for creating music and really started to nurture it.


Question: If you could collaborate with another artist, who would it be?

St.Bedlam: I feel like this answer is constantly changing, but in this moment, I'll say Nerve, he's incredible.


Question: Did you have any pre-conceived ideas about the music industry?

St.Bedlam: Yes. I thought it would be harder to meet and network with people and form solid relationships within the industry. But really the secret is showing respect, a good attitude and commitment to your craft and the people you're meant to rock with will gravitate to you.


Question: What's a typical day like?

St.Bedlam: At the moment I go to tafe, go to work, spend time in my studio, hang with my girlfriend and homies whenever we get the chance and I watch a lot of Ru Paul haha!


Question: What has been your favourite part of becoming a music artist?

St.Bedlam: Making wonderful friends, seeing how happy my music makes people and having the constant motivation to create something amazing.


Question: Can you tell us 5 things required for a happy healthy and enjoyable life?

St.Bedlam: Positive thinking, spending time in nature, manifesting your goals, taking time to meditate, and sitting down to eat good food with the people you love.


Question: Can you share your socials?

St.Bedlam: Instagram
Facebook
Youtube
Twitter