Fresh off releasing her debut EP 'Puzzled,' Alt-RnB artist Lady Shaynah returns with visuals for her single 'Fly'.

'Fly' is the first music video from Lady Shaynah, the video was shot during a storm and almost didn't happen. But they pushed through to make the video happen, which signifies her strength and determination to 'Fly' despite the odds.

Moving and oozing with lush vocals, 'Fly' is about accepting help from others, but realising in the end you have to have faith in yourself.

Lady Shaynah elaborates on the video saying, "You see me rushing to deliver a package. Along the way, I come across different people who need help in some form. I hesitate, but I help, in knowledge of it not necessarily doing anything for me,"

"In the end, you see that I was actually helping myself because of it. This is what I see a lot in life. That you are on your own path, your are on your journey, but you are also part of other people's journey. As we are so busy, we forget that in the same way, the other person is also part of our journey. We think we are helping others, but in reality, we are helping ourselves, because of them. Your good deeds eventually come back to you."

Pushing the boundaries, Lady Shaynah hails from the Netherlands and was born into music. Her parents are both professional musicians and inspired her love for music.

Having built an impressive back catalogue which has allowed her to support artists' such as Sabrina Starke on her "Dreamer's Tour," performed on the Codarts/Keymusic talent stage of the North Sea Jazz Festival, and is now producing new songs with HAYP (Ladies of Soul), Anan den Boer (Alain Clark) and Nosa Apolo (Craig David).

Lady Shaynah's EP 'Puzzled' has received love from tastemakers across the globe as she continues to make a name for herself in the industry.


Interview with Lady Shaynah
Question: How would you describe your music?

Lady Shaynah: Imagine Neo-Soul flirting Funk while being married to R&B and Jazz is their kid's nanny. I'm their kids…


Question: Which is your favourite song to perform live and why?

Lady Shaynah: Oeh, that's a hard one! I think "Over" at the moment, because I have a lot of fun when performing this with my band and I mean… who doesn't like a little bit of pettiness on stage XD.


Question: If you could have anyone, in the world, attend a show, who would it be?

Lady Shaynah: My grandparents. They have never been to any of my own concerts, because they passed away just before I started doing my own shows. They have planted the seed of music in me and I would have loved for them to see how that seed is growing into a little tree.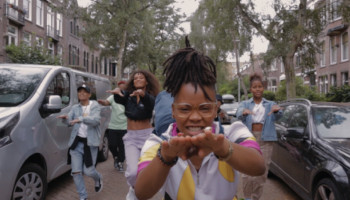 Question: Do you prefer performing live or recording?

Lady Shaynah: As much as I love creating new things in the studio, performing live will always be my preference. I just love the energy I get from the crowd and how anything can happen in that specific moment. Not one of my shows is the same, because of the specific people in front of me at that moment.


Question: What motivates you most when writing music?

Lady Shaynah: I guess I'm motivated by the urge to get a certain story out. Writing is a way for me to release, to vent, to let go of things that bother me. I don't really talk about things that much, I'd rather put it in a song.


Question: Which music/artists are you currently listening to?

Lady Shaynah: I've currently got H.E.R., Erykah Badu and Snoh Aalegra's live shows on repeat.


Question: What or who was your inspiration to go into the music industry?

Lady Shaynah: I come from a very musical family so music was always around me. My grandma started giving me piano lessons from, I guess, the age of 5-ish. I decided to make it my career after winning several singing competitions and meeting other full-time musicians. There was no way back, once I noticed how happy I felt when performing and sharing my songs.


Question: If you could collaborate with another artist, who would it be?

Lady Shaynah: Darkchild and H.E.R. I LOVE everything they touch!


Question: Did you have any pre-conceived ideas about the music industry?

Lady Shaynah: I always thought I had to sign with a major label and become "Beyoncé-famous" to be able to get my music out there, but I've figured that a good team can get me where I want to go as well.


Question: What's a typical day like?

Lady Shaynah: There are no typical days in my life. I could have a studio/recording day, a writing/arranging day, or I spend my days vocal coaching, studying or in meetings with my team and partners. I usually spend time off doing something creative (that has nothing to do with music) or just doing nothing at all. The only constants are my morning routine (cleaning and organizing my home) and my night-time routing (stretching, breath work /meditating).


Question: What has been your favourite part of becoming a music artist?

Lady Shaynah: Experiencing how my art becomes a part of a stranger's life. It could be the spark in someone's eyes when I sing "that one line" that hits them at a show or that one video of someone dancing to my song on social media. It's a compilation of all these little things and learning new things about myself as a person that I love so much about being an artist.


Question: Can you tell us 5 things required for a happy healthy and enjoyable life?

Lady Shaynah: I can't decide what's healthy for other people and how they should enjoy their life but what works for me is:

1. Balance (for example healthy life style with cheat days/ Fitness plan with rest days, etc.)
2. Allowing myself to rest and take breaks
3. Enjoying the little things in life with pure people.
4. Spending time in nature
5. Taking care of my fur babies and my plants


Question: Can you share your socials?

Lady Shaynah: Facebook https://www.facebook.com/iamladyshaynah
Instagram https://www.instagram.com/ladyshaynah/
Twitter https://twitter.com/ladyshaynah