Emerging artist Asaiah Riley releases his debut Indie-Pop feel good single 'Tha Ugly Life'.

Smooth and slippery, 'Tha Ugly Life' is a no-holds barred single that showcases Asaiah's confident side, accompanied by his dreamy vocals.

When making the single, Asaiah notes that his search for the perfect beat came after some time. But once he found the beat, the song wrote itself.

"After hearing a beat, the lyrics came easy. I have my brand, UGLYKIDD, so I just kind of wrote lyrics to the idea of that. What would UGLYKIDD be if it was a song? The song was done in, probably, five minutes. I work with this incredible engineer (MixedByEspa) and once I showed him the song and the beat, we knew something was missing,"

"We decided to use this beat as the "skeleton" or "soul" of the song but we added a lot of elements ourselves. I come from playing in bands so I feel like I could never just take a beat and use it. I have to add my "sauce", if you will," Raised on a plethora of different musical genres, Asaiah Riley's style blends the sounds of Indie Rock, Hip-Hop/R&B, Soul and Alternative Pop music to create a sound of his own.

Asaiah was inspired to start playing music at the age of 14-years-old after watching the music video for AC/DC's "Jailbreak". Playing in a few bands, doing gigs around his hometown of Cronulla, Australia, Asaiah has made a name for himself amongst his friends and family but that wasn't big enough.

The artist began writing his own music and he is finally sharing it with the world. His influences include: Nirvana, Kendrick Lamar, Frank Ocean, Hiatus Kaiyote, Marvin Gaye, Amy Winehouse and Young Thug.


Interview with Asaisah Riley
Question: How would you describe your music?

Asaisah Riley: It's fun. I think that all the music I have coming out has a different sound to the last. It's hard to explain because they aren't out yet! But you'll get it soon.


Question: Do you prefer performing live or recording?

Asaisah Riley: Live. 100%.


Question: Which is your favourite song to perform live and why?

Asaisah Riley: I would have to say "tha UGLY life" because it's the only song I have put out into the world. I've performed some unreleased tracks and they all get great reactions but tha UGLY life has everyone singing and clapping a long. I'm really happy with how it's turned out live.


Question: If you could have anyone, in the world, attend a show, who would it be?

Asaisah Riley: Not going to lie... my dog, Baxter. He's my son and I wish I could bring him to the venues.


Question: What motivates you most when writing music?

Asaisah Riley: I like to imagine what the songs might do for someone else. Like maybe one will help someone get through a hard time or maybe they'll play it before they go out partying or something. I'm motivated to make great music for all occasions.


Question: Which music/artists are you currently listening to?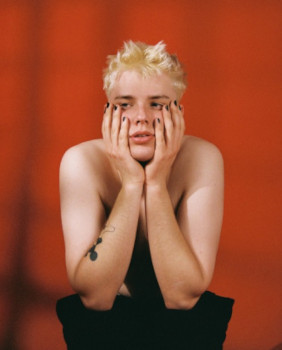 Asaisah Riley: Well... Playboi Carti just dropped so I've been listening to that! I've been listening to a lot of SAINt JHN and Drake. My album of the year is After Hours by The Weeknd and I think I listen to that at least twice a week. And myself!


Question: What or who was your inspiration to go into the music industry?

Asaisah Riley: I just love music. There are so many people and bands that I could say inspired me but I feel like it was just something I was meant to do. I don't ever think about anything else.


Question: If you could collaborate with another artist, who would it be?

Asaisah Riley: Well, I want to say Kendrick Lamar because he is just the greatest. But I feel like there's so much. I really would love to do something with Pharrell too.


Question: Did you have any pre-conceived ideas about the music industry?

Asaisah Riley: That it's scary. I don't know because I'm yet to experience "industry" type situations. I think the whole thing of being a slave to your label freaks me out but that's about it.


Question: What's a typical day like?

Asaisah Riley: I'm the laziest guy ever. I think a typical day would be wake up, walk my dog, listen to music, eat every now and then and the write it the inspiration comes to me. If it's a typical day in the studio then it's enter the studio in the morning and leave at night and just work all day!


Question: What has been your favourite part of becoming a music artist?

Asaisah Riley: Making music. It's been fun to see how my ideas come to life.


Question: Can you tell us 5 things required for a happy healthy and enjoyable life?

Asaisah Riley: I don't know. I'm still figuring it out. I would say
1. Good relationships with people
2. Good relationship with yourself
3. Doing things that you enjoy and make you happy
4. Meditation is a must
5. Good food
I really don't have any idea though.


Question: Can you share your socials?

Asaisah Riley: @asaiahriley for everything
Facebook
Instagram