"I have often felt growing up that everything I've done has never quite been enough. No one told me this, yet it was this anxious feeling embedded in me, that continuously reminded me that I should always be doing more, or I'll never make it. Because music is like therapy for me, I sat down at the piano during my lowest and wrote this song."

Lana Chalfoun is a 15-year-old award-winning singer-songwriter whose music bridges acoustic and pop genres. The young artist gained popularity with her 2019 debut album, "Aware", which includes a mix of powerful pop-ballads and haunting lyrics about young love. With this album, Lana's amazing voice – sounding far more mature than her years – and obvious songwriting talent gave rise to comparisons of iconic women in music such as Taylor Swift and Halsey.

Currently, Lana has a trio of new singles lined up to release throughout the remainder of this year. With themes including the unique anxiety experienced by young artists trying to prove themselves in her single "Be OK" (which will debut in a music video shot recently in NYC), to lighter and playful relationship angst in the upbeat "Get Mad." The trio will round out with the emotionally charged "Cut Off," describing the pain of betrayal in a love relationship. The new trio of songs highlights Lana's sharp vocal control, while demonstrating her quick-witted ability to create a delicate complexity within her lyrics.

Music has been running through Lana's veins since she was a kid growing up in Grand Rapids, MI. A true prodigy, Lana wrote and recorded her first EP "In The Making" at the age of 11. The album addressed issues of bullying in her uplifting pop-rock anthem "Just Be You" and working hard to pursue your dreams in "Dream Big." Lana was invited by several statewide organizations at the time to perform and speak to youth about her anti-bullying message and work ethic. During this early period, she also was the lead singer and guitarist for a local youth pop-rock band called Meltdown Cinema. The band successfully created a fundraising concert to benefit hurricane victims in 2017 called "Rock the Storms," and went on to participate in PBS' 2018 'Celebration of Music' talent show finishing as semi-finalists.

In 2018, Lana broke off as a solo artist, releasing her next original song "Bring Them Home". The single won the grand prize for the nationwide U.S. Conference of Catholic Bishops Campaign contest 'Creating on the Margins,' addressing the plight of migrants and refugees. She was invited to perform her song in front of the National Conference and acted as the ambassador for this campaign. That same year, she was invited to attend Judy Stakee's singer-songwriter camp in NYC, as one of the youngest students ever accepted. Lana's "Aware" album released in 2019, and consisted of seven songs including the powerful pop-ballad "Ruby," and the modern and haunting "Broke Me". Lana's album quickly garnered the attention of local media. She appeared on both Wood TV's eightWest and Fox 17's Morning Mix and was recently selected as one of Revue Magazine's 'Five Bands to Watch in 2020'. Lana's newest singles releasing in 2020 will continually show her growth as a singer/songwriter and place a spotlight on her wildly talented mind and vocal capabilities like never before.


Interview with Lana Chalfoun
Question: How would you describe your music?

Lana Chalfoun: I would describe my music as relatable pop, especially to teens and young adults because we are all going through similar experiences and feelings. My goal is to make them feel like they are not alone, and to give them an outlet to express themselves.


Question: What inspired your new song Be Ok?

Lana Chalfoun: Growing up, I've never quite felt like I have done enough. I've struggled with anxiety, worrying about if I'm losing time while trying to reach my goal. I overthink everything, making it hard sometimes to be hopeful about my future. This song was written during one of these doubting episodes, and because music has always been therapy to me, I sat down and wrote this song. Yet, it's not all sad. This song talks about things getting better and having hope that what you're doing is enough and that you are enough, and everything is going to be OK.


Question: Is there a particular message you hope listeners take from your music?

Lana Chalfoun: I wouldn't say my music as a whole has one particular message, as each of my songs speak to something different. But all my songs have purpose and meaning, whether it be something to listen to when you need empowerment, or when you need to cry. I hope people find meaning within my music.


Question: Can you tell us about working with Jeremy Ryan?

Lana Chalfoun: He's very professional and talented in what he does, and it's honestly been a blast! He has a very similar ear to me when it comes to music, which has made it quite easy to work with him. I think we are a great team.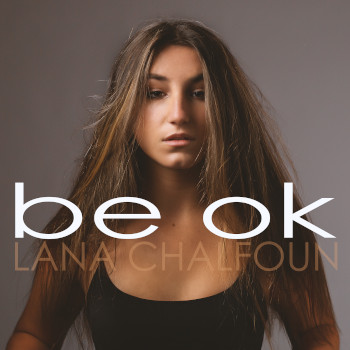 Question: Do you prefer performing live or recording?

Lana Chalfoun: Couldn't say! They are both so different and I love both. The rush of performing live is extraordinary, yet recording in the studio is cool as well because you get to brainstorm and listen to your art for the first time.


Question: Which is your favourite song to perform live and why?

Lana Chalfoun: Definitely "Ruby," a song that was on my previous album. I get to rock out with my guitar and sing my heart out because of all the high notes.


Question: What or who was your inspiration to go into the music industry?

Lana Chalfoun: Adele was my biggest inspiration growing up because of her insane vocals and meaningful ballads.


Question: What made you leave the band Meltdown Cinema and go solo?

Lana Chalfoun: I left Meltdown Cinema because we all had different directions that we wanted to go in terms of song choice and style, so I felt like I might just be better on my own – to work on myself as an individual artist.


Question: If you could collaborate with another artist, who would it be?

Lana Chalfoun: I would say Billie Eilish because I feel that her style and mine are similar in ways, and that our voices would complement each other.


Question: Did you have any pre-conceived ideas about the music industry?

Lana Chalfoun: Yes, unfortunately so. I think everyone knows the good and bad side to the industry, yet I'm not scared of it. As long as I stick to my roots and put my foot down as needed, I think I could handle it as well as anybody else.


Question: What has been your favourite part of becoming a music artist?

Lana Chalfoun: Getting to do what I love and sharing with other people. It's what I'm most proud of.


Question: What's a typical day like?

Lana Chalfoun: A typical day is that of a typical teen, with some spice. I still go to school, hang with friends, even do sports during certain seasons! Yet, I put a lot of time into creating music, promoting myself, making self-tape auditions, etc.


Question: How would you describe your personal style?

Lana Chalfoun: I would say my personal style is chic, clean, and comfy on the weekends!


Question: What's next, for you?

Lana Chalfoun: Dropping some new music, along with my first ever music video! Hoping I get to perform it live and reach a larger audience!


Question: Can you share your socials? (links please)

Lana Chalfoun: Spotify
Instagram
Facebook
YouTube
Apple Music


Interview by Gwen van Montfort