Described as mysterious, captivating and powerful, Australian singer-songwriter, Sheldon Riley has released his long-awaited debut single, 'More Than I' and will showcase the single during his headline performance at the sold-out Australian Hair Fashion Awards at Sydney's Luna Park November 8th that will also be live-streamed on YouTube.

Following his internationally acclaimed run into America's Got Talent's 2020 Quarter Finals where he performed a truly original and heart-breaking rendition of Kylie Minogue's smash hit, 'Can't Get You Out of my Head', Sheldon's performances throughout have attracted praise and attention from not only world media, his ever growing fan base but the pop princess herself having taken to Twitter to congratulate Sheldon on his standout performance.

Sheldon's audition on America's Got Talent alone has amassed over 35M views across YouTube and social platforms after wowing the judges. Sheldon also became the highest viewed performer during his time on 2019 The Voice All-stars garnering over 10M views on his audition alone.

Sheldon has steadily built a loyal fanbase whilst developing his authentic sound and look. Incorporating his signature masks that have become synonymous with his music he lays the foundations for his truly authentic sound and style to enter the music industry.

'More than I' showcases Sheldon's song writing ability along with his exquisite and captivating vocals. Paired with his Avant-Garde high fashion style, Sheldon delivers an overall theatrical and dramatic dark pop extravaganza for the senses.

Sheldon says, "I had a vision that each song would play through like a movie, with all different intentions, stories and feelings in each song. With "More Than I" I wanted a track that created an impact! Cinematic & Emotional. You could call this the epic movie trailer music that would tease the sound scape of the album!

The idea behind this sound and lyric was to have this impactful instrumental that represented the overwhelming push and pull to grow up young, battles of internal frustration, revealing of my sexuality & fighting strong when I was most weak."

The track was produced by Sam Sakr (who has previously worked with Dua Lipa, G Flip, The Veronicas and Guy Sebastian) who's dark but light, ambient but frantic sound worked in perfect alignment with the concept. Sheldon wanted to bring the song to life with a producer who would relate to his introverted lyric and birth an extroverted sound.

Sheldon adds "The back & forth anti-climactic chorus into insane instrumentals sections explains the constant fight or flight confusion going on in my mind. It was in those moments in life that I would fight myself forgetting that no one will love me "more than I" tonight."


Interview with Sheldon Riley
Question: How would you describe your music?

Sheldon Riley: I would describe my music dark pop - emotional, orchestral, lyrical, cinematic and always filled with feeling.


Question: Can you tell us about 'More Than I'?

Sheldon Riley: Writing "More Than I" I wanted the single to be Cinematic, Dark & Emotional. 'THE HUNGER GAMES' X 'BILLIE EILISH' X FLORENCE & THE MACHINE'

The lyrics are representing the overwhelming push and pull to grow up young, battles of internal frustration, revealing of my sexuality & fighting strong when I was most weak.

You could call this the epic movie trailer music that just like a movie trailer gives you sneak peaks, in the most epic style, of what is yet to come in the album coming soon.


Question: Is there a particular message you hope listeners take from your music?

Sheldon Riley: When I wrote the song - I wrote it about a time in my life where I came out to the world as myself. There is this very silent moment between coming out and waiting for the other end to respond. For me this song is reflective of that moment and the build up to having the courage to be my truth. I would love for anyone who listens to 'More Than I', to take it as a reminder that whatever the outcome of the responder - no one can love you 'More Than I' (Yourself) in that moment.


Question: Do you prefer performing live or recording?

Sheldon Riley: Ahh I love the energy of a live performance.. doing what I do and dressing up BIG in my performances - I feel like a lot of the excitement for me is seeing the shock I bring to a room when I walk in.. but honestly - now that I'm recording more.. there is something so safe and vulnerable about being alone at a mic and hearing back what I'm feeling in each take.


Question: Which is your favourite song to perform live and why?

Sheldon Riley: My favourite song to sing live is probably my own version of 'Creep' by Radiohead. I've had lots of time to play around with the song and although it starts slow - I feel like I can really take the audience through a journey with it. Also - nothing feels better than when I get halfway through and I've completely lost myself in the emotion of the song.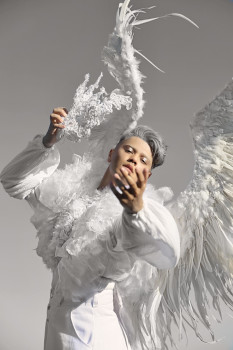 Question: What should we expect from your performance at the Australian Hair Fashion Awards?

Sheldon Riley: I'm so excited for the Australian Hair Fashion Awards! I will be performing my debut single for the first time. Being known to switch popular songs up in a orchestral cinematic style - I have never performed an original live before. There will be epic visuals, new hair, gorgeous makeup, cinematic sounds and an avant-garde fashion look to match!


Question: Tell us about your experience on America's Got Talent?

Sheldon Riley: Well it was definitely in interesting one.. unlike any audition on the show before there was no audience, a missing judge and it was filmed in LA during the start of the global pandemic.. but it didn't stop me - I flew over to LA from Sydney, Australia and brought my feathers and crystals and gave the best performance I could give. I Managed to get all Yeses and 30 million views on Facebook the week that my auditioned Air'd. I made it to the judges' cuts and through to the finals where I couldn't fly back to the US, so I performed Kylie Minogue's' 'Cant Get You Out Of My Head' at an all VIP performance experience at LUNA PARK, that was pretty insane! The Aussie Pop Princess even tweeted about me! I'm so proud to have represented Australia and to bring the androgynous performance style that I do - to the world!


Question: Which music/artists are you currently listening to?

Sheldon Riley: Always listening to what Billie Eilish and Finneas are creating but truthfully - at the moment - I'm loving 'Guy Sebastians' new album 'T.R.U.T.H'! I don't really care for who is the most famous, most on trend, new or cool - Haha! I just listen for music that makes me feel something, that is innovative and unique.


Question: What or who was your inspiration to go into the music industry?

Sheldon Riley: Hard question! I have so many musical influences. Amy Winehouse was the first artist to make me realise how powerful music is. Lady Gaga taught me to be powerful and strong in who I am, Adele told me it's ok to sing/write about pain/heartbreak but Adam Lambert let me know that even for a man in makeup, there is light for someone like me in the industry.


Question: If you could collaborate with another artist, who would it be?

Sheldon Riley: Ahh. Florence & The Machine.. I would love to create something epic and orchestral! A heartbreaking orchestral bop that makes people cry and dance at the same time.


Question: What is the biggest challenge you have faced along the way to your musical success?

Sheldon Riley: Some say 'being knocked back, but I don't see it as a challenge anymore - I think that's more just a part of the job. The challenge I've faced the most, at this point, is money.. It costs so much money when you DRESS BIG in an industry where you are told you can only wear things once and desire to create music that is only understood by so few.


Question: What's a typical day like?

Sheldon Riley: My days are usually made up of planning 'what's next'. Wake up, check socials, find a way to be inspired. Make it happen. I usually set myself to do a heap of tasks - but end up getting distracted on a 'DIY 100 layer ruffle dress' tutorial. I work better in the night.


Question: What has been your favourite part of becoming a music artist?

Sheldon Riley: I have a few favourite things, I love meeting new people almost everyday - in person or online. Writing music and being able to express myself. The people I touch with my music when I sing. But my favourite part has always been the creative space that I get to create for myself, the aesthetic of my brand and always looking for ways to stand out in the most high fashionable ways. I have always wanted to be the person I wasn't exposed to as a kid.. and I get to be that everyday in music.


Question: What's next, for you?

Sheldon Riley: As the world slowly gets back to some form of normality - I have performances/appearances popping up all the time! I have always loved covering songs but so far it's exciting me to see that so many people are interested in my original music - so I'm writing/ recording the rest of my album that will come sometime next year.

I'm always reinventing and challenging myself to try something new so, at 21, I'm sure I have lots more to come in the next few years!


Question: Can you share your socials? (links please)

Sheldon Riley: Instagram
Twitter
Facebook
Spotify


Interview by Gwen van Montfort