Unlock The City
AVANI Hotels & Resorts is revolutionising the ordinary hotel key, unlocking the best of the city in a completely new way, using everyone's favourite travel companion – the mobile phone.

In a unique world first, AVANI will be connecting directly with guests using Facebook Messenger technology. Guests simply use their mobile phone to scan a Facebook Messenger code on their hotel room key, instantly opening up a Facebook chat anytime, anywhere. A local guide will then tip guests off to the experiences they won't find in a travel brochure.

Through a national callout, AVANI has found four of Broadbeach's biggest fans to join well-known personality Laura Dundovic as AVANIMe guides. They'll be offering guests recommendations on the best experiences in and around Broadbeach, the home of its first Australian property.

"This is the real insider's knowledge, the tips you won't find in a brochure, said Laura Dundovic. "I will be joining Broadbeach aficionados who will be ready and waiting to hear what guests are after and provide our insider's guide to the best places to eat, drink, shop, play and more. It's personalised recommendations straight to you, when you want them."

The premium hotel chain, which has 20 hotels and resorts around the world, is committed to the details that matter to guests in and outside its four walls.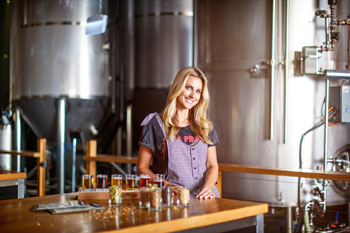 AVANI Broadbeach is a much anticipated arrival on the Gold Coast and has availability for the Games. The One and Two Bedroom Suites take cool, coastal living to a new level, featuring spacious open-plan layouts, fully equipped kitchens with top-line appliances, relaxing lounge and dining areas, smart TVs, laundry facilities, private balconies and complimentary Wi-Fi.

When it comes to kicking back, chilling out or meeting up, AVANI Broadbeach offers guests with a thoughtful mix of onsite facilities, from a landscaped terrace, to a guest lounge, well-equipped gymnasium, outdoor swimming pool and sun deck.

2663 Gold Coast Highway, Broadbeach, QLD, 4218
1300 110 903.
Room rates starting from $199
https://www.minorhotels.com/en/avani/broadbeach



Interview with Laura Dundovic
Question: Can you tell us about the launch of AVANI Hotels & Resorts in Australia?

Laura Dundovic: AVANI Hotels & Resorts 'Keys to the City' campaign revolutionised the ordinary hotel key, unlocking the best of the city in a completely new way, using everyone's favourite travel companion – the mobile phone! In a world first, guests were able to use their mobile phone to scan a Facebook Messenger code on their hotel room key to chat live with a local guide, anytime, anywhere and as often as they like during the first week of launch.

Future guests can also continue to use Facebook Messenger to communicate with the hotel via the purpose-built chat bot AVANI is building. It will be ready in 2018 and is packed full of our local recommendations and mine!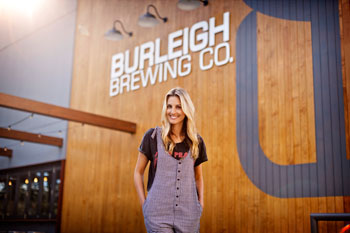 Question: Why do you love the AVANI Hotels & Resorts brand?

Laura Dundovic: AVANI Hotel & Resorts is such a contemporary brand, blending genuine hospitality with modern lifestyle features. I love how as soon as you walk through the door it feels warm and relaxed - like home. I decided to jump on board because I spend a lot of time in Queensland, making frequent trips to the Gold Coast and need my dose of Vitamin Sea as often as I can get it. Broadbeach is my go to destination and I can't wait to share it with AVANI guests.


Question: What are your hotel non-negotiables?

Laura Dundovic: The view. When looking for a hotel, the number one thing that draws me is what my room will overlook. There's nothing better than opening up the blinds first-thing in the morning and seeing where in the world you are.


Question: Where are your favourite places on the Gold Coast?

Laura Dundovic: There's some great eateries and bars in the Gold Coast. One of my absolute favourites is Paddock Bakery. Whenever I'm down the Coast I make sure to visit Paddock Bakery. It's a great local spot, perfect to hit after a morning ocean swim. It's a patisserie-style bakery that not only creates some of the most delectable doughnuts in town, but also serves up a delightful breakfast menu - Acai bowls are amazing!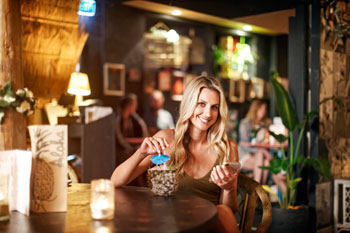 Question: Are you able to share your top tips for staying fit and healthy whilst travelling?

Laura Dundovic: Check-in with the locals
When staying in cities I'm unfamiliar with, I like to ask around to find out local outdoor activities including the best coastal walks and outdoor gyms. AVANI Broadbeach Keys to the City makes this so much easier by allowing guests to connect and ask locals where to go simply by using their room key!

Pack your work out
I always like to pack a skipping rope or a resistance band in my luggage. Skipping is my go to when I'm away during the festive season and just 10 minutes of rope-jumping is equivalent to 30 minutes of running! The best part - it's so compact so there's more room in my suitcase for my clothes and shoes.

Walk don't drive
A great way to add in a bit of exercise throughout your day is to walk rather than catching a taxi. Not only does it save you money, it's also a great way to see the city!

Avoid eating out for every meal
When travelling, it can be hard to not eat out for breakfast, lunch and dinner. To avoid this, I usually head to the nearest markets or shops and stock up my hotel fridge with fresh produce, so I can quickly whip up something light and healthy when I'm hungry. Even better, opt to stay somewhere with your own kitchen so you can still cook and have control over of what you're putting into your meals!


Question: What motivates you to work out?

Laura Dundovic: Not only does working out keep you fit and looking good, it also helps to keep your mind healthy. My head is always a lot clearer after a morning run or session at the gym.


Question: Do you have a morning routine; can you share it with us?

Laura Dundovic: Definitely! I usually wake up quite early. Before I head out for my morning workout I will quickly whip up a breakfast shake or grab an Acai bowl if I'm on the run. My morning workout consists of high-intensity training and weights. Then after a quick shower I'm good to start my day!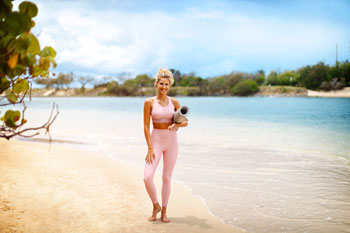 Question: How and where are you winding down this year?

Laura Dundovic: I don't have anything planned as of yet - I'm usually quite spontaneous when it comes to travelling! Plus, my job likes to keep me on my toes, always having to jump between Sydney and Brisbane so I might not be winding down anytime soon!


Question: Have you set any 2018 intentions or resolutions?

Laura Dundovic: Work hard, be happy and live life to the fullest.


Question: What's next, for you?

Laura Dundovic: I have a few projects in the works that I can't speak about too much. I worked on a film this year, A Long Night and that will be coming out in 2018. I'm really excited about that. I just feel very fortunate and very happy – it's been quite a journey since those Miss Universe days (laughs)!


Interview by Brooke Hunter