Going Solo: Lisa Blair's Next Record Attempt
Lisa Blair has announced her latest adventure, to become the first woman to sail solo around Australia with plans to depart in October 2018. The Australian is no stranger to such a challenge and holds the record for the first woman to sail solo around Antarctica.

Departing from Sydney, Australia in mid-October, Lisa will be circumnavigating the entire coastline of Australia anti-clockwise and, as a solo challenge, will be the only person on board, taking approximately six weeks to complete the epic journey.

Her latest challenge will also see Sunshine Coast born Lisa circumnavigate the entire of Australia non-stop and unassisted for a total distance of 6,536 nautical miles. Unexpectedly this presents even more challenges than her Antarctica venture with one of her biggest obstacles other sea traffic, as well as reefs, rocks and constaant changes in wind direction. These challenges will be a constant presence meaning sleep will be a luxury.

Lisa only first discovered boats when she was 22, working as a hostess on a sailing boat in the Whitsundays, yet had sailed around the world by the time she was 27 clocking up over 50,000 nautical miles. By then, she'd already decided her natural step forward would be to go solo and this has seen her add another 20,000 nautical miles to her experience.

Lisa comments "I now love the solo aspect of sailing and that there's no one else to rely on. If I don't get up and check the instruments or fix what's broken, there's no one else to pick up the slack. For me it's the challenge of keeping both myself, and Climate Action Now together."

Lisa aims to inspire women and youth with her circumnavigation, citing gender bias as one of the reasons that inspired her to complete the 2017 Rolex Sydney to Hobart race with an all-female crew.

"There are some exceptional women in the sailing world at the moment. I feel the recognition is definitely there, but sometimes it takes pioneers to push others to take up the challenge," she said.



Lisa will be re-fitting her vessel to be 100% sustainably powered raising awareness of the message Climate Action Now, the name of her boat. Lisa founded Climate Action Now, designed to focus on the positive actions that can be taken by individuals to tackle climate change. She invites the community to complete post-it notes with an environmental action on her website.


Renaming her yacht to reflect this movement back in 2016, Lisa now digitally transfers her climate change messages into a vinyl hull-wrap proudly showcasing the 100's of commitments.

Lisa was awarded the Spirit of Adventure Award by Australian Geographic and the Seamanship Award by the Ocean Cruising Club and finished off last year by partnering with The Magenta Project.org and leading the first all-female team in 16 years to race in the Rolex 2017 Sydney to Hobart Yacht Race on board her yacht Climate Action Now.

Lisa aims to become:
The first woman to sail solo, non-stop and unassisted around Australia.
The first 100% sustainably powered vessel to undertake a consecutive non-stop, unassisted, voyage around Australia.
The first mono-hull to complete a solo, non-stop and unassisted voyage around Australia where she intends to establish a new speed record.


Interview with Lisa Blair
Last year, in 2017, Lisa Blair made history and became the first woman to sail solo around Antarctica establishing herself as one of Australia's leading adventurers. Lisa is now turning her attention to her next challenge where she will sail solo, non-stop and unassisted around Australia in a Sydney-to-Sydney voyage departing early October.

72 days into her Antarctica solo voyage, Lisa suffered a dramatic and life threatening dismasting in storm conditions more than 1000nm from land. Lisa managed to save her yacht, was rendered fuel from a passing container ship, built a jury rig and motor sailed into Cape Town, SA. 2 months later Lisa re-started her voyage, crossed her track at the position of demasting and continued back to Australia. On July 25th 2017 Lisa made history and became the first woman to sail solo and unassisted around Antarctica with one stop.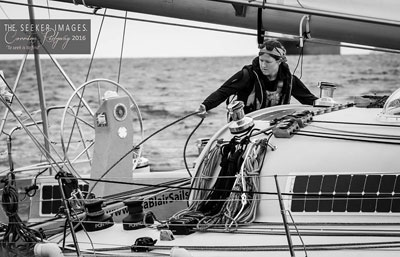 Question: Can you tell us about your next challenge?

Lisa Blair: I'm very excited to be setting off to sail solo, non-stop and unassisted around Australia. I will be sailing from Sydney Harbour going north around Australia covering over 6,500nm (nautical miles). My goal is to become the first woman to complete the trip non-stop and I also aim to set a secondary record of becoming the fasted mono-hull yacht to be sailed solo around Australia.


Question: What inspired this solo sail around Australia in a Sydney-to-Sydney voyage?

Lisa Blair: I am a big believer that you can achieve anything if you set your mind to it. This has been reinforced throughout my sailing career when I have completed difficult trips or world records. For me Australia circumnavigation is a way for me to take on another big challenge. Sailing solo around Antarctica was very hard and there were many times that I was pushed to my limits. There was many times that I thought I couldn't keep going as well but the moment that I completed that challenge I realised that I really can do anything. For me, the Australia circumnavigation is going to be many times harder than the last world record, mainly because I will be needing to avoid so many obstacles like ships and reefs that I won't be able to sleep for more than 20 minutes at a time. Taking on this challenge is my way to showing to myself and my followers what we are capable off, what is ultimately possible.


Question: Can you talk us through your current preparation and training for this adventure?

Lisa Blair: The biggest thing that I work on with my preparation is safety. Sailing a boat solo means that you need to have all the yacht systems working at 100% so over the next few weeks we will be stripping my yacht to basics and then re-building her to make sure that everything is working perfectly. Another thing that I do is work on the navigation planning and safety procedures in case of an emergency. I am also just trying to get lots of rest because I won't be getting much on the trip.


Question: How do you prepare your mind for a journey, like this?

Lisa Blair: Sailing solo on long journeys like this is a real mental battle and when you're in really rough weather or big seas it's really important that you have trust in the boat that you are sailing. In some ways my yacht becomes an extension of me and if I trust that the yacht will see me through then everything else becomes easier and more manageable. Before big adventures like this I spend a lot of time visualising how I would react or manage some of the worst case scenarios and I have found that by doing this I am more prepared to face those challenges.


Question: Do you have a plan for how you will achieve this non-stop and unassisted voyage; can you share, with us, how you hope each day will go?

Lisa Blair: It's like the old saying: how do you eat an elephant? Bit by bit. There are going to be some really great days sailing but also some really tough days at sea and the only thing I can do to complete the trip is to just sail each day bit by bit.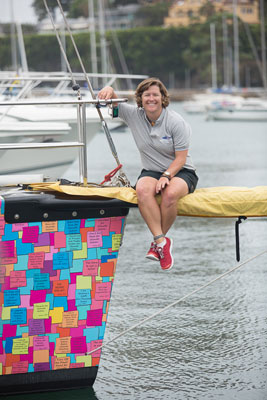 Question: Why do you love to do achieve these goals, solo?

Lisa Blair: I love a challenge and I love sailing so when I learnt about solo sailing I couldn't think of anything else that would be more challenging than sailing across an ocean all on my own. You have no one else to rely on so if something breaks you need to work out how to fix it and I love that as well as the sense of achievement that goes with it.


Question: What advice do you have for young girls who want to achieve their big goals?

Lisa Blair: Treat your goal like the elephant. Start small and work towards it bit by bit. You will feel like you can't find a way many times but when everyone else sees your dedication and focus they will start to help you. I don't believe that I am a particularly great sailor but I have achieved great things by keeping focus on my goal and working towards it bit by bit. Most importantly don't give up on yourself and when times are tough think about why you are doing this and what your end goal is. Good luck.


Question: Do you have a life mantra or motto, which you live by?

Lisa Blair: Definitely I live by the motto: Just do… Because the world is changed by doers.


Interview by Brooke Hunter