Mat Belcher and Will Ryan Blackmores Well Being 2016 Interview
Since teaming up, Gold Medallist, Mat Belcher and Will Ryan have been successful in winning all three Men's 470 World Championship Sailing titles they have contested (2013, 2014 & 2015).

The duo are an inspiration and by sharing their physical and mental secrets to personal and Olympic success can empower every day Australians to focus and achieve their own dreams no matter how big or small.

'Trust yourself and follow your dreams" is the motto of Australian Olympic gold medallist, Mat Belcher.



Interview with World Champion Sailors, Rio Olympic Gold Medal Favourites and Blackmores Well Being Athletes, Mat Belcher and Will Ryan
Question: What are your 2016 goals?

Will Ryan: To win Gold in the men's 470 sailing class at the Rio De Janeiro 2016 Olympics.

When we teamed up in late 2012, the main goal was to continue the success of the Australian 470 program and to win Gold in Rio 2016 Summer Olympics! There is a rich heritage of sailing in Australia, and we have a very unique situation to build on the success of the whole Australian Sailing Team from London 2012, and continue this momentum. Ultimately 2016 is going to be the year to prove ourselves, and the hard work we have all put in over the past years under the guidance of our Coach, Victor Kovalenko. We hope that we can create a new level of sailing which will allow us to win Olympic Gold at Rio in August!

Mat Belcher: Everything this year is focused on winning Olympic gold in Rio 2016. Will and I have really put ourselves in a great position over the past few years. In the final Olympic year there are always surprises and many challenges but we are confident we will pass these tests and achieve what we deserve.


Question: Can you talk about your training schedule approaching 2016?

Will Ryan: Sailing is quite a unique sport in that for the best performance, it is important to be very familiar with the event location. There are so many subtleties in the wind, the waves, and the different race tracks; and also so many other variables onshore such as the types of food available, gym access, recovery facilities and the rhythm of the lifestyle which influences our abilities to compete at our best.

That being said, our training schedule for 2016 will be about trying to be as comfortable and familiar as possible with everything about Rio so that we can perform our best at the Olympics in August.

There are also a few key regattas (World Championships – Argentina February/ European Championships – Spain April/ World Cup Events – France April, UK June) which will also act as an opportunity to check in against the rest of the fleet.

Mat Belcher: What Will said above. It will be a really busy year trying to balance getting enough sailing time on the Olympic venue (Rio) whilst still getting enough racing practice in Europe – where the majority of the Olympic circuit is held. Not to mention we both live in Australia so it's not an easy program for us. We are fortunate enough to have remote basis in Europe to help with travel but we miss being in Australia at lot.


Question: How do you hope to empower every day Australians to focus and achieve their own dreams?

Will Ryan: We are extremely fortunate to have the ultimate platform to inspire fellow Australians through the Olympic Games!

Sporting icons like my sailing partner Mat (Belcher) and our Coach Victor (Kovalenko) inspired me as a regular Aussie to try to pursue my passion in sailing to new levels; and to have a sporting role model such as Mat in a naturally clean sport such as sailing to be a potential double-Gold medallist is pretty unique!

Being associated with Blackmore's also allows us the opportunity to share aspects of our lifestyle, health-tips and goal setting with many of their health members, and acts as part of our support network to be motivated as the best athletes we can be! Blackmores also has helped to educate us how we can be healthy and be at our best!

Mat Belcher: The Olympic games is an amazing event, which in itself inspires many hundreds of millions of children and adults to follow their dreams. Will and I have always led by example and by sharing our Olympic journey we hope to give every day Australia's the motivation to do the same.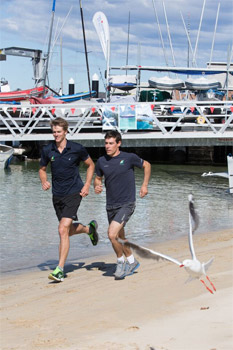 Question: What is your best advice for achieving a fitness related goal?

Will Ryan: My personal approach to any fitness related goal is to base it around a main sport objective. This might be a challenge such as competing in a triathalon, a local SUP race, a family fun run, or similar. This might be your main goal, or it might be a sub goal, or one of a series of ongoing small goals which each provide motivation to stay (or get) fit, have a healthy lifestyle, and share the experience with those around you.

By sharing your goal with others around you, and having an end goal, it is easier to motivate yourself, and be motivated by those around you. Choosing different sub goals adds variety; and for me with the Rio Olympics being my main goal, I find small endurance based sub-goal events to help me really enjoy staying healthy, and certainly helps me stay in shape for my Sailing.

Mat Belcher: Know what we want to achieve and get the right people around you to help achieve it.


Question: How do you overcome the days when you just do not want to train?

Will Ryan: My mind is focused on the goal of winning – that's the basis for our whole lifestyle.

This is always a tough situation, but we are fortunate that in a team of 3 (myself Mat and our coach), we always have a bit of extra motivation and responsibility to each other to train even when we don't feel like it.

There is a huge support network behind us though, and we often don't have to venture far to find someone to encourage us to make the effort on a particular day. The Australian Sailing Team provides a huge amount of support to us as athletes, and as the days tick down towards the Olympics it is not hard to find motivation.

Personally I love being outdoors and being active, but I'm also very competitive, so any opportunity to combine either of these things into a training session definitely makes my day easier!!

Sharing training with friends also often adds some motivation, and provides variety.

Mat Belcher: That's why I love being in a two-person boat. I can't afford to let my partner down. There is too much at stake so this is motivation enough.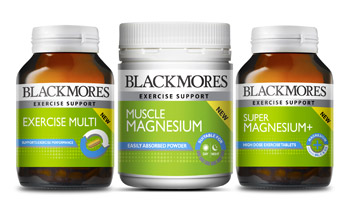 Question: What supplements and vitamins do you take to compliment your diet and training?

Will Ryan: The energy we're outputting is on par with some of the world's top cyclists. We need to be quite skinny ... and quite agile as well. Be able to respond quickly but also have the endurance to perform over an entire week. Thus we take Blackmores Exercise Multi to help us with Energy and Performance and Blackmores Muscle Magnesium for muscle health and repair and to support relaxation and sleep. With the time spent travelling, and in locations such as Rio and Argentina, I've also found that daily Pro-biotics also really helps to avoid down days.

Mat Belcher: Same as above. Mainly the Blackmore's Exercise Multi and also the Pro-biotics whilst traveling in South America.


Question: What's a typical day like, for you?

Will Ryan: I love breakfast, so as soon as I wake up I have some tea (Usually fresh lemon), a bowl of muesli or Weetabix and greek yoghurt and my daily vitamins, then a cup of coffee! If I can get outdoors to enjoy a little morning -wake-up' activity like a SUP, a swim or short run I try to fit it in before the day is too hot. Morning stretching and an injury-prevention stretching program is squeezed in to keep the body and team physio happy too.

Training regularly starts at the local sailing club (wherever we may be) around 9 or 10 and we will often discuss aspects of the previous day plus update the plan for the day before getting our boat ready, and heading out on the water.

Upon returning to shore, we will eat, rehydrate and debrief; and the evening is then spent for recovery, fixing the boats, a bit of time to manage any travel and team logistics and emails, and an afternoon strength or cardio session with intensity depending on the day.

Evening time is to relax and get our minds away from sailing so we can be fresh again for the next day to do it all again.

Mat Belcher: Pretty similar as Will's. Only variation is a few nappy changes and playing outside with my son.


Question: What originally inspired you to begin sailing?

Will Ryan: I was actually fortunate enough to go out on the waters of Sydney Harbour on my Grandfathers boat when only a few days old! Although it took some years before I became interested in sailing as a sport, I'm sure this had something to do with it.

My Olympic pathway in sailing was inspired by our now Coach, Victor Kovalenko, after a chance meeting at a local yacht club. He encouraged me that if I worked hard and joined his program I could be a World Champion one day. Now I have even bigger goals thanks to Victor!

Mat Belcher: I really liked being in control of a boat when I was younger and still do now. Sailing is so different to many other sports you do when you're younger. It's always interesting and different each time you go out.


Question: Can you give us a small insight into what it actually takes to make it to the Olympics?

Will Ryan: My Journey for the Olympics started in earnest in 2009, and since then under the guidance of our coach, Victor Kovalenko; countless hours have been spent trying to learn and develop the sailing skills to sail our race boat well, but also the life skills to be able to compete and race at the highest level and make good race decisions. We spend 5-6 days on the water per week with the day split between onwater sailing time, time in the gym, and time to manage the logistics of our campaign and maintain the equipment of our boats.

The World Championships is the peak event held each year, however the Olympics is the pinnacle event!

To qualify for the Olympics you must qualify your country for a spot on the starting line in your division, and you must also then qualify yourself as the top Australian with a medal prospective as only 1 team is allowed to be entered in each division.

Mat and myself have now met both criteria, and were recently selected to join the Rio 2016 Australian Olympic Team!

Mat Belcher: The journey to the Olympics is very different to each Olympian. Sometimes it is just being patient enough or lucky enough to be in the right position at the right time. But above all it takes a lot of hard work, dedication and passion to push through the hard times. Trusting in yourself and following your dreams. My journey took 12 years.


Question: What advice do you have for young Australians who want to or are already sailing?

Will Ryan: Sailing is such a great sport because it is available in so many forms, for pleasure, for racing, or a combination of both.

Visiting a local yacht club or sailing dinghy club is a great way to find out about the different pathways to get into sailing, and meet people and find out about new opportunities. Most top level sailors are very friendly down to earth people, so if possible try to get in touch with one of them through their websites, Facebook or one of the many other social network systems now available and I'm sure they will be happy to help you on your pathway to get involved or improve!

Mat Belcher: For those wanting to sail. Its not as expensive as you think. There are some great programs available to get into the sport. Contact your local yacht club and get involved.

For those who are already sailing and want to race more. Spend as much time with the top guys that are winning your races – it's a great way to learn more and improve your performances. But above all – enjoy it.


Interview by Brooke Hunter