PIE'S AMERICAN BEAUTY DABBLES IN SWORDPLAY
Mena Suvari/American Pie 2, The Musketeer Interview by Paul Fischer in Los Angeles.
Beautiful
Mena Suvari
became a star in American Pie, a label cemented as the object of
Kevin Spacey's
fantasies in American Beauty. Now, the co-star of the current smash hit American Pie 2 has opted to dress up as a virginal chambermaid who helps out the dashing D'Artagnan in a new version of the Alexandre Dumas classic.
Suvari talked to Paul Fischer.
Mena Suvari, who played a sexual nymphette in American Beauty, is pleased that she is able to diversify. When she's not talking dirty in the smash hit American Pie 2, Suvari plays a chambermaid who falls for the dashing would-be Musketeer D'Artagnan, in The Musketeer, which offers a fresh take on the classic tale. "I just loved being a part of a period film which I'd never done before, and get to wear those extravagant costumes."
The Musketeer is director-cinematographer Peter Hyams' fresh new take on Alexandre Dumas' classic adventure tale, The Three Musketeers. Newcomer Justin Chambers stars as D'Artagnan, a dashing swordsman whose courage and willful nature place him at odds with powerful forces in 17th century Paris. The film's cast includes Catherine Deneuve as the Queen of France, Stephen Rea as the enigmatic Cardinal Richelieu, Tim Roth as the conniving Febre with Suvari playing Francesca, a fiery peasant girl who claims D'Artagnan's heart on sight.
Trying to avoid the pitfall of playing a subservient character in this rollicking adventure, the 22-year old beauty insists "that the women in this film are very strong, which is like, rather than just the pretty face." Suvari sees her own character as "being someone with attitude who doesn't take too much, which is very different from a lot of period films that you see, and different from the women in that time." For Suvari, this was not only her first costume film but the first time working in Europe, France and Luxembourg to be precise. The actress delicately describes the experience as "interesting but fun." Asked to compare working in these two countries, Suvari laughingly exclaims, "Man, they both had their moments, but nevertheless really beautiful and I really tried to make the best out of it."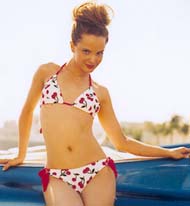 Shooting on location in Europe is a long way from Suvari's humble beginnings. Brought up in South Carolina, her Estonian father is a retired psychiatrist and her Greek mother a nurse. Hardly the background conducive of acting. But Suvari, in trying to explain how or why she became interested in the profession, says that as a kid, she "merely fell into it and had fun with it." Her family was persuaded by the young Mena to relocate to Los Angeles in order to pursue her dream of becoming an actor, "but it had nothing to do with this idea of being famous, but the work."
She was 15 when she came to Los Angeles, having first dabbled in modelling in New York. "Even though I wanted to act, I don't think that initially it was something I took seriously. I had fun with it; it was something I did after school." That changed after she graduated from high school at age 17. "At that point I said to myself: You know what, I want to take a year off before I go to college and figure out what I wanted to do. The acting thing was there so I focussed on that more as my JOB."
It paid off, as role after role came Suvari's way. She got her start on television, acting in guest parts on such shows as "Boy Meets World" and "Minor Adjustments" before landing a recurring role as the daughter of a brash police sergeant on the short-lived "High Incident" during the 1996-1997 season. More TV work followed, including 1997 appearances on "ER" and "Chicago Hope". That same year, the actress made her film debut with a small role in Gregg Araki's "Nowhere", followed by a supporting part in the less known "Snide and Prejudice". Later that year Suvari was featured alongside Morgan Freeman and Ashley Judd in the mystery thriller "Kiss the Girls", adapted from James Patterson's best-selling novel. In 1998, she appeared in "The Slums of Beverly Hills" alongside Natasha Lyonne, who would go on to co-star with the actress in "Live Virgin" and "American Pie" (both 1999). It was the latter that ultimately changed the course of her life. "American Pie did so well that I started to get caught up in it, and really began to enjoy what I was doing", she explains.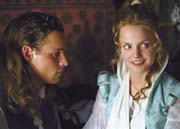 From Pie, Suvari landed the complex teen role of Angela, the object of Kevin Spacey's lustful infatuation in that Oscar-winning film. "In my own life, I've always had fun playing with the kind of flamboyance I brought to Angela. It was like a personality I had already created on my own." The role brought with it a new kind of image for Suvari, who has had to turn down parts "which became too similar to that. The nudity was obviously important in that film because it was a symbolic stripping away of the character; I wasn't simply being provocative. Now I get asked to do nude scenes all the time, and that's just not me."
Which is why she remains fully clothed in American Pie 2, as her character is shipped off to Spain. "I DO get to talk dirty to Chris Klein, which was fun, but this was a movie for the guys and I'm glad it's a hit."
Next to her love of acting is her love of cooking, says Suvari, who is married to 39-year old cinematographer Robert Brinkmann. "I'm really into it now. I love to cook, especially Asian food and dumplings. We have lots of great dinner parties. Next to acting, cooking and eating good food are the best."
At just 22, Mena's career has taken off, but the actress doesn't regret the speed at which things have happened to her. "I don't regret anything the way that it's happened, though I never thought I would be where I am right now."