Mikaela-Rose Fowler Ms Earth Australia 2017 Interview
Mikaela-Rose Fowler has successfully won her bid to represent Australia at the next Ms and Mrs Earth pageant in Las Vegas on 8 – 12 June 2017, by being crowned Ms Earth Australia 2017. Born and raised in Melbourne's Mornington Pensinsula, Ms Fowler has enjoyed the great outdoors her whole life and has been a passionate advocate for the environment and an active community volunteer for several causes.

'I have been in pageantry for a number of years now and I wanted to find a pageant that aligned with my values," Ms Fowler said earlier today.

'Ms and Mrs Earth is exactly the kind of title I'd love to represent. It allows me to focus on important issues like sustainability, natural resources, reusing and recycling.

'I grew up in Victoria, I was always outdoors and always working or playing in the garden. I have also always had a love for animals. Much of my community and volunteer work has surrounded supporting the environment and also the RSPCA. The values of Ms and Mrs Earth Australia are what really resonated with me when I was taking part in the pageant.

'In terms of my role representing Australia as Ms Earth Australia, I will be focusing my campaign for the world pageant title of Ms Earth on my work in the eco beauty sector.

'I have established an Eco Beauty Movement and I'm working hard to grow the movement to create awareness across the globe of the importance of ethical and sustainable beauty products with the aim of: eliminating animal testing, advocating for the creation and use of ethical and eco friendly products and packaging; and educating and influencing consumers and consumer behaviour.

"The Eco Beauty Movement is my way of creating an urgent call to action. Though this crown and sash are powerful, there is only so much work I can do with a single pair of hands. I think bringing people together in aid of a cause is a Beauty Queen's greatest responsibility.

'Unfortunately, pageants are very misunderstood across the community.

"Pageantry often gets ridiculed for objectifying women, especially when it comes to the swimsuit round, however I think this is very misunderstood! The swimsuit round is where women have the opportunity to show their embrace for a healthy lifestyle. We do not get judged on being the 'sexiest' or the 'skinniest', we are judged on how well we take on life's temptations and how we celebrate and care for our bodies. This is what we should be teaching young girls.

"I encourage women across the nation to consider what they are passionate about and research the pageant world. There are so many diverse pageant systems with many different goals and morals. I challenge them to consider their own morals and ask themselves how they really feel about the direction the world's future is heading. Perhaps joining a pageant could be their own chance to change the world.

'As part of my title of Ms Earth Australia, I would like to help to grow awareness of the important role pageants play in contributing to our communities.

'Ms and Mrs Earth Australia is an inclusive and highly diverse pageant. This year, the winner of the Mrs Earth Australia title is 55 years of age. It is wonderful to see women of all ages being recognised for their important contribution to our community. Ageism is something which I feel passionate about. We need to do more to ensure people of all ages are respected, valued and included across all areas of society.

'I am looking forward to the Ms and Mrs Earth pageant. It will be held in Las Vegas from 8 – 12 June 2017.

'Although it will be grueling, I will get to work on things that are close to my heart and meet great people and really focus on making a change. For a girl from Somerville, Victoria the travel is very exciting too!"

The Ms and Mrs Earth pageant has a focus of promoting renovation, restoration, conservation, preservation and education of earth's inhabitants and natural resources.

https://mrsandmsearthpageant.org/ourpageant/
www.mikaelafowler.com



Interview with Mikaela-Rose Fowler
Question: How does it feel to be crowned Ms Earth Australia?

Mikaela-Rose Fowler: The moment that I was crowned Ms Earth Australia I burst into tears! The feeling of having all of your hard work pay off is like no other and knowing that I was going to have the chance to represent my amazing country Australia made me feel utterly proud, when these two feelings combined I just couldn't contain the overwhelming feeling of happiness!


Question: How do you embody Ms Earth Australia?

Mikaela-Rose Fowler: I believe that I embody the title of Ms Earth Australia through my morals and values. It is important to me that mankind takes responsibility for the impact that we have had on the Earth and begins to reverse this cycle and this aligns perfectly with what the pageant stands for.


Question: What does Ms Earth Australia mean to you?

Mikaela-Rose Fowler: Being Ms Earth Australia to me means that I have been chosen to become a leader, I need to, not only put my hands to work, but also call others to join the movement. As a leader I think it is my greatest responsibility to educate those around me and put out a nation-wide call to action. A call to end the mistreatment of our Earth and all it's creatures. I need to begin a movement of teaching those around me how to be kind to nature and lessen their own environmental impact.


Question: Can you share your morning routine, with us?

Mikaela-Rose Fowler: As I work full time as a Campaign Manager at Ray White Frankston, my mornings start quite early and having a structured routine is extremely important. Rain, hail or shine I always begin with a walk. I love watching the sunrise, getting some fresh air and getting my metabolism going! If I don't get my morning walk then it throws my entire day off, I rely on the endorphin release to have my head clear to have a positive mood. Once back home I jump in the shower and get ready for work, this is where my skin care regime comes into play. It is crucial that at this point in the competition I am looking after my skin every day, my sponsor Saya Beaute' Bar are always there to help with this, providing me with the products I need and professional advice. While I am getting myself ready, my lovely boyfriend usually cooks my scrambled eggs for breakfast and preps my chicken for lunch if he is feeling extra generous. I am so lucky to have such a wonderful boyfriend who is so supportive of my healthy lifestyle! Then it's into the car and off to work I go!


Question: Why is it so important to use ethical and sustainable beauty products?

Mikaela-Rose Fowler: Using ethical and sustainable beauty products is so important for not only our own health but the health of our Earth. When we choose 100% (or at least close to) natural products we are reducing the environmental impact of our every day routines. For example, when we take our morning shower and wash our hair with multiple products, we are sending those chemicals directly down the drain and into our water supplies so by choosing a product with more organic ingredients and less harmful chemicals, we are instantly reducing pollution and helping to keep our marine life healthy. If you need more persuasion about why to by organic, then think about what these cosmetics are doing to your hair, body and skin. Read the back of the packet and find out what some of the ingredients really are, are there chemicals which are increasing the sun damage to your skin? Are there cheap fillers being used like talcum powder which are just clogging your pores? The list goes on and on of all the cheap and nasty ingredients being used to cut costs which are having only negative impacts on your skin and the environment!


Question: Can you share some of your favourite brands, with us?

Mikaela-Rose Fowler: When it comes to selecting ethical fashion labels I really love choosing labels who manufacture here in Australia. By purchasing Australian made products we are not only supporting our nations economy, but we are also taking a stand against unethical slave labor which is taking place in overseas countries just far too often. One of the coolest labels I have just fallen in love with which is made here in Australia is Exoticathletica! Not only is it ethically produced but they custom make your active wear to your measurements! This label is all about embracing every woman's body shape and I love that! Plus, they use amazing prints and colours which is sure to make you stand out from the crowd!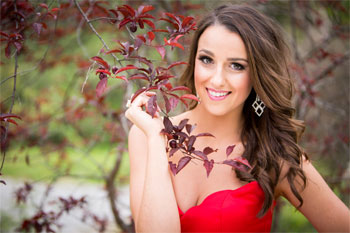 Question: What five beauty products could you not live without?

Mikaela-Rose Fowler: Being a beauty queen means constantly looking after my body and skin! I always make sure that I am using high quality products with no nasty ingredients. Here is a list of my top 5 favourite beauty products that I just can't live without!

Sunescape Illuminating Body Tint - This is an incredible instant tanning mouse which washes off in the shower. It is perfect for last minute events or weeks that I just can't get to the salon for a spray tan. Made from a blend of argan, macadamia and coconut oils this body tint gives the perfect glow!

Youngblood Brow Artiste Kit - I can not live without this one! I have dark brows which can often look untamed but with this brow kit (I use the brunette shade) the compliments just roll in about how perfect my browns look! It has a gel and two shades of compressed colour powder to fill and sculpt inter defined brows!

Youngblood Lunar Dust - This lunar dust puts all other highlighters to shame! I choose this golden shimmer over any other because it truly does give me that perfect radiant glow!

Pure Fiji Hydrating Body Lotion - These body lotions come in many different fragrances and my absolute favourite is the Coconut Milk & Honey! I have quite sensitive skin so hydration is really important, the coconut milk in these lotions not only smells amazing but really does make my skin silky smooth and hydrated!

Curtis Collection Lip Velvet in the shade Nude Rose - I LOVE THIS LIP COLOUR! It is the perfect shade to go from work to dinner! And not to mention that it will actually last until dinner! I also love that these lip velvets don't dry out my lips like other brands that I have tried.

All of these products are available at my sponsor's salon Saya Beaute' Bar and are organic and cruelty free!


Question: How can we work together to eliminate animal testing for beauty products?

Mikaela-Rose Fowler: Something I once heard whilst listen to a talk form the Eco Warrior Princess herself, which has resonated with me ever since is, "every time we buy something, we are casting a vote," I really do believe that one of the most powerful ways that we are able to change the minds of big companies and corporations is by casting ethical votes. If the majority of consumers are no longer buying products that still test on helpless animals, then they will be forced to either change their ways or go out of business. It's as simple as that.


Question: What is the current eco-beauty movement?

Mikaela-Rose Fowler: I began the Eco Beauty Movement in the hope to educate people worldwide about the impact that the beauty and fashion industries have on our beautiful earth and even our bodies. Too often I talk to women who just don't know what they are putting on their skin and flushing down the drains. I want to eliminate this lack of knowledge and show people how they can lead sustainable and ethical lives without giving up the luxury of beauty! Head to www.mikaelafowler.com to find out more helpful hints and keep updated about brands that are doing their part to save the world!
Interview by Brooke Hunter