Mitchell Thompson X-Factor Interview
Talented up and coming singer, Mitch Thompson gained national attention in 2012 when he appeared on The Voice Australia as part of Team Seal. Hailing from Sydney's Northern Beaches, Mitch started performing at a very early age singing in high school productions which eventually led to fronting popular rock outfit, -Is it Her'. The band gained solid popularity which resulted in selling out local venue, Lizottes, Dee Why many times over.

After his time on The Voice, Mitch went on to perform at corporate functions and appeared in the televised Channel Nine -Voices Reaching Out' concert, joining his fellow performers from the show raising funds for The Reach Foundation at the Palms Crown Casino in Melbourne.

Mitch has continued to perform in his hometown of Sydney and interstate. 2013 has seen Mitch branching out and collaborating on several dance tracks. The first, -Open Your Eyes' with Will K, Marcus Santorio and Daniel Gregorio, released originally through Beatport then later on iTunes received airplay in Indonesia as well as being featured on Nova in Sydney and receiving rotation on Sydney's 96.1. The track was also appeared on Shakedown Radio podcasts in June and July.

The second collaboration -It's Not Over' with Six Fingers and Tass was released through Neon Records on Beatport on 21st June. This single will go to iTunes in July 2013. It is expected to pick up airplay on national dance stations nationwide.

If fans join Mitchell Thompson's Facebook, they will receive a free download of his single 'It's Not Over'!

Mitch continues to grow a very loyal Youtube following with his various covers. Definitely a star on the rise and one to watch!



Interview with Mitchell Thompson
Question: What did you learn from your time on X Factor 2013?

Mitchell Thompson: I learnt that shows can be unpredictable and that things don't always go your way! There's so much more than just a voice that goes into being successful on these shows, you need to connect with people and be interesting enough for them to want to follow you.


Question: What have you been up to since X Factor 2013?

Mitchell Thompson: Since X Factor 2013 I have been busy writing original music and collaborating with other artists. A bit of fishing, some rest and teaching guitar!


Question: Is it difficult to watch yourself on the television?

Mitchell Thompson: I sometimes find it hard to watch myself on TV, I get so nervous to see how I'm portrayed and if I sound good or not or if ill sound like a goose when I talk haha.


Question: Do you write your own songs? What's your inspiration?

Mitchell Thompson: I do write my own songs. I try use past experiences to inspire them. Take my recent X Factor elimination for example, I came home and used my emotions to write a song about it. Sometimes I think up a story, or put myself in someone else's shoes and write about what they might be experiencing.


Question: What music/artists do you listen to when you are not playing your own?

Mitchell Thompson: I love listening to the likes of John Mayer, Keith Urban, various older artists like Stevie Wonder, Marvin Gaye a bit of everything really. And your main radio channels!


Question: What's next? Tour/Album/Single?

Mitchell Thompson: I'm going to continue to expand my original repertoire, writing solo and collaborating with other artists. I'll be work towards an EP and album for most likely early next year. Also building my fan base and doing to shows/appearances around AUS.


Question: Was there a moment you contemplated throwing in the towel?

Mitchell Thompson: NEVER! It has been hard copping a few rejections, but I think that's just part of it! Everyone experiences knock backs and, (ignoring the cliche) it does make us stronger! I think it just makes me want it even more and I would never consider giving it up!


Question: Do you prefer performing live or recording?

Mitchell Thompson: I love them both. Both have their perks. It's great to be appreciated by a live audience and to see people's reaction to your performance, there's nothing like the feeling of a cheering crowd. But I do also love getting a new song down and perfecting it in the studio, and just watching it expand.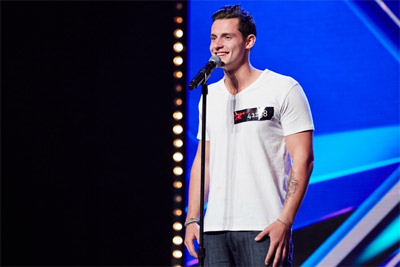 Question: What/who was your inspiration to go into the music industry?

Mitchell Thompson: I was brought up in a musically enthusiastic family, singing from a young at age at school and joining school band early. I think my love for music just grew as I got older and better at it. I had a competitive mind set, hearing others getting praise just drove me to get better until I started getting recognised. Through the amazing support and encouragement from my family over the years I knew it was what I wanted to do for the rest of my life!


Question: What is the biggest challenge you have faced along the way to your musical success?

Mitchell Thompson: Apart from the obvious eliminations from the Voice and X Factor shy of the live shows. I think the biggest challenge has been self-discovery, trying to find out what type of artist I want to be and what musical direction to head in. I mean I love most genres and like to sing a bit of everything, but I need to find me and what makes me an artist.


Question: How would you describe Open Your Eyes?

Mitchell Thompson: Open Your Eyes is a happy and bouncy yet emotional track about someone trying to be noticed.


Question: Can you talk us through the motivations of It's Not Over?

Mitchell Thompson: I wanted to write vocals that were not your cliché "popping bottles in the club" style. So I drew on a few past experiences and used other people as influence. Basically promoting that when times are tough, you have to keep on pushing through it's not the end.


Question: What has been your favourite part of becoming a music artist?

Mitchell Thompson: I'd have to say being able doing what I love for a living. I mean I still have a long way to go but my experience so far has been great, I have learnt so much and gained experience along the way being able to inspire people and share my passion with others is amazing!


Question: If you could collaborate with another artist, who would it be?

Mitchell Thompson: There's many artists out there that I would love to collaborate with, but to do something with John Mayer would be incredible!


Question: Do you have a website fans can visit?

Mitchell Thompson: Facebook - www.facebook.com/mitchthompsonmusic
Twitter - https://twitter.com/imMitchThompson
Instagram @immitchthompson


Question: What message would you like your music to say to your fans?

Mitchell Thompson: I want each song to send its own unique message, but I'd like to think that my music in general would connect with my fans emotionally and make them feel as if I was singing to them.


Interview by Brooke Hunter