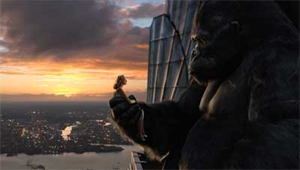 by Paul Fischer in New York.


A GIRL, AN APE AND HOLLYWOOD.
Synopsis:

Who better to bring the grand-scale King Kong myth to the screen once again than the director responsible for creating the vast and magical world of the LORD OF THE RINGS trilogy? In this behind-the-scenes documentary, Academy Award-winner Peter Jackson invites viewers inside the production process for his epic undertaking, 2005's KING KONG.

Interview:

13 years after they first met in Australia, Naomi Watts has finally fulfilled the dream she was idealistically pursuing back then. Now, in the city that never sleeps, Watts talks frankly to Paul Fischer about why she loves to act, working with a massive gorilla and her personal hopes for a slowed-down Hollywood career.

Naomi Watts looks radiant, even at the end of another gruelling day of press interviews. Beautifully attired in a Calvin Klein-designed winter white, flowing tent-like dress with no waist and Chloe beige, short leather jacket, Watts is perching on a couch in a New York hotel room, probably glad the day is almost over. Chatting to the 37-year Australian, it is hard to believe that my first interview with the actress - conducted in a Sydney coffee shop 13 years ago - was with a complete unknown. As we reminisce, Watts agrees that "There I was in that cafe chasing a dream but it was never this big." While here she is being feted and courted by the world?s media as the female lead of Peter Jackson?s monolithic King Kong, that reality is far removed, she says, from the more naive dreams she held onto as a young actress who first appeared substantially on screen in Flirting, before garnering strong reviews for the Australian TV miniseries Brides of Christ. "I always just wanted to work and certainly didn?t know that the dream would continue outside of Australia, let alone, be in this giant movie."

Attaining success and critical acclaim with Mulholland Drive, it?s been full steam ahead for the British-born Aussie, who has elected to work on Indie projects, rather than big-time Hollywood fare, The Ring notwithstanding. Yet she says had it not been for Peter Jackson, she would have been less likely to take on the role of Ann Darrow, the 1930s would-be starlet who forges an unlikely bond with the gargantuan Kong. "I don't think I could have just signed on had it not have been someone like Peter as I would have been concerned that it would have just been too much of an action movie and a damsel in distress. But when I first heard about it, and I heard that Peter was doing it, I thought, ?Wow, that?s interesting. This is the guy who is pretty much the front runner in terms of the effects world as well as the man who made Heavenly Creatures, which was such a beautifully complicated movie about very emotional stuff.? So then I went and met with him as well as Fran Walsh and Phillippa Boyens, heard them speak about it, that it was the legendary King Kong but with a number of great new ideas and how they definitely wanted to change the female role into something much more than just a screaming beauty."

Watts, who spent several months in New Zealand shooting the film, said that it was ultimately it was "a very cool" experience and she has no regrets taking this on. "I?m thrilled with the way it?s all turned out. It was a very different movie for me and certainly not one that I would have imagined myself in but the very fact that I?ve never done anything like this made me curious and what better person to do it with than Peter Jackson," With the film?s success an inevitability, Watts admits that her initial reluctance taking this on was the real possibility of being permanently associated with the role, as was her first predecessor, Fay Wray. "One of my fears in the beginning of taking on the part was that this is such an iconic movie and iconic part, so how do you survive those comparisons that are naturally going to be drawn? But then I also thoughts, ?Well, I have done quite a bit of work beforehand. Maybe it won?t be just this one role that people will think of me as.? I?ll continue to do lots of other diverse work as well but this was different for me and it was fun. It?s an adventurous film with all kinds of other elements from romance to great humour."

Over 30 films later, Watts has reached the pinnacle of her career, and derives real passion for her acting. Peter Jackson cast her in Kong because he believes she is an actress who is very real, he said in a recent interview. Watts insists that there has to be more to acting than the ideal of movie stardom. "You know, you?d better know why you?re here as an actor, because if you?re reaching for fame and fortune then you?re nothing more than whores and thieves." The actress says that?s NOT why she?s here. "I?m here to work out my shit, what my problems are and know who I am, so by cracking open these characters perhaps that shines a light on it a little bit better." After 13 years, one wonders whether she has achieved what she has been looking for beneath the often intense women she has played over the years. "No because the search and journey continue. After all, who can say declaratively ?I know myself?. I mean, of course I know myself better but the journey and search continue because hopefully we?re evolving and growing all the time."

While there have been times that Naomi was ready to give up her dream, she remains surprised that she is in a New York hotel room talking about the biggest film of her career, but also laughs at the outcome of that fulfilment of her dreams. "It surprises me that it?s ended up this way, and I mean it?s fantastic. All that struggle paid off and then you have all this great fulfilment of all the things that you?ve been working hard for suddenly becoming realised." Yet ironically, once afraid of the dream ending, she now finds herself craving less work and more time for herself. "I do feel now like it?s not that I want to give up, but I do feel I?ve made so much room in my life for this - and it has fulfilled me in many ways and now I want to make room in my life for other things," admitting that she would love to start a family. Watts, who has remained fiercely private, admits that her private life "has suffered properly, And so that?s sort of what makes me clear about what I need."

Watts has just one other film due for release next year, a marked contrast to Kong, as she stars in a film version of W. Somerset Maugham?s The Painted Veil, which she filmed in China, opposite Liev Schreiber and Edward Norton. "Liev plays my lover - the other. I have a husband and a lover It?s one of those," she says, laughingly. "We filmed in Beijing, Shanghai and then down to the rural part of China and it was wonderful because you?ve got the great role, the great writing and all the great elements of the film juxtaposed with this fabulous setting, a wonderful culture and you?re seeing things that you?ve never seen before almost on a daily basis. It just made the whole experience so rich, fulfilling and an adventure."

Watts says this kind of experience, as well as King Kong, reminds her of why she loves to act, the chance, she says, to immerse herself in another world. "I mean it?s weird because the thing that I love about acting is the fact that I can help people feel things, know themselves or feel less alone. It?s my form of expression, in the same way that someone might paint a picture or sing a song in that you?re hoping that it moves somebody outside of their own way of thinking."

While Naomi divides her time between New York and Los Angeles, she remains very much the Australian girl I first stumbled across over a decade ago, and she says that ?Australianness? keeps her in check, not to mention her constant flow of Australian friends and family members who ensure she?s not taking all of this to seriously. "That?s why people are like: You have so many Australians around you as if we?re some type of cult or something. And, um... and the answer to that is because they tell the truth, that?s who we are. You know, even it hurts my Aussie friends tell the truth and they kick me up the butt if I?m behaving strangely or if I?m starting to believe these other people around that kiss your ass too much."