Neon Jungle Interview
'I don't look for trouble, trouble looks for me and it's been waiting around corners since I was 17…'

Think you know girlbands? Think again. Neon Jungle are about to rip up the rulebook. Forget synchronised dance routines and matching dresses – these four girls from London, Suffolk and Scotland are blazing a trail of their own. Aged between 16 and 20, Shereen, Asami, Jess and Amira are like the girls making all the noise on the school bus - and their attitude towards music is no different. Citing diverse influences such as Foo Fighters, Bob Marley and Italian opera by way of Beyonce, it's hard to categorise Neon Jungle - which is exactly the way they like it.

Trouble, their debut single, is 2 minutes 32 seconds of punky, infectious music – with a shout-along chorus that's guaranteed to play on a loop round your head. Chaotic and contagious at the same time, it dabbles with rap, dance and pop – all tied together with a lot of attitude and teenage spirit. 'It's one of those songs where you can't not tap your foot or bang your head," says Amira. 'It's so catchy." Produced and written by CockNBullkid and Fear of Tigers, it's raw and smart - the perfectly formed modern pop single that leaves you thinking 'what just happened?".

The band came together earlier in 2013 but have forged strong bonds in a short time - a riot of chat about everything from singing in their sleep (that'll be Shereen) to refusing to pay more than a fiver for clothes in Cancer Research (Asami), hanging out with Neon Jungle is like being part of the ultimate girl gang – slightly confusing, opinionated and a hell of a lot of fun. Their differing backgrounds and tastes make for an explosive mix. There's 16-year-old Shereen, the shyest member of the band, brought up on music thanks to her singer-songwriter dad; indie girl Asami who was born in Japan but raised in Suffolk - spotted after uploading videos of herself singing on YouTube. London girl Amira is a Beyonce-obsessive ('I have to meet her!") who studied dance and music, while Jess, the oldest member of the band at 20, seems wise beyond her years thanks to previous years of acting experience.

For the last few months, the girls have been busy locked in a studio working on their debut album. Shunning the obvious choices, it was an experience they can't rave about enough. "I'll never forget our first studio session - we had such a blast; we all bounced off each other," says Amira. As for what we can expect from the album, prepared to be surprised. 'We won't be put in one category," explains Shereen. 'There are so many different genres on there," continues Asami. 'Dance, pop, a bit of bashment, dub step, grime, rock... with some of our songs you won't believe it's the same people who sang Trouble."

As for performing live, the Neon Jungle way is very different to the traditional girl band model. 'We're not polished at all," says Jess. 'We're very raw." And forget the girlie moves. 'As a group, dance routines don't work for us. A routine would take away from us vibing off each other," says Amira. Like everything Neon Jungle do, their live shows are full-on. 'The way we look after Trouble explains our performance – we're so out of breath!" says Amira.

So what's next? Dreams of working with everyone from Pharrell to Major Lazer, a Grammy or two, plus the itch to conquer the world. Oh, and a lot of noise, of course. 'We're four individuals with massive personalities and energy," says Amira.'Sometimes we can come across as a bit too much for people…!" We wouldn't have it any other way.
Interview with Asami and Amira
Question: What inspired the name Neon Jungle?

Asami: We had done gigs with no name and had been introduced as -the girls'. We had recorded a demo for a song titled Welcome To The Jungle (which is going to be our third single) and Jess actually sent us a list of band names and the list contained Neon Jungle and we all really liked it.


Question: How did you four come together?

Amira: There were auditions in London and basically we were all scouted, differently. Jess and I were found shopping in London. Shereen and Asami were found on YouTube – quite a fairy-tale!


Question: How are you guys different to the typical -girl bands' we've seen over the p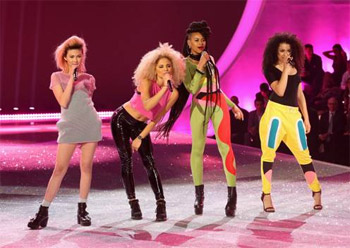 ast ten years?

Asami: Before being in Neon Jungle, I would look from the outside and I could easily compare to the girls but now we are in Neon Jungle we are all so different and special in our own ways. What we have in common with bands such as Little Mix is that we are four girls, in a band and we love music.

Amira: You can never steer away from being compared even though we are unique. We do get compared to Little Mix a lot and they're very successfully so it's never a bad thing to be compared and if we can be as successful as them, we will be very happy.


Question: How did it feel to hear your song played all over the airwaves?

Asami: It is something that you dream about and when you're told it's actually happening, it's a big shock. It's brilliant and we couldn't have asked for a better outcome, in the short time that we have been together. We are very happy and extremely grateful.

Amira: It's insane. It's crazy! We want to create more to be grateful for in terms of touring and performing for those who got our songs played.

Asami: Especially in Australia! I'm obsessed with Australia, I love it so much! I've never been but it's my favourite place…


Question: Will you be coming soon then?

Asami: Hopefully…

Amira: We'd love to and I think it may be in our very near future plans. We'll have to keep working hard and then hopefully it'll happen!


Question: What can you tell us about your upcoming album?

Amira: The album is going to feature all of our different tastes in music and the album will show the differences between us as a group not only in comparison to other groups but each other. You'll be able to see from the album that we all allow each other to shine in one song. It will be very rich because of the different kinds of music.


Question: What inspires you individually when creating an outfit for the stage?

Asami: We just throw our outfits together! We literally chuck on whatever and hope for the best and hope we don't look similar to another girl. We all arrived at an event and we were all wearing grey and Shereen and I had to change and Amira had to chuck on a jacket. We couldn't all wear grey!


Question: Do you prefer performing live or recording?

Amira: It is a differently experience. Obviously performing live is when the music comes to life and when you're creating it there is freshness and you're often intrigued to see what it is going to be like as a finished product. The recording process is what makes the performing live aspect so interesting.


Question: What music/artists do you listen to when you are not playing your own?

Amira: Beyonce, One Direction (laughs).


Question: What/who was your inspiration to go into the music industry?

Amira: Beyonce!

Asami: Our families. We all have such supportive families and that helped us as we realised our dreams were achievable. I look up to Red Hot Chili Peppers, Foo Fighters, Alanis Morissette, Dido; I love music. I knew that if I didn't become a singer I would still be involved in music whether that was as a teacher or producing music.


Question: If you could collaborate with another artist, who would it be?

Amira: Beyonce! (laughs…) I really like Beyonce, if you hadn't gathered. I'd like to work with will.i.am and Shereen really wants to work with Bruno Mars.


Question: We're loving Braveheart here in Australia; why do you girls love the song?

Asami: Thank you! It's a feel good song, it has a good vibe and I'm an awkward person so I can't dance (and I don't really like dancing) but Braveheart makes me want to dance and makes me believe that I am good at dancing! Braveheart has the ability to get me up on the dance floor (laughs)!


Question: What was it like performing at the Victoria Secret Fashion Show?

Amira: That was crazy as we got to perform with Taylor Swift and Fall Out Boy and I am a huge fan of both, I loved Fall Out Boy when I was younger, I used to have their posters on my wall. The whole experience was surreal and I think being approached to do something like that was incredible. I loved going to New York and meeting such lovely people (artists, crew and models). It was insane to look into the audience when I was performing and see Adam Levine who was giving me a thumbs up (as if to say -you're doing well'). It was insane!


Interview by Brooke Hunter