NEW Proactiv
NEW Proactiv
In summer when the temperatures are rising and the parties are in full swing, the last thing you want to be worrying about is bad skin! What if there was a solution that fights breakouts before they happen? Beautiful, healthy looking-skin will be more achievable in 2011 with Proactiv®, Australia's No.1 Acne Brand which has a new improved formula and is now faster and gentler.*
NEW Proactiv What is it?
A new cosmetic version of Proactiv, created by leading US dermatologists Drs. Katie Rodan M.D. and Kathy Fields M.D.
NEW Proactiv is now faster acting and gentler*
The secret to NEW Proactiv is our exclusive microcrystal benzoyl peroxide - it's micro and it works!
Our advance microcrystal technology targets the cause of acne- oil production and dead skin cell build up- to fight blemishes and spot-prone skin.
Dr. Katie Rodan reveals:
"Acne and pimples begin deep inside the skin. Oil is released - it combines with dead cells and forms a plug like a cork in a bottle. And then the oil backs up. The bacteria that live on the skin naturally begin to grow, and you end up with a clogged angry pore.
"The difference with Proactiv is that it's about the prevention of blemishes appearing in the first place. Through using Proactiv you can take control of your skin and maintain it in a good condition.
"And now, Australia's No. 1 acne brand is new and improved. NEW Proactiv is faster and gentler* on skin. The secret is the exclusive micro-crystal technology, which penetrates fast for rapid zit fighting action to help manage those breakouts, so you can have clearer, fresher-looking skin at any age.
In case you don't want to just take our word for it, popular international celebrities like Katy Perry, Justin Bieber, Avril Lavigne and Jennifer Love-Hewitt are all fans and real customers of Proactiv, claiming it changed the way they approached skincare.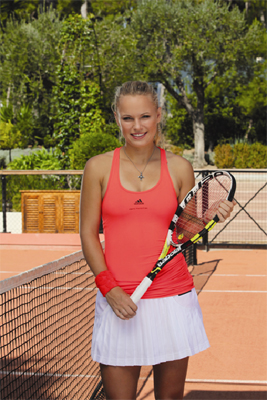 World No. 1 tennis player joins Australia's No. 1 acne brand
After battling breakouts in the public eye for quite some time, 20-year-old Wozniacki decided to try Proactiv after recommendations from her friends. After a week she started to see results and her self confidence grew immensely.
"I was so happy, and I didn't want to hide anymore. I'm glad I have Proactiv. A lot of athletes struggle with their skin because we're always sweating, and we're under a lot of stress," she said.
"I see other girls in the locker room trying to cover their pimples with makeup, but they know it's not going to work. The minute you start sweating, it comes right off. When they ask me how I keep my skin so nice, I always tell them about Proactiv.
"It's really nice to wake up with great skin on the morning of a big match because then I can focus on the yellow ball instead of pimples!"
Girl.com.au Review: This NEW Proactiv formula works faster, and appears to be gentler on the skins surface. I've used Proactiv for many years and found that extensive use can create redness on sensitive areas like the cheeks, but the new Proactiv formula seems to have corrected this leaving the skin cleansed but not stripped of it's natural moisture, and no redness.
How you get NEW Proactiv?
Receive the new sized 30 day supply of NEW Proactiv 3 Step System for an introductory price of $29.95 (+ $9.95 p&h)
All purchases of NEW Proactiv will receive two free gifts: NEW Proactiv Cleansing Body Bar and The Doctor's Secrets book - with secrets to flawless skin.
Take advantage of the Proactiv Promise, a full 60 days money-back guarantee and buy NEW Proactiv at
www.newproactiv.com.au
or call 1300 664 011.