Take your pick and either reveal your inner mermaid with the new Smoothing + Liquid Pearl shampoo and conditioner; or choose to embrace your sea salt waves with the Beach Vibes Texture + Sea Salt Waves range.
Whatever your choice and preference, both products contain sea kelp to help moisturise and soften to leave your hair with a light-enhancing reflection.
Sea Salt:
Extend those beach vibes no matter the season with the scent of ocean air and sea salt in your hair with the new OGXBeach Vibes Texture + Sea Salt Waves! This beach-inspired blend with sea salt, sea kelp and aloe extract help to rehydrate and condition parched strands. This texturizing formula helps add body and create the look of tousled beach hair all year round.
Shampoo & Conditioner 385ml: $19.99 each
Dry Shampoo: $19.99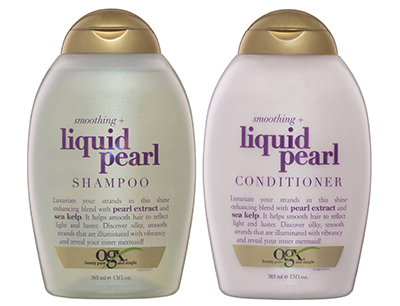 Liquid Pearl:
Reveal your inner mermaid with this magical light and lustrous blend of Pearl Extract and Sea Kelp for hair that shines like the sea. Introducing the new OGX Smoothing + Liquid Pearl Collection, with smoothing and radiance - boosting shampoo, conditioner that help to keep hair smooth, vibrant and nourished.
Shampoo & Conditioner 385ml: $19.99 each
Additionally, the much-loved Biotin & Collagen shampoo & conditioner are introducing new 750ml size bottles, as well as releasing a brand-new dry shampoo.
Shampoo & Conditioner 750ml: $31.99 each
Dry Shampoo: $19.99
You can purchase OGX at any of the following retailers: Coles, Woolworths, My Chemist, Priceline Pharmacy, Chemist Warehouse
OGX Hair for more information.
Review: We tried both the Sea Salt Waves & Liquid Pearl, and both look in moisture and make it easy to style your way, whether it is curls or straight OGX have you covered. They actually smell really good, but really what I loved the most was the way my hair felt and looked after using, hydrated, but not heavy, with a nice shine.