Meet mark.
New make-up brand mark. has turned art appreciation on its head, inspiring bold new looks and a vibrant colour palette designed for every woman. mark. offers everything a beauty lover needs to express herself, from a plumping lipstick to give your vibrant pout a 3D volume boost, to a bold range of fade-proof, transfer–proof cream eyeshadows that wear for up to 18 hours for extraordinary impact that lasts.

The mark. range features a unique capsule collection of products for eyes, lips and nails, with shades to suit every skin type. Signature mark. products include a 24-hour volumising mascara that provides 360-degree volume that never dares to clump or smudge, a mousse foundation to even out skin tones with ultra-light texture and a comfortable matter finish, as well as blendable gel-cream formula eyeshadows for extraordinary impact that lasts.

The mark. line-up also includes eyeliners, powders, lip gloss, nail polishes, high pigment eyeshadows, and much more for a true makeup enthusiast. Made for impact, mark.'s Bold Lipsticks feature a revolutionary formula, delivering seriously intense, saturated colour to your lips. Extremely addictive, this breakthrough product is packed full of pigment and in the fiercest shades for life-changing lips.

mark. is the result of intensive research and investment in innovation over two years, putting the power of artistry in women's' hands and inspiring the celebration of their own individuality through make-up.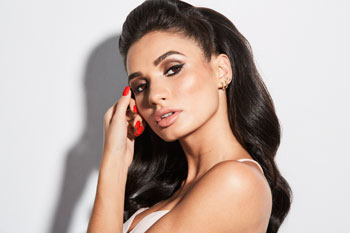 The mark. range is now available online at markbeauty.com.au and for sale through mark. Representatives nationally (RRP from $9.99 – $29.99).

mark. Corporate Communications Manager, Louise Warburton, explains, 'the mark. range has been designed to inspire beauty junkies, bringing cutting-edge make-up, art-inspired textures, and on-trend shades to market that will allow women to celebrate their own individuality through make-up."

If make-up is your art, mark. is for you. Your face is your canvas. Make your mark!

Face
Magix Face Primer (RRP: $29.99)
Air Matte Mousse Foundation (RRP $24.99)
Nude Matte Pressed Powder SPF 30 (RRP $19.99)
Be Blushed Cream Blush Stick (RRP: $19.99)

Eyes
Eye Impressionist 8-in-1 Wet & Dry Eyeshadow Palette (RRP: $29.99)
Perfect Eyebrow Kit (RRP: $19.99)
18Hr Artist Eyeshadow Ink (RRP: $14.99)
Big & False Lash Volume Mascara (RRP $19.99)
Big & Multiplied Volume Mascara (RRP: $19.99)
Mega Effects Eye Liner (RRP: $14.99)
Skinny Precision Kohl (RRP: $14.99)



Lips
3D Plumping Lipstick (RRP $19.99)
The Bold Lipstick (RRP: $19.99)

Nails
Gel Shine Nail Enamel (RRP: $14.99)
Nail Style Studio Satin Matte Nail Enamel (RRP: $14.99)

@markbeautyanz
#markbeauty
markbeauty.com.au



Interview with Pia Mia
In August, US Singer/Songwriter Pia Mia visited Australia to launch hot new make-up brand mark. Pia Mia opened The Selfie Store in Westfield Sydney, a pop-up store hosting beauty tutorials, selfie masterclasses and an inspiration gallery to help women create their own memorable looks.


Question: Happy 21st Birthday Pia! How did you celebrate the special occasion?

Pia Mia: Thank you! It was such a great day. I celebrated with close friends and family at one of my favourite restaurants in West Hollywood.


Question: What do you love about mark. make-up?

Pia Mia: I love that mark. has such a diverse range - they really do have something for everyone! You can create so many different bold looks for different occasions, and their lipsticks stay put for a long time.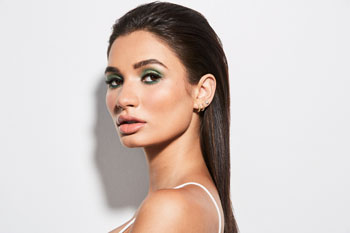 Question: Which of the mark. make-up range is your favourite and why?

Pia Mia: My favourite mark. product is the collagen and retinol-infused 3D Plumping Lipsticks. They give your lips a real burst of 3D volume to create the perfect pout. My top shades are Cocoa Kisses and Rebel Red!


Question: What make-up products can you never leave the house without applying?

Pia Mia: It really depends on the occasion but for daytime, I tend to go for a subtle nude lip, or if I want to make a statement and really make my make-up pop I'll wear a bold red like Rebel Red from the mark. 3D Plumping Lipstick range. I'm also obsessed with my mark. Mega Effects Eye Liner, it's easy to apply and dry's really quickly.


Question: Can you share any of your hot makeup secrets?

Pia Mia: I love a signature red lip - a bold pop of red will up the appeal of anyone's look. But if I'm going for a bold lip, I always pair it with a neutral colour palette for the eyes. My top tip is to press your lips together to smooth out any excess product for the perfect pout that lasts longer.


Question: What fashion styles are you currently loving?

Pia Mia: My personal style has really been influenced from growing up in Guam. I'm really loving the tomboy glam look at the moment!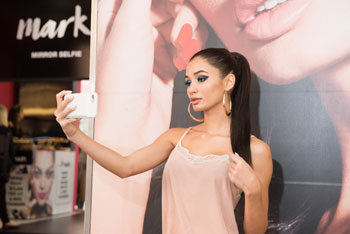 Question: You take a flawless selfie – can you share any selfie tips?

Pia Mia: Find your signature pose and make sure your make-up is on point; when you look great, you feel great! Lighting is also very important when trying to take the perfect selfie. Great light will make your skin look flawless and your hair really shine.


Question: What did you enjoy about your time in Australia, last month?

Pia Mia: I really enjoyed meeting all my Australian fans and hanging out at the world's first selfie-powered store by mark. I also had a bit of time for sight-seeing with my mum while I was here - my fave spot was definitely the Sydney Opera House!


Question: What's next for you?

Pia Mia: I just came back from my tour, so at the moment I'm really trying to focus on making some more music and promoting my new song -I'm a fan.'


Interview by Brooke Hunter