Rebecca Lamarche is no stranger to entertainment, working in many facets of the industry as a Filmmaker, Casting Director, Producer, and Actress. This year alone, Rebecca will hold roles in three different TV movies. The first, a rom-com entitled "Fit for a Prince," will premiere across Hallmark Channel on March 6th at 9/8c. Within the upcoming flick, Rebecca plays the supporting role of socialite 'Brooke Hamilton' who lives in Ottawa's iconic Château Laurier. The film also stars actors Natalie Hall (playing the seamstress-turned-love-interest) and Jonathan Keltz (playing the prince). Rebecca's two other upcoming films include Super Channel's 'Heart & Home' romance "My Boss' Wedding" premiering on March 27th and Lifetime's thriller "Deadly Mom Retreat" from MarVista Entertainment (release date TBA).

Rebecca was born and raised in Canada, natively speaking both English and French. Her Dalhousie University studies informed her work on both sides of the camera making her an intuitive filmmaker and performer. From network television to indie features, Rebecca doesn't compromise when it comes to telling great stories; putting passion and dedication into every project she does coupled with an easy-going "Canadian" sensibility. As a filmmaker, Rebecca has made it a priority for years to push inclusive casting and champion people of color both on-screen and in remuneration. "In May 2020 I was honoured to be recognized for these efforts and was included in a panel for the Toronto BIPOC TV & Film community to discuss the TV 'Movie Of The Week' genre, representation, and opportunities."

Rebecca can also be seen acting and producing in the Shudder indie film "Anything for Jackson," which gained traction in the 2020 festival circuit. Her additional recent acting projects for TV movies include: Home for Harvest, Love Alaska, and A Very Corgi Christmas. While her recent casting and producing credits include: The Wedding Planners (TV series), Romance In The Wilds (TV movie), Christmas Exchange, and Christmas in the Rockies.

In the hopes of pursuing her passion for action films in the future, Rebecca decided to start her firearms training in 2012. She was selected by the Canadian Defense & Foreign Affairs Institute and Canadian Forces to complete the Canadian Military Journalism Course where she studied and was trained in military reporting. Then in 2019, she earned her Restricted and Non-Restricted Firearms License. Most recently, in 2020, she earned her Black Badge and started competitive pistol shooting (9mm). In her spare time, Rebecca enjoys spending time practicing the craft, taking walks with her dogs, traveling, reading, practicing hot yoga, and participating both equestrian polo and vaulting.


Interview with Rebecca Lamarche
Question: Tell us about your role in Fit for a Prince?

Rebecca Lamarche: Fit For A Prince was one of my favorite movies to make, ever. My character, Brooke, is a privileged socialite akin to American royalty, who just so happens to be hosting European Royalty. On paper, she's vain and a little vapid, but I wanted her to be fun to watch and make her someone who, despite herself, is likeable - especially since it's a Hallmark film. I did my best to bring sincerity and playfulness to her scenes - she's not quite in-on-the-jokes, loves mischief, and is devastated when things don't go her way. What makes Brooke funny is that what may seem trivial to us as the viewers is a very serious ordeal to her.

I was spoiled because Brooke is a lavish gal, who spends her days in gorgeous locations, in beautiful clothes, and with glam hair and makeup.


Question: Do you prefer to be behind or in front of a camera?

Rebecca Lamarche: Acting is definitely my favorite and it will always be the driving reason I work in film. That being said, for as long as I work in this industry, I will always work as both an actor and a filmmaker. Fundamentally I am a storyteller and both aspects of my career inform and enrich the other.


Question: You've achieved so much, can you provide your tips for creating a successful schedule?

Rebecca Lamarche: Thank you so much! Okay, let me nerd out a bit here. I carefully plot out my workday in 30-minute increments. I've learned to plot in lunch or else it will be 4pm, and I'll be starving which is ridiculous because I'm always snacking. A lot of the time I don't stick to the times because things are always coming up in this business that need to be addressed at that moment, but it creates a time flow, keeps me focused on my priorities, and helps me set my deadlines. I set prompts and reminders for myself of things that are coming up or should be in progress. I do my best to work ahead so that I can press pause when something pressing comes up. Lastly, I've increasingly been exploring a process-driven workflow. That's helping with efficiency.

Good luck - you've got this! Remember to turn-off at least once during your weekend!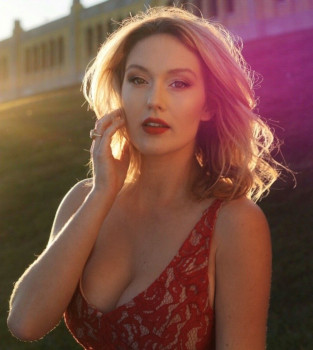 Question: What moment in your career stands out the most?

Rebecca Lamarche: In 2019 I travelled quite a bit for work - I was very aware of how lucky, grateful, and proud I was to be traveling to do a job I love and with great people. I was a producer and the casting director for a film we partially shot in France and a few months later, was in Santa Monica/LA for the American Film Market. When the world levels out I look forward to many more film adventures and am holding onto those memories! I really admire the Australian film industry and have been casually researching your industry for a couple of years now. I hope to eventually start working there in the coming years too!


Question: What advice do you have for aspiring filmmakers or actors?

Rebecca Lamarche: It's such a cliché, but a lot of young people are pressured out of pursuing a career in the arts because of its inherent lack of structure and financial risk. But I'll say, and so gratefully, that when the world seemingly shut down this past year because of COVID, I've never been busier. It's a robust, global industry.

What I would suggest to aspiring actors is counterintuitive and against what many self-described guru's say: invest in yourself outside of acting. I always recommend that young actors go to post-secondary school for something other than acting. I think it's really important to have a job or career that you enjoy, that keeps you stable, while you pursue acting. Everyone thinks that they're going to need crazy flexibility in the beginning but almost no one is that lucky! I also think it makes you a more interesting person and gives you more life experience to draw upon for your work.

For filmmaking, I would suggest that you get involved from the ground up. Work as a general production assistant or even a driver. Just get in and help out and ask questions. I think film is a wonderful career that isn't locked away behind a fancy degree. Once you know where you'd like to specialize, or where your gaps of knowledge are, you can then take classes or register in a program that better serves your journey. There are many technical aspects to film that can benefit from structured training.


Question: What or who inspired your love of acting/directing?

Rebecca Lamarche: Two of my favorite actresses are Julia Roberts and Jessica Chastain and the characters and stories they tell inspire me. Julia Roberts always brings depth and grace to every character that not only makes you fall in love with them but makes you feel connected to their experience. Jessica Chastain brings intelligence, strength, and confidence to her characters - she is such a chameleon with an extraordinary range.


Question: What's your favourite part of your job?

Rebecca Lamarche: What I love most about acting is that you're playing with humanity and you're always learning about yourself and sometimes even challenging your worldview.

I love Casting because I find it incredibly creative and inspiring. I am forever in awe of how much talent there is in this community. When reviewing tapes, I can literally be cheering sometimes. I've been told countless times that people know when I'm casting. I love being able to push for the artist I believe in. I look at casting like art curating for a movie.

What I love most about producing is that you're a creative problem solver and manage to bring all the moving parts of other creative forces together to make one big project. It's an exercise of collaboration, logistics and numbers ahah, it's a lot of fun and I've become really close with the friends I've met as crew.


Question: What's next, for you?

Rebecca Lamarche: Later this month, after Fit for a Prince, I'm in a very fun romantic tv movie called My Boss' Wedding for Super Channel Heart and Home. In the next few months, my first thriller Deadly Mom Retreat will be released too! This week, a series I helped pitch, produce, and fully cast is releasing in the states on Roku, called The Wedding Planners; and I have a bunch of producing and casting projects in the works!


Interview by Gwen van Montfort