The Killer Frontwoman of The Superjesus
Aussie rock royalty Sarah McLeod has today announced her new single Wild Hearts, a laid-back, content ode to finding fulfillment through creative endeavours. Lifted from her self-produced new album, Rocky's Diner – her first solo album in 12 years - released on August 18, the talented vocalist, guitarist and songwriter, who first found fame in the late 1990s with 3X ARIA Award winning rock band The Superjesus, has also dropped a gorgeous video for Wild Hearts, encapsulating the simple beauty in what at first appears mundane. And due to high demand from fans wanting a piece of the action, Sarah has extended her national Rocky's Diner tour into November and December, set to swing through Adelaide at Jive on November 5, then moving through Melbourne, Canberra, Brisbane, Perth, Fremantle, Bunbury, Bulli, and finishing up in Sydney at The Lansdowne on December 16.

Wild Hearts is a fine example of Sarah's storytelling abilities; those that hooked so many from the very beginning of her career. The simplicity of this track, and the narrative that drives it, is where the beauty lies here; a lone voice accompanied by understated guitar slowly swells into a full rock-band arrangement and just as quickly recedes again. Sarah paints a picture for the audience, and with just a few choice words she develops a character with a depth that demands multiple listens. She explains, 'I wanted a lead who could show fulfilment within a scenario that to most would appear to be failure. I was going to start by describing what my character was, but I decided rather to describe what she wasn't, and let the listener imagine the rest: -She's not 18, living on guts and coca cola, she's never been on train, or felt the ocean's salty water.' I was imagining a woman around my own age, not oblivious to the world around her but not an active participant either. She's not flighty, she's a thinker. She has a repetitive life and she enjoys the routine, and she would find fulfilment through creating stories about fictitious characters doing fictitious things. This writing was her release and it made her happy and noone in the world could touch that."

The video documents seemingly routine moments in time, like passing buskers in the street - but rather than rush by them, like you might if you were on your way to work or similar responsibilities, the clip allows you to stay a while. With the help of Tribal Apes (Jessica Mauboy, Tina Arena, Havana Brown), Sarah has created a little time capsule of a creative moment in her life, alongside her canine companion Chachi, and invites the audience to share it with her, as Sarah says, 'The clip is basically about depicting the beauty in what appears to be the mundane. Observing people in the street connecting with each other, finding joy in simplicity, all through the eyes of me and my best friend, my dog Chachi…and now I've got a little movie of me and Chach to watch when we're older! That clip will make me smile forever."

The recent South Australia Rock'N'Roll Hall of Fame inductee, Sarah McLeod has extended her already-massive national tour, adding nine extra shows in celebration of the new album Rocky's Diner. Performing as a two-piece band alongside drummer Mick Skelton (Baby Animals), the powerhouse and self-confessed lover of touring has some seriously unique and impressive plans for the shows, explaining, 'I have designed a guitar whereby I can play bass and regular guitar at the same time. It's been a lot of trial and error because I didn't really know what I was doing - but it seems to be working now! It's a very ambitious live show, but super fun to perform. Chachi comes with us as well, she wears little headphones and sits on stage. I love touring so I don't even care where I am or where I am going, as long as I am playing every night I am happy. I feel I am at my best when I'm touring."

Tickets to the newly announced Rocky's Diner tour will be on sale from 9am Thursday September 21 from http://sarahmcleod.oztix.com.au/


Stream: WILD HEARTS
Watch: WILD HEARTS
Stream: ROCKY'S DINER


FACEBOOK
SOUNDCLOUD
TWITTER
INSTAGRAM
YOUTUBE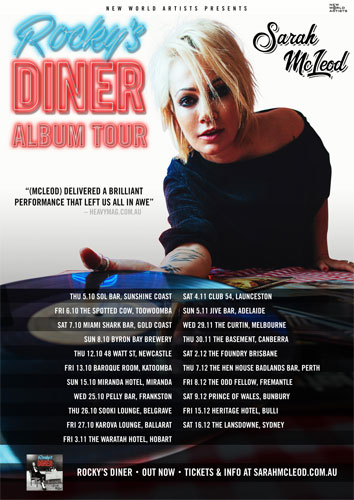 Sarah McLeod Rocky's Diner Tour – New Dates Just Announced


SUN 5 NOV | JIVE, ADELAIDE, SA | 18+
Tickets available from http://sarahmcleod.oztix.com.au/ | 1300 762 545 | All Oztix Outlets
WED 29 NOV | THE CURTIN, MELBOURNE, VIC | 18+
Tickets available from http://sarahmcleod.oztix.com.au/ | 1300 762 545 | All Oztix Outlets
THURS 30 NOV | THE BASEMENT, CANBERRA, ACT | 18+
Tickets available from http://sarahmcleod.oztix.com.au/ | 1300 762 545 | All Oztix Outlets
SAT 2 DEC | THE FOUNDRY, BRISBANE, QLD | 18+
Tickets available from http://sarahmcleod.oztix.com.au/ | 1300 762 545 | All Oztix Outlets
THURS 7 DEC | THE HEN HOUSE, BADLANDS BAR, PERTH, WA | 18+
Tickets available from http://sarahmcleod.oztix.com.au/ | 1300 762 545 | All Oztix Outlets
FRI 8 DEC | THE ODD FELLOW, FREMANTLE, WA | 18+
Tickets available from http://sarahmcleod.oztix.com.au/ | 1300 762 545 | All Oztix Outlets
SAT 9 DEC | PRINCE OF WALES, BUNBURY, WA | 18+
Tickets available from http://sarahmcleod.oztix.com.au/ | 1300 762 545 | All Oztix Outlets
FRI 15 DEC | HERITAGE HOTEL, BULLI, NSW | 18+
Tickets available from http://sarahmcleod.oztix.com.au/ | 1300 762 545 | All Oztix Outlets
SAT 16 DEC | THE LANSDOWNE, SYDNEY | 18+
Tickets available from http://sarahmcleod.oztix.com.au/ | 1300 762 545 | All Oztix Outlets
SARAH MCLEOD ROCKY'S DINER TOUR – PREVIOUSLY ANNOUNCED AND ON SALE
THURS 5 OCT | SOL BAR, SUNSHINE COAST, QLD | 18+
Tickets available from http://sarahmcleod.oztix.com.au/ | 1300 762 545 | All Oztix Outlets
FRI 6 OCT | SPOTTED COW, TOOWOOMBA, QLD | 18+
Tickets available from http://sarahmcleod.oztix.com.au/ | 1300 762 545 | All Oztix Outlets
SAT 7 OCT | MIAMI SHARK BAR, GOLD COAST, QLD | 18+
Tickets available from http://sarahmcleod.oztix.com.au/ | 1300 762 545 | All Oztix Outlets
SUN 8 OCT | BYRON BAY BREWERY, BYRON BAY, NSW | 18+
Tickets available from http://sarahmcleod.oztix.com.au/ | 1300 762 545 | All Oztix Outlets
THURS 12 OCT | 48 WATT, NEWCASTLE, NSW | 18+
Tickets available from http://sarahmcleod.oztix.com.au/ | 1300 762 545 | All Oztix Outlets
FRI 13 OCT | THE BAROQUE ROOM, KATOOMBA, NSW | 18+
Tickets available from http://sarahmcleod.oztix.com.au/ | 1300 762 545 | All Oztix Outlets
SUN 15 OCT | MIRANDA HOTEL, MIRANDA, NSW | 18+
Tickets available from http://sarahmcleod.oztix.com.au/ | 1300 762 545 | All Oztix Outlets
WED 25 OCT | PELLY BAR, FRANKSTON, VIC | 18+
Tickets available from http://sarahmcleod.oztix.com.au/ | 1300 762 545 | All Oztix Outlets
THURS 26 OCT | SOOKI LOUNGE, BELGRAVE, VIC | 18+
Tickets available from http://sarahmcleod.oztix.com.au/ | 1300 762 545 | All Oztix Outlets
FRI 27 OCT | KAROVA LOUNGE, BALLARAT, VIC | 18+
Tickets available from http://sarahmcleod.oztix.com.au/ | 1300 762 545 | All Oztix Outlets
FRI 3 NOV | WARATAH HOTEL, HOBART, TAS | 18+
Tickets available from http://sarahmcleod.oztix.com.au/ | 1300 762 545 | All Oztix Outlets
SAT 4 NOV | CLUB 54, LAUNCESTON, TAS | 18+
Tickets available from http://sarahmcleod.oztix.com.au/ | 1300 762 545 | All Oztix Outlets
Interview with Sarah McLeod
Question: What motivated Rocky's Diner?

Sarah McLeod: I watched the entire box set of the Rocky movies just before I went to New York to write it. I had this thing in my head that I was about to face the biggest challenge of my life, like Rocky. I had told my label that I would return in 3 months with an album and I had not one idea when I left. I started from scratch on January the 1st and handed in the entire album in its correct order with the title of Rocky's Diner at 11.30pm on March 31st.


Question: Can you tell us about the inspiration of Wild Hearts?

Sarah McLeod: It's about finding satisfaction from within, not caring about what society thinks of you and what the stereotypical definition of success is. Finding your inner joy because that is something that cannot be touched by anyone else once achieved.


Question: What was it like filming the video for Wild Hearts?

Sarah McLeod: Anything with Chachi in it is great fun! She's such a good girl to work with, really calm and attentive and ready for action at any minute.


Question: Which is your favourite song to perform live and why?

Sarah McLeod: I love to sing Hurricane because it's the most challenging.


Question: What should we expect from the upcoming tour dates?

Sarah McLeod: I play this show as a duo with a drummer (Mick Skelton from the Baby Animals). I'm playing bass and guitar at the same time through a system I worked out and it sounds massive. I've become a sonic power freak.


Question: How does it feel to have your dog, Chachi coming on tour, with you?

Sarah McLeod: She's my partner in everything, she makes me happy. So touring is a joy with her around.


Question: If you could have anyone, in the world, attend your show, who would it be?

Sarah McLeod: Mahalia Jackson , best singer of all time, I'm better when I've someone I want to impress!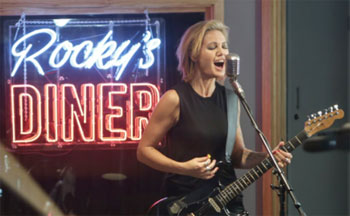 Question: Do you prefer performing live or recording?

Sarah McLeod: It's like apples and oranges, I love them both but it's difficult to compare.


Question: What motivates you most when writing music?

Sarah McLeod: Competition!


Question: Which music/artists are you currently listening to?

Sarah McLeod: Loving Amy Shark and Thelma Plum right now.


Question: If you could collaborate with another artist, who would it be?

Sarah McLeod: Picasso :)


Interview by Brooke Hunter