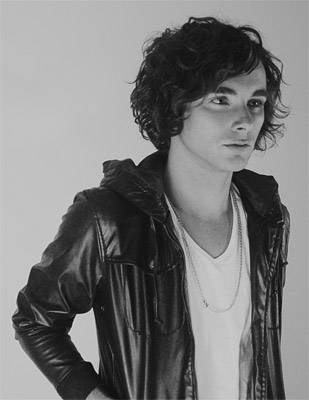 Shaun Diviney Interview
Diviney's first track, -You're so Cool' was put up as a teaser on Youtube at the end of July and has already had 42,000 hits. It has made its way on to rotation on Channel V even though the single isn't an official release.

Shaun Diviney up until recently was the singer and songwriter of the band Short Stack who became a phenomenon in Australia between 2007 – 2011. They made the cover of Rolling Stone, headlined at Sydney Opera House and sold out every tour they did. They had 2 Gold selling Albums, including a debut ARIA #1 plus numerous hit singles. They won Channel V's -Artist of the Year' twice and appeared on Rove, Sunrise, Australia's Next Top Model, X factor and many more. Their online presence was by far the biggest in the country.

Shaun left the band earlier this year to embark on his solo career as -Diviney' He is focussed on reaching out to across the world with a new sound, carrying his online army of Australian fans with him.

He has just returned from a trip to the USA where he was writing and recording for what is turning out to be an extraordinary debut album.


Interview with Shaun Diviney
Question: What should audiences expect from Diviney?

Shaun Diviney: The shows are going to be awesome. I just got back from the States, a couple of weeks ago, where I was writing and recording for my new album. The shows are a chance to showcase some of my new songs to the people who come to the shows.


Question: How did you go about creating the five piece show?

Shaun Diviney: The band that I've put together are really good mates of mine and we've been friends for quite a while. Tim Commandeur is from Operator Please and Chris Circosta and Sinj Clarke used to be in a band called Die For You. The musicianship is really high and we are all trying to impress each other.


Question: Why did you decide to embark on a solo career?

Shaun Diviney: My musical taste changed, I joined Short Stack when I was 17 and Short Stack had a formula when it came to writing and more than anything I wanted to branch out and be a songwriter and somehow ended up having a solo career. I have been writing for Reece Mastin and other X-Factor musicians.


Question: Tell us about your new album?

Shaun Diviney: I really like Justin Timberlake and Maroon Five and they are my favourite artists as well as Prince and INXS and they're sources that I haven't really had a chance to capitalise on whilst a member of Short Stack.


Question: What was the inspiration behind You're so Cool?

Shaun Diviney: I was inspired by a lyric from a Taking Back Sunday song; I am really influenced by the Taking Back Sunday lyricist, Adam Lazzara - he is very cool and the song plays homage to him. The song itself is musically inspired by Prince.


Question: What music/artists do you listen to when you are not playing your own?

Shaun Diviney: I love Kanye West, I wish I was a rapper, that would be cool!


Question: Do you prefer performing live or recording?

Shaun Diviney: They're both so different! When I record I really enjoy it because you get the chance to work with people that you wouldn't get the chance to perform or work with live. However, when you're playing a show live there is such a cool vibe and energy and I love that the audience comes to see a song, that you've written, that has affected their lives.


Question: What/who was your inspiration to go into the music industry?

Shaun Diviney: I really enjoyed the feeling that I got when I listened to Blink 182 and Green Day – music to me was an escape essentially and I wanted to be a part of that scene. I wanted to contribute and make people feel the same way music made me feel.


Question: What is the biggest challenge you have faced along the way to your musical success?

Shaun Diviney: Every day is a new challenge. I was going to University for a while and I had to make the challenging choice to peruse music, full time and that was a really big risk to take and a lot of people wouldn't usually take that risk!


Question: What has been your favourite part of becoming a music artist?

Shaun Diviney: I am still blown away that ten people want to see my play, let alone hundreds! I think that's a little insane!


Question: If you could collaborate with another artist, who would it be?

Shaun Diviney: Kayne West!


Interview by Brooke Hunter