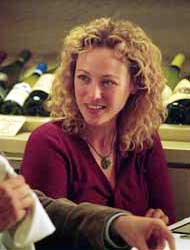 VIRGINIA MADSEN'S CAREER GOES 'SIDEWAYS' EXCLUSIVE Virginia Madsen/Sideways Interview by Paul Fischer at the Toronto Film Festival.
Virginia Madsen looks nothing like her 41 years. As stunningly beautiful as she ever was, with a flawless beauty and tanned skin, movie audiences are about to re-discover this Hollywood beauty anew with Sideways, a film about wine, women and middle age, from director Alexander Payne, who had to fight hard for Madsen's participation in the director's latest film. Critics have already begun singing the movie's praises, but Madsen's richly layered performance. It seems that the actress, who redefined the notion of sexiness over a decade ago, has bounced back into Hollywood's arms with a vengeance.

Looking relaxed in the midst of the Toronto Film Festival, launching pad of Sideways, the actress says that after virtually 10 years of virtual absence from Hollywood's cinematic mainstream, this single mother has finally recovered from a career marred by poor choices and a decision to raise her son. "I didn't like the kind of movies I was making, I didn't like my career, which seemed to be on this train that was just speeding in the wrong direction, so I had to stop everything or I wouldn't have been able to recover it and it's taken me 10 years to be where I want," Madsen says.

Madsen says that she can't say what particular low point existed in her career, merely recalling that "I worked on a lot of really crazy, independent films." Films as strangely diverse as .The Prophecy, The Haunting, and After Sex. "I inherited those because I was experimenting and wasn't very much concerned being in a certain position or getting a certain amount of fame at that time. Ever since I was ten years old, I really didn't think my career would happen until I was in my 40s, because I think in my 10 year old mind I thought actresses like Bette Davis, Katherine Hepburn and Barbara Stanwyck, to me, looked like they were in their 40s."

But Madsen had other, more personal reasons to put her career on hold. "I had to stop and say no to a lot to a lot of silly films, had a baby, and spent the last 10 years and most of my time raising him." Though Madsen has essentially raised her son alone, the beautiful actress remains single, but not for want of trying, laughingly maintaining that she doesn't understand why she is still single. "I know a lot of really beautiful, successful, independent women in Los Angeles and none of them have boyfriends. One of the main reasons, I think, is first of all we make it really okay for ourselves to be alone, in that I really arranged my life in such a way that there really wasn't room for a Madsen concedes. The actress further insists that Hollywood still remains youth-obsessed, at least in the short term "because Hollywood is filled with some of the most beautiful people in the whole world and for guys it's like candy land. There's really anything a man wants here of a very young age and I have to say I can't totally blame them for a while to go that way. Then after a while I would think you'd want a little change of diet and you'd want a little substance in there. It also becomes really easy for a man and the boys to get these really exotic or beautiful young modally things and so maybe they stop trying or something."

Motherhood, says Madsen, also put her life on hold "especially in the beginning, because I really didn't want to be with anyone. I just wanted to raise him, it was probably just all consuming to be with Jack and it look me a really long time to recover. I didn't get back on my feet again for about five years and was not Demi Moore, and could not bounce back from that baby. My life was in a shambles, so I'm really glad that nobody came in to my life then because I was a wreck." Of course that was then, this is now, and Madsen's career is back on track, and Virginia says her life is going pretty well, but laughingly adds "and this is about the time when I meet somebody and they screw it all up. But when I've had these really particularly fertile, exciting times in my life I think I must become more attractive and I think my independence becomes more attractive instead of looking stubborn or cold, I feel so much different that I ever have before. It's like I really shouldn't compare it because it's just awesome to be in your 40s I feel so much more confident, and I love my body."

While Madsen may be looking hard to find love, at least her career is back on track. Despite her absence from mainstream Hollywood cinema, she says that she didn't have to fight to land the female lead in Sideways, but director Alexander Payne had to fight to convince those that matter that the actress should be in his film, "but Fox Searchlight stepped up, which really says a lot about them, because Alexander has a certain way he wants to cast his movie and no one is going to tell him otherwise. It doesn't matter name value or anything like that. He wanted the best people for the part." And with due modesty, Madsen says she knew precisely why Payne wanted her in his movie. "Because I was the best actress for the part, I did the best job in the audition and that's what he based his casting on, solely on your acting ability and what you did when you auditioned and it's never like that, so rarely. There are too many different elements, and too many other reasons they cast. Talent is last. Your acting ability is really judged last in a very large equation, but not with Alexander, nor with Francis Ford Coppola. I got that part in "The Rainmaker" based on my audition. That's why these are two cool bookends, for this long, long journey that I've been on."

Sideways casts Madsen as Maya, a waitress and wine expert in the midst of Southern California's wine district, who begins a tentative relationship with a middle aged divorcee and fellow wine lover, both of whom are embarking on very personal journeys through life and middle age. Madsen says she feels close to her character. "She's an aspect of myself, rather than a character I embodied, because I go to that valley a lot and when I go there I find such serenity, which is about the only word I can use when I go there, I don't know why, but something happens to me when I drive through that mountain pass and as soon as I see it everything falls away." Madsen has no doubt as to why audiences should see Sideways. "We can all recognise ourself in this movie, because no matter who you are you will find yourself reflected in this movie."

Madsen says even prior to its opening, Sideways has re-energised her career. "in a major way, but I'm waiting for the best opportunity to show itself. There's a couple of things that are in the works, but one of them has like a big, big, giant name and big, big, giant studio and I'm sort of a low man on that totem pole so I don't even care. I'm just going to wait and see what decision they make."

As Madsen looks forward to a life and career full of optimism, in looking back, she says that knowing then what she knows now, she still wouldn't change a thing, "because I would not be where I am today. I might not even be alive you know what I mean? Every single step I've taken has led me to the next level of learning and of being in my life so I wouldn't change anything."

SIDEWAYS OPENS ON NOVEMBER 25.