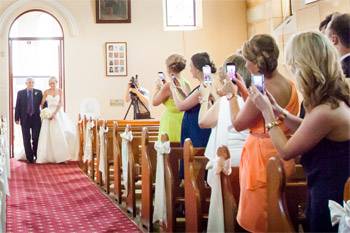 Social Media: The Unwelcome Wedding Guest of 2014
With the wedding season truly upon us, an emerging new trend is showing that social media is fast becoming the greatest wedding crasher of all time. In earlier days, a wedding crasher was easy enough to spot, but thanks to social media, a single compulsive sharer can make a wedding privy to thousands of uninvited guests as they watch the event unfold in real time.

To put it into perspective, more people own a cell phone than a toothbrush. Combine this with the knowledge that more than 90% of all humans who have ever taken a photo have only done so on a camera phone, and you can see why this phenomena is becoming a major concern to modern day couples about to tie the knot.

Rachael Bentick, Bridal Coach from Inlighten, has been involved with over 1,000 weddings and seen firsthand the damage that can be done by shutter bug guests. Ms. Bentick says, 'Social media can turn a joyful day into a catastrophic one with just a single Tweet. From unflattering photos to the untimely -reveal' of the bride before the groom has even seen her, the online sharing of a couple's eternal and extraordinarily private moment is becoming an increasingly tricky dilemma for newlyweds."

So before you whip out your phone to tweet, post or hashtag at the next wedding, Ms. Bentick has the following advice:

Don't post wedding snaps on any social media site before you know what the deal is.

To no-one's surprise, newlyweds often like to be the first to share their official wedding photos with the rest of the world. So, although you can't wait to share their special moment with 2,000 of your closest friends, think twice. Find out if the wedding is social media friendly and avoid being guilty of bursting the couple's matrimonial bubble of bliss.

Do think twice about what and how often you post if social media is allowed.

Just because you've been given the green light to chronicle the wedding online, doesn't make it okay to post a selfie while downing shots in the bathroom after the ceremony. If you're unsure how the bride and groom might receive your photo then don't risk offending them. The same can be said for too many photos. Posting updates as though you're live-streaming the wedding to a major news network is a big no-no.

Don't act like the paparazzi.

Unless you've been specifically instructed or paid to document the wedding, then you're considered a guest. You've been invited to experience the wedding not capture it's every moment, so don't waste the big reveal by watching it through an electronic screen.

Do stay out of the photographer's way. Nothing kills the romance of a wedding better than a line of glowing iPhone screens bordering the aisle. Stopping at nothing to capture the best shot not only irritates other guests; your backside certainly won't impress the bride and groom when it features in all of their treasured wedding photos.

And for the bride and groom, Ms. Bentick has the following advice:

Don't tell people they can't take photos of themselves at your wedding.

While -unplugged' weddings are becoming very common, telling guests that they can't take photos of themselves is border-lining Bridezilla. Instead, ask guests to take pictures but embargo them until after the wedding. For ease, make this clear on your invitation.

Do provide guests with a hashtag.

It's becoming increasingly popular for brides and grooms to provide guests with a -wedding day hashtag'. Not only can it help you to monitor what's being put online, it also means you can crowd-source candid snaps for yourself – just make sure no-one else has used the same hashtag!
Click here for a video of Ms. Bentick sharing her top tips for social media wedding etiquette.

Rachael Bentick is Director of one of Australia's most successful studios, Inligthen Photography. A multi-award winning wedding photography agency, Inlighten Photography offers stunning images, highest standard of products and a knowledgeable team with over 40 years experience combined.

Considered an expert driving force in the Australian wedding industry, Rachael has been involved with over 1000 weddings in the past 10 years. A specialist in all things wedding-related, Rachael is also a NIDA trained Television Presenter and Host.

For more information about Inlighten Photography visit www.inlighten.com.au or call 02 9550 0332.