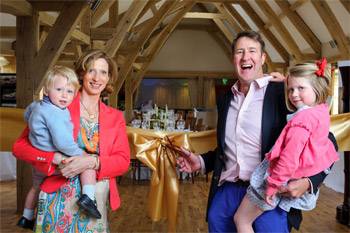 After a major 18 month transformation, Bassmead Manor Barns has officially opened its doors as a dream wedding destination.

It was a significant day in the 170-year-old venue's history, as it marked the completion of its transformation from quaint farm to spectacular wedding location, as the site was given the seal of approval by 100 brides who were welcomed at the grand opening.

Following the successful open day, Bassmead Manor Barns will now become one of 150 elite venues in the exclusive Country House Wedding Venues portfolio. Only the country's finest wedding destinations in the UK are chosen by the Country House Wedding Venues team, and it is expected that this accolade will ensure Bassmead Manor Barns becomes one of the most sought-after venues in Cambridgeshire following the venues' inclusion in the coveted portfolio of wedding destinations.

Richard Squire, venue owner, said: 'We were delighted with the fantastic feedback from the brides who came to our open day, and so proud that the venue has been selected to be part of the amazing Country House Wedding Venues portfolio. Bassmead Manor Barns has been our family farm since 1845, and we're looking forward to continuing its rich history of being one of the area's stand-out locations with the transformation achieved over the last 18 months."

For further information about the venue, call 01234 860006.

Bassmead Manor Barns has been owned by the Squire Family since 1845 and is a large moated farmstead containing a Grade 2* listed farmhouse and numerous barns.

A setting of choice for wedding ceremonies, the wonderful Bean Barn is 300 years old, has the capacity for 150 guests.

Wedding breakfasts take place in the open plan space of the timber framed Dining Barn which overlooks the gardens. The traditional atmosphere of this former milling barn, combined with a contemporary feel, creates a warm and welcoming area where guests can be served reception drinks and canapés.

A Honeymoon Suite is located at the eastern end of the long barn and boasts a secluded patio area which benefits from views of the moat and morning sunshine. The venue is also able to offer optional overnight accommodation available in seven double rooms.