Born in Greenville, South Carolina, Sophia has always wanted to share her love of singing with the world. Sophia made her journey to Memphis, Tennessee from California at the age of 5 where she auditioned for her first show. After blowing the judges away with her performance of Adele's "Rolling In The Deep" she began working with infamous vocal instructor, Bob Westbrook, former teacher to Justin Timberlake, Britney Spears Lance Bass, Chris Young, Lucy Hale, Olivia Holt, Peyton List and many more! Sophia took her singing career to the next level with her performance in 2013 at various events including the Delta Fair. By 2014, Sophia won in the national competition, IPOP, and in 2017 found herself in the main showcase at the Mike Beaty Model & Talent Expo in Dallas, TX. After her many accomplishments as a young singer, she launched her path to creating original music with the support of Platinum Record music producer Marc Williams of Indasoul Entertainment, and Sony/ATV music producer Christopher 'C-Ray' Roberts of OnKey Entertainment! Additionally, she has been mentored by 2022 Grammy-Award Winner Autumn Rowe (Best Album for 'We Are' with Jon Batiste) for the last 6 years, who has worked alongside Sophia homing in on her writing skills and sound.

Sophia's most notable hits include Close to Me, I'm Good (2021), Not That into You (2020), Beside Me (2019), and Can't Stop Thinking About You (2018). All of Sophia's songs are featured on Spotify- where she has over 200,000 monthly listeners, as well as on Apple Music! She is thrilled to release her new song and music video, Kiss and Tell!

Sophia feels passionate about both her Latina and American heritage and is striving to incorporate both languages into her music. She also feels strongly about including her personal experiences in her music to connect with her audience. Her hit single, Beside Me, was written to encourage her fans to feel empowered and always express their individuality! Sophia is an avid supporter of the Thirst for Life project- an organization that builds wells in Africa for people who do not have access to clean water. In addition to the Thirst For Life project, Sophia loves to perform and has gone on to sing the national anthem for the Memphis Grizzlies and the Memphis Redbirds!


Interview with Sophia Treadway
Question: How would you describe your music?

Sophia Treadway: My music is very pop with some R&B and Latin vibe to it.


Question: Can you tell us about Kiss and Tell?

Sophia Treadway: My new single kiss N Tell is one of my favorites I've ever done. It's super chill and has a y2k pop sound to it and is about being young and not wanting things to always be so serious with boys.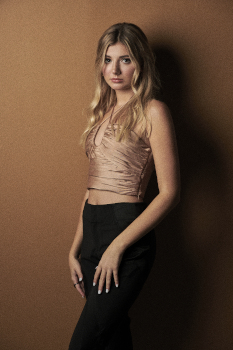 Question: Is there a particular message you hope listeners take from your music?

Sophia Treadway: To stay young, have fun and to just enjoy life. My music helps with love and relationships and some heartbreak.


Question: Do you prefer performing live or recording?

Sophia Treadway: I love them both so much but being in the studio and recording is probably one of my favorite things to do.


Question: What motivates you most when writing music?

Sophia Treadway: I would say my relationships with boys and talking about it all, it's so fun.


Question: Which music/artists are you currently listening to?

Sophia Treadway: I love Jack Harlow, Justin Bieber and also love listing to people like Bad Bunny and Dua Lipa.


Question: What or who was your inspiration to go into the music industry?

Sophia Treadway: I would say at a young of 7 I looked up to Hannah Montana and she's the reason why I wanted to pursue this at such a young age.


Question: If you could collaborate with another artist, who would it be?

Sophia Treadway: I would say Justin Bieber


Question: Did you always want to pursue a career in the entertainment industry?

Sophia Treadway: Yes, I did! It was always a passion and a dream of mine and something that I saw myself pursuing.


Question: Did you have any pre-conceived ideas about the music industry?

Sophia Treadway: At first, I believed what people had said about it being messy and how a lot of people aren't the best and have bad intentions and to be careful who you work with. Thankfully, I've been blessed and so far, everyone I've worked with in this industry has been great and has helped me throughout the years.


Question: What has been your favourite part of becoming a music artist?

Sophia Treadway: Creating my music and the feedback that comes with it. The feeling of creating your own sound and something your proud of.


Question: What's a typical day like?

Sophia Treadway: A typical work day would be dance rehearsals, recording studio session and a writing session all in one day. At home I'm working on social media, writing and vocal practice while hanging out with family and friends.


Question: What's next, for you?

Sophia Treadway: Making more music and continuing to release music. Also, hopefully touring and one day I aspire to be as big as these other artists out there.


Question: Can you share your socials? (links please)

Sophia Treadway: Instagram
TikTok


Interview by Gwen van Montfort