Interview with Stephenie Shea, Pharmacist and Discount Drug Stores National Pharmaceuticals Manager
Stephenie Shea is a qualified pharmacist and National Professional Services & Pharmaceuticals Manager for Discount Drug Stores Franchise Support Office.


Question: What originally inspired you to become a pharmacist?

Stephenie Shea: When I was young, I wanted to grow up to become a scientist and cure cancer. It was during university I began to work for a small pharmacy in Sunnybank, Brisbane, and this is where my love for this job started - I could see it was a career I could be passionate about for the next 40 years! I've always been interested in finding outcomes for sustainable healthcare, and community pharmacies and pharmacists can play a really significant role in improving health outcomes and making a difference to people's health and wellbeing.


Question: What does the role require of you, daily? What's involved in a typical day of pharmacists?

Stephenie Shea: After opening the store in the morning, the day is spent helping customers manage their medications – not just dispensing them, but also providing healthcare advice and counselling, and sometimes consulting with or referring to local doctors if I come across any complications regarding medications. We also spend a lot of time offering general health advice and consults – being one of the most accessible healthcare professionals, pharmacists are a great first point of call for a lot of people regarding their health. We can either advise or refer onto GPs or allied health professionals as necessary. Pharmacists also tend to develop long-term relationships with their customers, particularly their elderly customers or customers who have chronic conditions, so there's a great level of trust and familiarity we establish with our patients. Discount Drug Stores also has a strong focus on community well-being so I also have plenty of opportunities to sit one-on-one with customers and conduct screening and risk assessments for them - I measure blood pressure, review medications and so much more.

I thrive on finding the best outcome for customers' health and well-being - I get so much pride from making a difference in people's lives. Aside from the customer side of things, pharmacists are also expected to order and receive stock and manage day to day operations.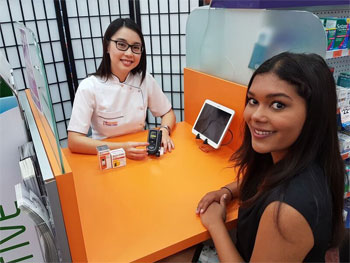 Question: Can you share some day-to-day experiences, with us?

Stephenie Shea: I enjoy the day to day interactions with my customers where I get to know them and build a relationship with them. This drives me to provide them with the best healthcare I can possibly offer as a pharmacist. Pharmacy is about more than just filling prescriptions. We help promote health awareness and better the health and wellbeing of the community. Working at the health clinics that Discount Drug Stores offers – such as diabetes management, hearing tests, sun awareness, and flu vaccinations – ensures I can contribute to the betterment of the community, beyond simply dispensing drugs.


Question: What advice do you have for young Australians hoping to become pharmacists?

Stephenie Shea: If you're a people person and like to make a difference in people's lives, then pharmacy is a career you should consider. The industry is dynamic and progressive thus you will always be challenged in your job to succeed and work harder to help meet the needs of the people in your local community. Already pharmacists can specialise into professional services pharmacists, pharmacist managers, medication review pharmacists, general practice pharmacists, and Indigenous health service pharmacists – and in future I believe this breadth of pharmacy careers will only continue to evolve.


Question: Are there any upcoming trends potential pharmacists should be aware of?

Stephenie Shea: I've been surprised to learn how new technology can influence a person's health outcomes, whether that be new ways to screen for diseases, increasing efficiencies in the store through automation or drug discovery to help prolong life and improve quality of life. Pharmacists are always educating themselves and training on new scientific health studies and best practices, and keeping an eye on how new technologies can assist health outcomes is definitely key.


Question: What services do pharmacists offer that we could we be unaware of?

Stephenie Shea: Pharmacists offer a huge and varied array of professional services – everything from medical and carer's leave certificates, to diabetes support, pain management services, vaccinations, and more.

We can also assist in minor ailments, such as wound care management, and we also keep informed of the latest clinical studies and research on complementary medicines to ensure our customers receive the best advice on their vitamins and supplements.


Question: How do you strength your immune system to ensure you don't become unwell?

Stephenie Shea: Prevention is always the best cure – and cliched as it sounds, eating healthy, staying hydrated, and getting exercise is a great start. It doesn't have to be dramatic - increasing your incidental exercise can be an easy way to fit exercise into a busy lifestyle, such as vacuuming around the house, walking the dog, or taking the stairs instead of the escalators. For diet, swapping out healthier options that you enjoy is a great way to change your eating habits, rather than seeing your diet as a form of punishment. Examples include frozen yoghurt instead of ice cream, or home made slices made with sweet dates and cacao instead of a brownie. If 8 cups of water a day is too boring, try adding slices of fruit to your water, such as lemon or kiwi, to make it more interesting. Getting enough sleep is also essential for your body to repair and rejuvenate. It's important to turn off the -white noise' to get a good rest – that means, turning off phones and tablets before hopping into bed.


Interview by Brooke Hunter