Saski Collection: A Westpac Top 200 Businesses of Tomorrow for 2018
Two hundred Australian businesses have been named as Westpac's 2018 Businesses of Tomorrow, recognised for their vision and drive to help shape the nation's economic future.

Building on the success of the inaugural 2017 program, and joining an impressive alumni, the winning businesses exemplify adaptability, resilience, value to customers, and a readiness to meet tomorrow's challenges.

David Lindberg, Chief Executive, Westpac Business Bank and 2018 program judge, said this year's applicants demonstrated the scale of movement of the Australian economy into a digital world. "The digital economy is predicted to be worth $139 billion by 2020 to the Australian economy - as a key driver of change in the future, this year's businesses reflect the drive that's disrupting and shaping the industries they operate in. Almost three quarters of the top twenty businesses are directly involved in technology or software development and this year also saw an increase in micro-business applicants, including early stage tech-businesses, which increased almost three-fold from 2017.

"This tells me leading Australian businesses are capitalising on the opportunities for growth. They're breaking new markets, developing technology that helps people with autism gain employment, providing better analysis for solar energy users, using technology to make prescription glasses more durable and affordable, and transforming waste into useful materials.

"Over half (59%) of these businesses have an ambition to expand to the global marketplace and I look forward to seeing this great Australian entrepreneurial spirit succeed – because we have great talent and ideas in this country that deserved to be backed.

"As Australia continues to make the transition to a services and knowledge-based economy, it's increasingly important for businesses to broaden their skills, tap into shared-knowledge and strengthen professional networks. Burgeoning businesses are critical to our success as a nation and to continue our 25-plus years of economic growth. By bringing together the right minds, tools and support, we are backing businesses that will help deliver a stronger, more prosperous Australia," said Lindberg.

Of the 200 Businesses of Tomorrow, 20 top businesses will receive a two-week study tour to Silicon Valley and a tailored $50,000 professional services package from their choice of select providers offering legal services, PR and communications, customer relationship management and management consulting.

The top 20 will also take part in a mentor matching program with notable Australian business leaders. Among the mentors are John Eales AM, former Wallabies Captain and culture and leadership consultant; Mia Freedman, Mamamia Women's Network; Tim Fung, Airtasker CEO; and Jo Horgan, founder and CEO of Mecca Cosmetics.

One of this year's businesses which captured the judges' attention was Sydney-based Avoka, a technology company which offers a software platform enabling banks to increase sales and build their customer base.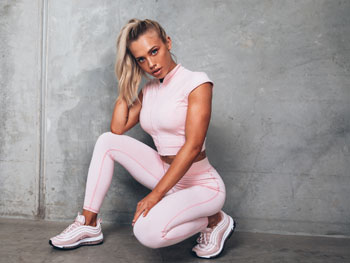 The CEO and founder of Avoka, Philip Copeland, said: "One of our core functions is enabling seamless digital processes so banks can make it as easy as possible for customers to open accounts, apply for a loan or become business customers. Avoka accelerates customer acquisition for banks and allows them to get outstanding customer journeys to market very quickly.

"With the help of Westpac and the Businesses of Tomorrow program, we're looking forward to increasing our networking capabilities and continuing to improve and expand our product offering.

Having been selected for the second year in a row, this time as a top 20 finalist, we appreciate the opportunities Westpac has given our business."

Several businesses from last year's top 180 businesses were also recognised this year and awarded a position in the top 20 including, Araza, Metamako, and Whispli, each of which have demonstrated growth and increased potential since 2017.

Sharing his views on last year's program, 2017 Business of Tomorrow, Healthshare CEO, Rami Weiss, said, "Having Healthshare recognised in Westpac's Businesses of Tomorrow program was priceless. By connecting a diverse pool of forward-thinking businesses, the program has helped create a strong, enduring network of leaders who continue to share their unique knowledge and experiences with one another.

"The Global Study Tour gave us the incomparable opportunity to learn directly from founders of Silicon Valley giants on the importance of building a company's culture - lessons which Healthshare has now adopted and turned into practice."

Putting employees and people first was a key trend for 2018 businesses, "At least 71% of the 200 businesses saw increasingly employee engagement or wellness as a significant priority, which is recognised as a key factor in creating a culture that drives productivity," concluded Lindberg.

For the full list of this year's 200 Businesses of Tomorrow please visit BusinessesofTomorrow.com.au.



Interview with Tammy Hembrow
Question: How does it feel to have Saski Collection announced as one of Westpac's Top 200 Businesses of Tomorrow?

Tammy Hembrow: It is a great accomplishment for myself and my team. We hold everything the Award stands for in high regard and being chosen as one of the winning 200 businesses puts us in great company of some of Australia's leading businesses.


Question: What inspired you to create Saski Collection?

Tammy Hembrow: I've always been passionate about fashion and fitness from a young age so pairing the two together was a dream come true. I wanted to invest myself in every step from initial research to designing and personally testing each product, I wanted to ensure the clothes would be able to handle any workout schedule and would be something I would personally wear to the gym.


Question: Where do you find inspiration when designing Saski Collection products?

Tammy Hembrow: I take my inspiration from upcoming trends and I like to envision what my audience would want to wear. I think I know my audience well and know what their style. Saski Collection embodies powerful and confident women so I try to translate this into my clothing.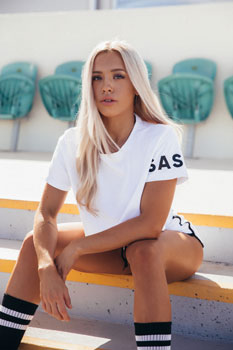 Question: Which of the current products are your favourite and why?

Tammy Hembrow: Because it's Winter in Australia I've been living in the tracksuits, but only 50% of our customers are based in Australia so we recently dropped out Track 2.0 collection with running shorts and crop singlets, which I absolutely love!


Question: Can you talk about the beginning of Saski Collection – what advice do you have for other women in the early stages of creating their own business?

Tammy Hembrow: I'm not going to lie... It was really stressful! I cried after the first launch because so many things went wrong with our website. My advice would be to follow what you're passionate about and just do it. Don't wait for more money or a better time... start with what you have and who you know, work hard and build from what's around you already.


Question: How do you juggle work and mum life, successfully? Can you provide some advice for other working Mums?

Tammy Hembrow: It's still a juggling act for me, I honestly just try my best to manage my time and plan but being a mum, you know that, sometimes planning goes out the window. If there is anything I've learnt that I can pass on it's not to beat myself up about failure. You can't do everything right all the time, failing is a part of being a parent and a business owner. You learn from your mistakes and you're often smarter from it.


Question: What advice do you have for women hoping to also launch successful digital ventures?

Tammy Hembrow: I would suggest they learn as much as they can even if it's just a little about everything relating to the operation of their business. This will really help when starting out, especially if you don't have the capital to outsource. I now know how to use accounting software, Shopify, and shipping systems. It can be overwhelming at first but I think knowing the ins and outs of your own business is key. Also looking for a mentor who has does it before or works in the industry is priceless!


Question: What's next for Saski Collection?

Tammy Hembrow: Some VERY exciting things are coming up for Saski Collection! We have New York fashion week in September with our runway show on the seventh showcasing a whole new collection and we are also exploring the possibility of pop up stores. Watch this space! @tammyhembrow


Interview by Brooke Hunter