Personalised Apparel and Accessories for Everyone and Everyday
Established in 2014 Keep It Personal as founded by husband and wife duo Elle Payne and Simon Payne. The creative team have developed a unique take on the everyday item allowing customers to personalize each product as they please. Keep It Personal is taking lead in local monogramming and personalising business.

Designed and hand personalised right here in Australia at the founders hometown of Melbourne. Keep It Personal is an online retailer that also has a strong wholesale following from boutiques and clothing business across the country.

Keep It Personal's core rage is the Varsity collection conforming with the traditional red, white and blue colourways. This range includes staple styles of jumpers, hoodies, caps and beach towels. You can now feel part of a team with Keep it Personal.



This every popular brand will also help create that well-stocked cupboard of new stunning leather bags and accessories specialising in quality chic monogrammed leather goods at affordable prices. While customisation is a current trend Keep It Personal steps outside the ordinary and allows you select your type of personalisation including embossed, embroidered and gold stamped.

"Personalisation is a style, it's a state of mind. We started this business as we saw a gap in the market for high quality apparel and accessories that were personalised. We strive to give our customers really cool products that lead the category in Varsity Knit and Varsity Hoodies. It's been an amazing ride. Social media has played a big part in growing our business and our brand. "

The Keep It Personal product prices range from $10.00 to $349.99 plus monogramming and further personal touches.

https://www.keepitpersonal.com.au
@keepitpersonal__/


Interview with Elle Payne
Question: When and what inspired the creation of Keep It Personal?

Elle Payne: We loved anything monogrammed and could see that the States had embraced the concept however nothing was available like it in Australia.


Question: Can you talk about how you made this idea a reality?

Elle Payne: Many hours researching, sourcing the right suppliers and right products, Quality was always going to be our highest priority as we wanted to be proud of what we were selling. Simon spent hours building the website to accommodate the personalisation aspect.


Question: Why do you think we're so obsessed with personalisation?

Elle Payne: It just makes everything so much cooler - why walk around with a big random letter on your jumper when you can have your very own initial. Personalisation is just a lovely gesture as a gift, it shows you really care; you've taken the time to make it theirs!


Question: What has been your favourite Keep it Personal highlight, so far?

Elle Payne: We have had some pretty amazing experiences with celebrities wearing our products! Must say my heart still skips a beat when I see someone walking down the street in one of our jumpers.


Question: Who have you been most surprised to see in a Keep it Personal Varsity hoodie?

Elle Payne: We have received incredible support from the Real Housewives franchise - watching the NY series and seeing it was pretty special.


Question: Which product are you currently wearing most?

Elle Payne: Saturday mornings I am always in the Varsity Jumper and every single night I wear our robe - it's like a cloud it's so soft and snuggly.


Question: Could you share the best business advice you received during the foundation period?

Elle Payne: Maintain quality and ensure you give customers the very best service possible. It's been a long road and we have learnt so many things, every day we learn something new.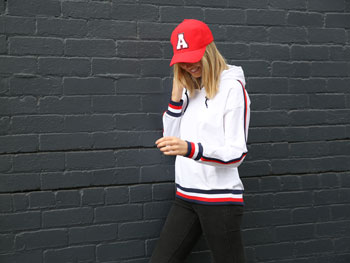 Question: How do you ensure social media continues to grow your brand?

Elle Payne: We essentially built the business on social media - that first celebrity post was so exciting and we sold ten jumpers immediately - I just remember being blown away and really excited that this was actually happening.


Question: Why was it important to hand personalise the items in Melbourne?

Elle Payne: Again quality - we want to ensure everything is exactly as it should be. Our sewers go to so much trouble to get every letter exactly right - it's measured, pinned, checked and double-checked,


Question: Do you have any advice for other couples who work together?

Elle Payne: (Laughs), it's all-consuming and quite often it does cross the boundaries of family life, however I wouldn't want to be on this adventure with anyone else. Simon has all the qualities to build our business that I don't - we are a good fit.


Question: What's next for Keep It Personal?

Elle Payne: Summer 2019 is really beautiful we are mixing it up with our colours and introducing some fun new products. We will also be expanding our retail presence and adventuring into the International Market.


Interview by Brooke Hunter