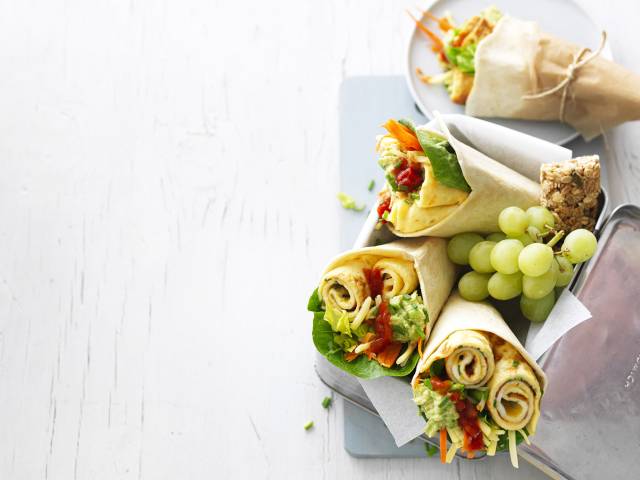 Tex-Mex Egg Tortilla Pocket
Prep time: 5 minutes
Cook time: 20 minutes
Serves: 4

Ingredients:
• 5 eggs
• 2 tbsp milk
• 3 tbsp chopped chives
• 1 tbsp oil
• 2 baby gem lettuce
• 1 cup grated tasty cheese
• 1 small carrot, grated
• 4 tortilla pockets
• Guacamole, mild salsa to serve

Method:
1. Whisk eggs, milk and chives together.
2. Heat oil in a non-stick frying pan over medium heat. Add egg mixture in 4 batches. Cook, tilting pan so that the egg is evenly distributed. Cook for 1-2 minutes or until the egg is just set. Flip over and cook for a further 30 seconds. Transfer to a plate and cool. Roll up each omelette and cut in half. Set aside.
3. Separate large outer lettuce leaves. Finely chop remaining lettuce. Mix with half the grated cheese and carrot.
4. Heat tortilla pockets according to packet instructions. Divide the lettuce, cheese and carrot mixture into 4 portions. Spoon into the base of the tortilla pockets.
5. Push a larger lettuce leaf into each tortilla pocket, along with 2 omelette rolls, more grated carrot and cheese. Serve with guacamole and mild salsa.

TIPS:
• To pack for school lunch, ensure all the filling ingredients are cold. Heat tortilla pockets just before filling so they will not split open when filled. Wrap firmly in cling film. Serve with small containers of guacamole and mild salsa.
• Baby gem lettuce is a mini cos lettuce, found in the fresh food section of your supermarket. The leaves fit perfectly inside the tortilla pockets.