The Hidden Gems of Sydney Road
At first glance, Sydney Road in Brunswick, Melbourne doesn't look like much. But take some time to wander the shops, cafes and bars, and you will soon find yourself pleasantly surprised at what this street has to offer. Filled with the sub-culture hipsters of our time, Sydney Road is full of café's serving fresh, local produce and good food.
To name a few, the Empire Café Gallery boast friendly service and fresh local produce in a chilled out arty scene, the Green Refectory is ever popular, serving cheap fresh food, although be prepared to wait for a table. Also, tucked away in a small arcade full of local designer shops lies Tre Espresso, boasting good food with good prices and live ambient jazz on the weekends.
If you're heading to Sydney Road later in the day there are bars to suit anyone's taste. Bar Etiquette prides itself on its microbrew selection, have a drink amongst their comfortable décor, but remember to bring cash, they don't accept card! If you'd rather a more relaxed pub atmosphere the Penny Black is an excellent option with a wide range of drinks, cheap (and tasty) food and excellent décor including an enormous outdoor area. There's also the Retreat, for the most nostalgic of us, with a definite English pub feel. Lastly, for the late night owls, there's My Aeon, an electronic lounge/bar that supports local acts and has a definite funky vibe.
As well as gorging ourselves on the finer things in life, Sydney road also has a number of shopping options for those of us that are fashionably inclined. There are a number of small shops boasting local designers, and also stores such as Episode selling new and vintage hipster ware. But perhaps the best reason to visit Sydney road is a little shop tucked away at the north end of the street called De Jour.
Nam, the owner of De Jour has been making jeans for over 25 years. His jeans are made from locally sourced denim and he even tailors them to fit your leg length and waist for free while you wait! But best of all his jeans sell of less than $50! I was lucky enough to catch an interview with Nam this week to talk with him about Sydney road and his store.
Interview with Nam of De Jour
Nam
: I know what your first question you will ask me is; it will be How many girlfriends do I have?
Question:
OK, how many girlfriends do you have?
Nam
: Ah, I have a thousand.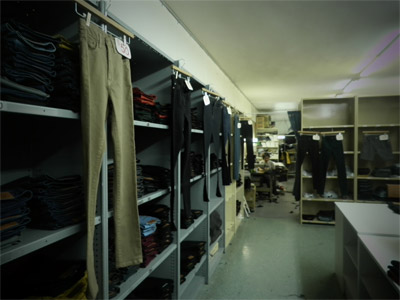 Question:
How long have you been making jeans?
Nam
: All my life! I learnt with my sister when I was 14 in Vietnam. For about four years I learnt with her, not only jeans though, mostly trousers and shirts. Then I left Vietnam after the four years with my sister, I came to Australia and worked in a jeans factory, to make children's jeans for Target. That factory closed down, but instead of looking for another job I decided to make my own jeans.
Question:
How long ago was that? Did you open this store on Sydney road or was there another before this?
Nam
: Oh it was a very, very long time ago! I've only owned this one store!
Question:
What's the best thing about your store?
Nam
: I want to make everyone happy, so whenever they're not happy, I try to make a way to make them happy. A lot of people they have a problem that jeans are not the right fit for them. It may take someone all day going from shop to shop to find a pair of jeans. So I thought: why don't I make all different styles to fit all different types of women? So instead people can buy a pair of jeans that fits them in half an hour or an hour. Also I have a lot of experience with denim; a lot of other jeans are not very good quality, what I want to try to do, is make all of my customers happy. What I can do to repay them is try to keep the price as low as I can; the second thing is strong denim so that one pair of jeans will last them longer. Also, I want to make all Melbourne girls the best looking girls in Australia, and they look good in my jeans!
Question:
What do you like best about Sydney road?
Nam
: Ok, it's not just the ladies! My store is good! The people here are very good, a customer here, she is a local singer, and has made me a Facebook page, this is good because I don't know much about the internet. I also get help from customers, they tell me "I want jeans lower for work or higher for going out" and in that way they help me, in fact most of my ideas are from customers.
Question:
So your store is a bit of a hidden gem, it's also becoming more and more popular can you name any other hidden gems?
Nam
: Um, I'm not really sure. I never actually get much of a chance to go out! I'm here seven days a week, I'm always here working until around ten o'clock at night trying to figure out new types of denim or colours I can use.
Interview by Fiona Tew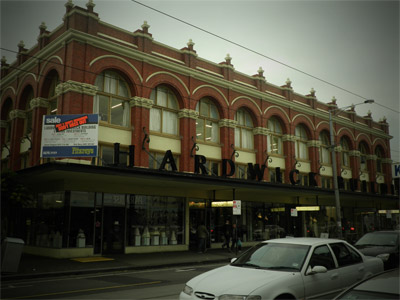 Cafés
:
The Empire café: 295 Sydney Road, Brunswick: 0402 328 969
The Green Refectory: 115 Sydney Road, Brunswick: (03) 9387 1150Tre Espresso: 10/459-475 Sydney Road, Brunswick: (03)9381 0209
Bars
:
Bar Etiquette: 408 Sydney Road, Brunswick: (03) 9387 8343
The Penny Black: 420 Sydney Road, Brunswick: (03)9380 8667
The Retreat: 280 Sydney Road, Brunswick: (03)9380 4090
My Aeon: 791 Sydney Road, Brunswick: (03) 9043 9227
Clothing
:
Episode: 105 Sydney Road, Brunswick: (03) 9380 2928
De Jour: 542 Sydney Road, Brunswick: (03) 9380 4884