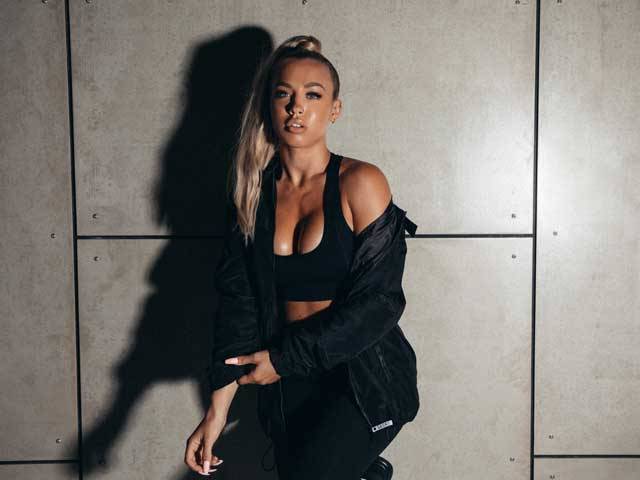 Tammy Hembrow has launched her new boxing range from her Saski clothing line, the Knockout Collection.

Australian Tammy Hembrow, a young mum of two, with more than 10 million followers on Instagram and over a million on YouTube ¬has created a multi-million-dollar global fashion, health and fitness business empire within three years.

Her luxury athleisure label Saski Collection is hugely popular in over 30 countries and her fitness app Tammy Fit is being used by over half a million people worldwide.

Tammy's new Saski Boxing Collection features high waist leggings, a sports bra, a hooded sports bra, boxing shorts, a crop top and a parka jacket. The striking collection is available in black, red, white, silver and ranging from sizes XS to XL.

To complement the collection, Tammy has also downloaded onto her Tammy Fit app three Boxing circuits with Ryan Evers. One circuit is partnered, one is Tammy being coached by Ryan (beginner) and the third is Ryan on his own (intermediate). The workouts are shown with and without gloves/pads etc and can be done anywhere – you don't need a gym or equipment.

"There are so many reasons why boxing is an awesome way to keep fit and strong, both physically and mentally," says Tammy.

"Physically, it requires a great level of strength, endurance and power. However, mentally it can be a great form of anger management, being a great motivator and improving self-confidence to just being able to switch off from the outside world.

"Boxing also instils a strong sense of achievement, building self-esteem and confidence.

"While mixed martial arts is really popular, I wasn't seeing a lot of clothing options out there for women, so it was important that I had versatile pieces that look great and make our customers feel powerful and confident when wearing the pieces and working out.

"Our new 'Knockout Collection' is a combination of a few new and exciting products that we haven't done before, as well as some of our staple best-selling pieces that continue to sell out.

"I really wanted all the pieces to be practical for sports like mixed martial arts however also can be worn comfortably outside of the gym."