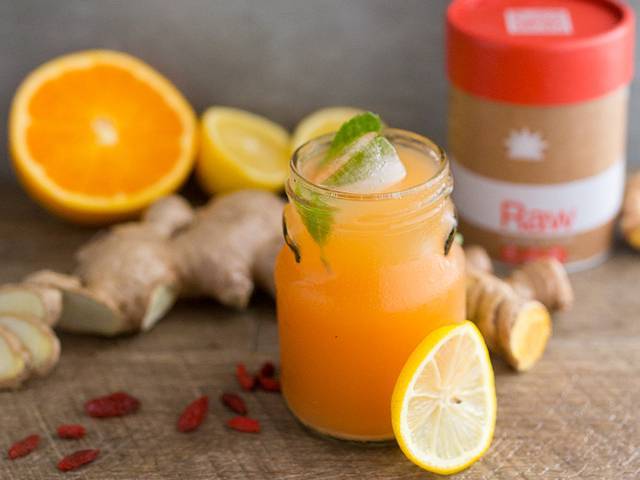 We all know by now that beauty and health start from within. From achieving glowy firm skin, lustrous hair and an immune system to boot, it all comes down to first and foremost what we put in our bodies.

The most convenient way to achieve that all-over radiance? Integrating nutritional food supplements to your routine. According to Tara Kaff, the Amazonia in-house dietician, modern-day, all-organic whole food supplements are the perfect answer for supercharging your health and beauty goals as they integrate seamlessly with everyday life. Plus unlike traditional products, they actually taste amazing and are bolstered with potent, non-synthetic ingredients meaning you can drink them with water or mix-up something if you are feeling a little more fancier.

Considering we've all become somewhat mixologists while stuck in iso, what better way to put our skills to test than with a curation of delicious and nutritious beauty and health tonic recipes.


Vitamin C Ginger Tonic
Ingredients:
1 serve Amazonia Raw Prebiotic Vitamin C
250ml warm water
1-2 tsp. grated or sliced ginger
¹/₂ lemon, juiced
¹/₄ orange, juiced

Directions:
Boil water and add ginger, lemon and orange.
Allow to cool until warm then add Amazonia Raw Prebiotic Vitamin C.

Benefits:
This potent, organic source of non-synthetic Vitamin C supports immunity, healthy hair, skin, nails and Iron absorption with 1000% RDI per serve.

The Raw Vitamin C Complex is a potent, organic source of non-synthetic Vitamin C to support immunity, healthy hair, skin, nails and Iron absorption. This delicious blend provides Vitamin C in a highly bioavailable, wholefood form. With immune herbs, spices and prebiotics Raw Vitamin C Complex is the ultimate Vitamin C supplement with 1000% RDI.

More on Tara Kaff
Tara is an Accredited Practising Dietitian, Sports Dietitian and Performance Nutritionist. Tara is the in-house Dietitian for Amazonia and works in product development, nutrition and recipe creation for the SKU of Amazonia products. Her goal as a dietitian is to assist and guide individuals in choosing the right foods to support their wellbeing. Additionally, she aims to increase their knowledge and understanding around performance-based nutrition allowing them to implement practical strategies that will see their performance, recovery and overall health accelerate.

More on Amazonia
Amazonia is an Australian owned global leader at the forefront of the health food industry since 2008. Launching with its hero product, Acai, Amazonia has gone on to develop over 50 products since its conception and now boasts brands Acai, Raw, Raw FIT and Tender Jack under its umbrella of wellness through an organic plant-based, no nasties approach.

A pioneer in the plant-based food movement, our innovation and agility to develop richly unique products that live up the high quality of ingredients and are certified organic has set Amazonia apart from the rest. We don't compromise when it comes to our brand values, which is identifiable with every product launched. A leader of the pack, every one of Amazonia's brands is bold, holds credit and merit amongst consumers and has its own unique selling points that provides a competitive edge against others in each category.