What To Wear If You Want To Get Noticed
When you first enter a room full of people, you're likely to exhibit one of two personalities. Either you're happy to blend in with everyone and not make a scene, or you're happy to stand out and want everyone to notice you. We're going to concentrate on the second option today, so for those who like to be the belle of the ball, this is for you.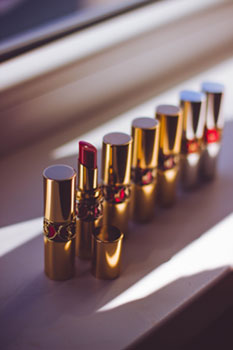 Lipstick


When it comes to a dashing shade of lipstick, particularly red, experts state that if your hair colour is dark, you should choose a dark shade. Likewise, if your hair colour is light, then select a brighter red. Of course, red is usually the lipstick of choice when you want to make a bold entrance, but it isn't the only possibility. The problem with red – even if it is sexy – is that many other girls in the room will likely be wearing it. To stand out, you've got to go bigger and better, and that means something like these. Silvery gloss, electric orange… you get the idea. Standing out means always being ahead of the curve.
Big accessory


We don't mean big in terms of size, but more in its attention-grabbing ability. You want something that's going to drop jaws and turn heads, and a gorgeous wristwatch is exactly that. Smartwatches and fitness trackers are here, there, and everywhere these days, but whatever happened to pure, old fashioned analogue watches? We think these should never go away, especially the likes of those from Swiss manufacturers such as Rolex, Tag Heuer, and Omega. These watches are all beautifully crafted and simply exquisite to look at, and bonus tip: if you browse around here, you'll likely find a watch at a much more agreeable price than the jewellers or the official stores.
Hair


Why is it that celebrities are so revered? It's not just because they are so talented, but because they dare to be different. This is no truer than with hairstyles, as every celeb out there always wants to be the next trendsetter! Just like these current hair trends, you'll see that there's always a colour or cut that gets people noticed. Cara Delevingne looks amazing in platinum silver/blonde, Felicity Jones has that incredible girl-next-door style with the growing-out shag look, and finally, Rosie Huntington-Whiteley is crushing it with her flipped hair fringe. If you want to make a splash, then any of these options is a safe choice. And don't forget about the wob, as it's still a hairstyle loved by men and women alike.
Dress


Lastly, there's no better way to make a lavish entrance into a club or party than with a stunning dress. Little black dresses always have their moment, but there are times when you can break tradition to great effect. Check out these dresses and you're bound to have something that will make you seen. Super-brights are all the rage (dazzling blues, greens, and reds), anything 80s has an undeniably cool chic, and even something with flower power is on-trend. Shop around and find an outfit that makes you – and everyone else – stop and say 'wow."