Girl Power - Empowering Girls Worldwide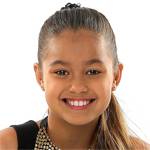 The Voice Kids has completely captivated audiences across Australia with some of Australia's best young talent between the ages of 8 and 14 being showcased under the watchful eyes of their superstar coaches Benji & Joel Madden, Mel B and Delta Goodrem.
More...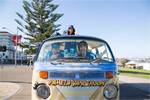 Ambi Pur challenged Dan and Maz (hosts of 2DAY FM national drive show), to take a 1974 pimped-out Kombi Van named Pamela Vanderson on a nation-wide road trip and keep the Kombi smelling fresh for 30 days.
More...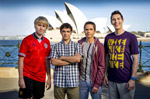 Four reasons to get out of Australia: Jay, Neil, Simon, and Will reunite in Australia for a holiday.
More...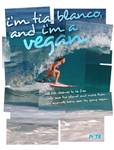 Since she went vegan, Tia says she has never felt better: "I just feel a difference in my recovery levels, my energy levels, and I feel like a better person – I feel that I'm living a healthy and happier lifestyle. And I think it has really impacted my surfing and my performance".
More...
Ella Henderson has captivated Australia with her debut single 'Ghost' storming into the charts, reaching #3 on the ARIA chart.
More...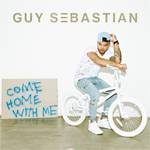 'Come Home With Me' is available to pre order now and is the first taste of what is to come from his highly anticipated forthcoming album, due out later this year.
More...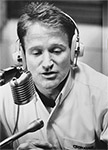 The world is saddened by the news that Robin Williams has died, age 63 on August 11, 2014. Well known for movies like Good Morning Vietnam, Dead Poets Society, Hook, Aladdin, Mrs Doubtfire, Jumanji, The Birdcage, Good Will Hunting, Patch Adams, Bicentennial Man, A.I., One Hour Photo, Robots, Licence to Wed, Night at the Museum and Happy Feet franchises.
More...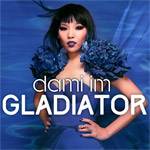 'Gladiator' is yet another anthemic pop track that showcases Dami's powerhouse vocals at the same time as exploring emotional themes embedded within lyrics, including the notion of female empowerment and the need to "fight for your love".
More...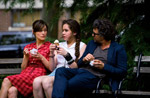 The latest film from writer-director John Carney (Once), Begin Again is a soul-stirring comedy about what happens when lost souls meet and make beautiful music together.
More...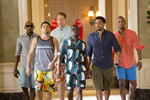 All the couples are back for a wedding in Las Vegas, but plans for a romantic weekend go awry when their various misadventures get them into some compromising situations that threaten to derail the big event.
More...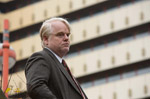 When a half-Chechen, half-Russian, brutally tortured immigrant turns up in Hamburg's Islamic community, laying claim to his father's ill-gotten fortune, both German and US security agencies take a close interest: as the clock ticks down and the stakes rise, the race is on to establish this most wanted man's true identity - oppressed victim or destruction-bent extremist?
More...
The popularity of the event is growing year on year, with more than 8000 students attending last year and an even more teens expected over the course of the Expo.
More...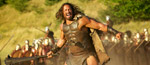 Both man and myth, Hercules (Dwayne Johnson) leads a band of mercenaries to help end a bloody civil war in the land of Thrace and return the rightful king to his throne.
More...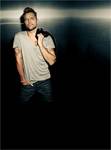 Ricky Martin delighted sold-out audiences with his first Australian tour in more than 10 years last October, and fans will sure to be delighted with the One World Tour.
More...
A growing nation of genetically evolved apes led by Caesar is threatened by a band of human survivors of the devastating virus unleashed a decade earlier.
More...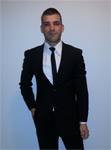 Now in its ninth year,
b
streetsmart aims to educate young drivers about the importance of road safety by using real life, graphic examples of the consequences of dangerous driving.
More...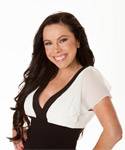 According to Loisel, lying is a part of our day-to-day interactions, with most of us telling little white lies to maintain or preserve relationships, to get ahead at work, save face or get out of a tricky situation.
More...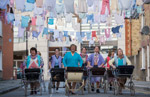 Angnes Brown's foray into film is a rip-roaring comic romp, set in the streets of Dublin, starring Brendan O'Carroll and Brendan's friends and family.
More...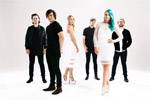 With the highest selling Australian single for 2014 so far and clocking up seven weeks at #1 on the Australian radio airplay charts, Sheppard have returned to the airwaves today with a stunning new single "Something's Missing", lifted from their debut album 'Bombs Away'.
More...
---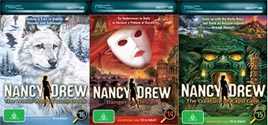 Nancy Drew Free Online Games
Join Nancy Drew in 3 new adventures:
---