Following 2008's massive Dance/ popsmash 'Cry For You' - one of the mostplayed dance records on Australian radio in2008, Swedish Superstar September isabout to go galactic with her secondAustralian single and surefire hit releasedthrough Central Station Records.
With an array of glittering worldwide hits under her belt September is back andready to take over the charts with the delicious 'Can't Get Over'.
In the process of becoming an instant pop phenomenon last year, September hit#16 in the ARIA singles chart with the huge 'Cry For You', spending a stunningnineteen weeks in the ARIA Top 20.
September wooed her adoring Australian fans in November last year during awhirlwind national tour, dueting with Carson from a Queer Eye For A Straight guyat the Melbourne Cup and blowing audiences away in Melbourne, Sydney,Adelaide and the Gold Coast.
'Cry For You' was one of the most played dance records of the year on Australianradio and received a massive 5.3 million view on You Tube.
September, a pseudonym for the stunning Petra Marklund, is a proud owner of a Grammis, the Swedish equivalent of a Grammy &has already hit over 2.2 million views (and counting)with 'Can't Get Over' on YouTube.
'Can't Get Over' is the second single from her self titled Australian album, which also contains a carefully selected array of herEuropean hits plus a bonus DVD featuring all her ravishing videos.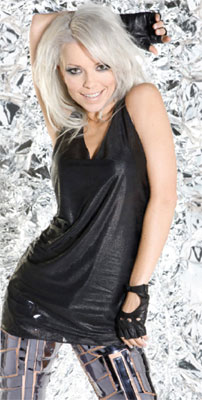 September Interview
September (real name Petra Marklund) has hit the dance music scene hard with her first single, Cry for You and is following up her huge success with the catchy new single Can't Get Over. Can't Get Over has already recieved number one spots on major new-music radio stations, such as NOVA.
Can't Get Over is refreshing, bubbling, wonderfully catchy and fresh. With a wave of glitter September was everywhere last year, she is massive throughout the UK and her first track, Cry for You was one of the biggest dance/pop songs last year, it spend 19 weeks on the ARIA top 20.
We spoke to September about her success and love for music:
All of your songs are so catchy, how do you create this beat?
September
: It is just my team, we do catchy songs, that is the main thing that we do. I don't know how we can develop such catchy songs, but we do.
Tell me a little bit about Can't Get Over?
September
: It has just been released everywhere now. It has just been released in England, Australia and America. It is about a break-up, a lot of my songs are often like that.
You always look great, what is your fashion secret?
September
: I always do my own fashion, myself. I am designing my own clothes. I design the clothes that I wear and my dances too. That is one thing why I have really different clothes, I also work with a really good stylist, a talented one. I want to have thing that are really different. I like unique, cool and catchy fashion. I create it.
How does it feel to hear your music on radio?
September
: Today, it feels very good, of course. There are a lot of (music) lists out there, so it is hard to separate the lists, to know what to be happy for and what to be really happy for; you know? Which is bigger. I get a lot of my information, for me, everything is about the crowd. I see how big I am with a concert, and when I see the reactions of an audience. That is how I see how things are going. Concerts are the main thing.
What music/artists do you listen to when you are not playing your own?
September
: I like lots of music. I like Lilly Allen, I just bought her album, it's really good. I like Austin and Kanye West, he made a lot of good songs.
Do you prefer performing live or recording?
September
: I love to perform live. It is a matter of how big production is. I would love to have a band all the time, but it is tricky to travel around with a band. Most of the time I am going with dancers and my DJ. But it is also a compilation that I love.
What has been your favorite part of becoming a music artist?
September
: My favourite. Is to do big stuff. I have been working hard to a lot of years. Today I am glad that I can do big concerts and do big cool stuff that I really enjoy. I enjoy performing in front of crowds. Before I had to do a lot of things, like work very very much. I can now work and do a few things that are the best, like performing.
When are you coming to perform in Australia?
September
: I think I will come back to Australia soon, not yet. But when I can. We haven't organised dates yet, but I will. I have all the information on my Myspace Page. That is were I update all of my dates where I will be performing. It isn't organised yet, but I will be coming to Australia.