1000HOUR
The perfect way to keep your lashes & brows beautiful

Iconic Australian beauty brand 1000HOUR proved to be a lockdown essential in 2020. With short lockdown periods continuing, it seems this is a great beauty staple to stay stocked up with.

The most recently launched, and already award winning, Gentle Plant-Extract Lash & Brow Dye Kits, has been formulated for those with more sensitive skin and offers a brush-in application that takes just a few minutes to do, with a soft pigment. While the original formula kit has been tried and tested for over 25 years. In 2020 there was a 1000HOUR Lash & Brow Dye Kit sold every minute!

Erica Galea, 1000HOUR Marketing Director says, "Our 1000HOUR brand has been the number one selling lash and brow dye kit in the country for over 25 years. In keeping with natural beauty trends, which we're seeing across all categories in 2021, this latest formulation is proving to be just as successful as the original. It's a fantastic option for people who have more sensitive skin and has been tested by dermatologists and ophthalmologists to ensure it is safe to be used on the eye area. Although we always recommend a 48-hour patch test for any skincare products, just to be sure. Plus, it was announced as BeautyHeaven's 2021 Winner of the Best New Brow Product in their annual awards. A lockdown must have for sure."

Tegan Martin, 1000HOUR Brand Ambassador, shares her top application tips for the new formula:
1. Always do the skin sensitivity test 48 hours before applying – even if you've used it before, as skin can change.
2. Apply Vaseline above/below the brows and lashes (if doing both) and apply the paper protectors if doing lashes.
3. Using one of the coloured spoolie applicators, apply the colour cream first, following the direction of hair growth in an upward movement for a natural looking finish. Leave on for two minutes and remove with a dry cotton pad.
4. After removing, apply the developer in the same way using the other coloured spoolie applicator. Don't panic – it will look very dark. Leave this on for one minute and remove with a damp cotton pad. That's it – you're done!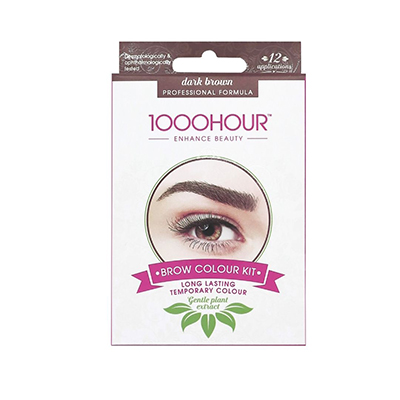 1000HOUR Gentle Plant-Extract Lash & Brow Dye Kits – RRP $24.99
The NEW Gentle Plant-Extract Lash & Brow Dye Kit is a dermatologically and ophthalmologically tested brush-in gel formula.
• No smudge, waterproof colour for eyelashes and brows
• Results that last up to six-weeks (in line with your natural lash turnover)
• Quick and easy to use
• 12 applications per pack (12-month supply)
• Beautiful, professional results
• Natural looking shades to enhance lashes and brows - Black, Dark Brown, Medium Brown or Light Brown
• Assembled in Australia from imported components. Colour Crème and Developer Gel made in EU
• Product ingredients includes nuts

The new 1000HOUR Gentle Plant-Extract Lash & Brow Dye Kits and new look packaging across the range is available now from 1000HOUR.com.au.
Review: Easy to use and great results, 1000HOUR has all your lash & brow needs, lash & brow dye, heated eyelash curlers, enhancing serum for your brows and clear setting mascara for brows. But if you are too impatient to wait they also have a beautiful range of fake lashes perfect for any mood or occassion. 1000Hour are affordable for DIY lash & brows, and I feel my results were better than a salon.