Tidal DIY Brow Lamination Kit
Life isn't perfect but your brows can be. Our Tidal DIY Brow Lamination Kit will help you to create natural, fluffy and defined brows in minutes from the comfort of your home. Get salon quality results for a fraction of the price.
BENEFITS
- Long Lasting Results - Each application generally lasts 4-6 weeks
- Quick & Easy To Apply - Epic brows in just a few simple steps
- Mild Nourishing Ingredients
- Vegan & Cruelty Free
- Great Value - Each kit should last 5-8 applications (6 months)
Tidal DIY Brow Lamination Kit
RRP: $124.95
Review:
Spending a fortune on brows is easy to do, we love the salon look, but it doesn't last, no matter what they say, I've never had mine last more than a week to 10 days, sure I have light brown to fair ends which can make it really tough but after giving the Tidal Brow Lamination Kit a go, I can now touch up when I need for a fraction of the price. Now the initial price may seem a little scary, but think about how much you spend at the salon.... ok now the box says 5-8 applications, I'll be happy with 7, as I'm a a novice, so will probably wasted a bit. This not only is it cheaper than a salon, but it's readily available, no appointment needed, love that.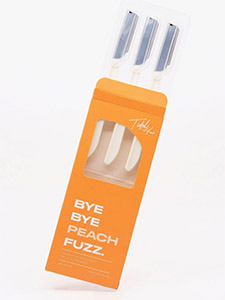 Tidal Bye Bye Peach Fuzz
1 Pack = Comes with x3 Facial Blades.
Our Tidal Dermaplaning Set removes the oldest layer of dead skin cells, dull built up debris, and peach fuzz, leaving the skin immediately smooth, supple, vibrant, rejuvenated, and ready to deeply absorb skincare actives.
Get all the benefits of a professional dermaplaning spa treatment in the comfort and safety of your home.
BENEFITS
- Skin appears smoother
- Skincare products can absorb better after use
- Improves skin tone and erases dullness
- Improves skin texture and pore size
- Makeup goes on better providing a more airbrushed look
Tidal Bye Bye Peach Fuzz
RRP: $24.95
Review:
I didn't know I need the Tidal Bye Bye Peach Fuzz until I used it, my makeup went on smoother than normal, and gave me a real airbrushed look, what an amazing result, love this product.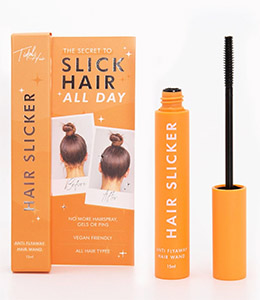 Tidal Hair Slicker Wand
The Tidal Hair Slicker Wand is the secret to achieving that perfect sleek hair look. Designed for those who wear their hair up in a ponytail or bun, but struggle with those annoying baby flyaway hairs.
Formulated to hold your hair in place without leaving your hair crunchy, oily, hard or dirty - no more hair spray, gels or pins!
Tidal Hair Slicker Wand
RRP: $29.95
Review:
Get the look with the Tidal Hair Slicker Wand, small enough to add to your handbag, but strong enough to leave behind, tame those unwanted flyaways or apply for a slick look, it really is not only handy, but a magic tool.
Visit Tidalhair.com.au for more instructions and videos on how to use.